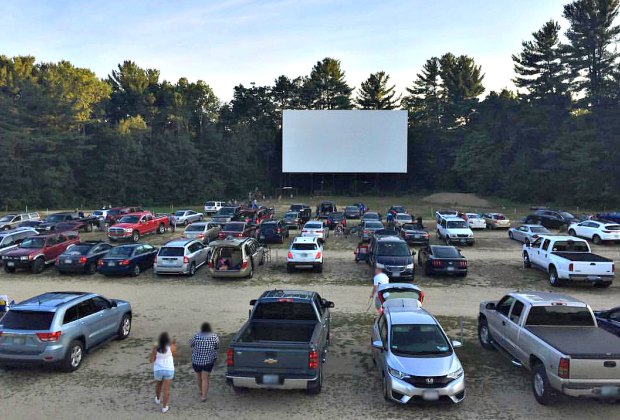 Drive-In Movie Theaters near LA for a Classic Family Movie Night
How about a drive-in movie tonight? Remember double features, staying up late watching movies in your jammies under the stars, tubs of popcorn from the snack bar, and, as the night wore on, crawling into the pile of blankets mom brought? Today's kids don't need to miss out on this American institution; though not as popular as they once were, several area drive-ins are still operating, plus LA has a pop-up drive-in, too. Drive-ins are generally cheaper than movie theaters, often show double features, and let you bring your own food. We're fortunate in the Southland to have oodles of free outdoor movies in summer, but there is something uniquely magical about the drive-in. bucket list worthy
March 19, 2020: Due to the governor's instructions regarding closure of non-essential businesses during the Coronavirus outbreak, the drive-in theaters below are all temporarily closed.
Some things to remember: take plenty of cash, since some locations are cash only. If you have a large or small car, choose a parking spot with care so you can both see and not block anyone else's view. Bring a picnic dinner or snacks—or get snacks from the snack bar. Don't forget sleeping bags or blankets, as it gets chilly out there at night. You can set folding chairs up outside the car as long as you stay within your own parking space. And most drive-ins now broadcast through the radio—if your car does not have a strong battery, consider bringing a boom box to one of these throw-back movie destinations:
Mission Tiki Drive-In
10798 Ramona Ave
Montclair 91763
909.628.0511
Four screens, four double features, every night (one screen is usually PG, one PG-13). The Mission Tiki has undergone refurbishing in the last ten years, so if you went here as a kid, you might not recognize the place. Digital projection, first run movies, radio tuning, and a Tiki theme. No pets are allowed (except service animals); outside food is OK, and chairs are OK as long as you stay in your parking space. See website for show times, snack bar coupons, and tips on how to enjoy the drive-in.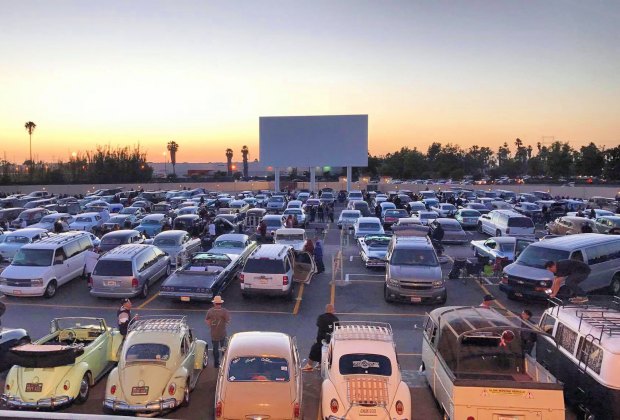 Paramount Drive-In. Photo via Facebook
Paramount Drive-In
7770 Rosecrans Ave
Paramount 90723
562.630.SHOW
After a 20+ year hiatus, the Paramount Drive-In is in business again! There are two 75-foot screens and digital projection, and a fully stocked snack bar. Staff members will help you park properly to not block anyone's view while getting your own best view. Read the rules for the drive-in before heading out. Fun fact: this is the drive-in used to play the old Van Nuys Drive-in in the movie Once Upon a Time in Hollywood.
Rubidoux Drive-In Theatre
3770 Opal St
Riverside 92509
909.683.4455
The Rubidoux has three screens (one PG) of first-release movies, double features every day, a refitted snack bar, and restrooms. The Rubidoux first opened in 1948 and still has its original screen tower. Check the website for movies and start times, as well as snack bar coupons. Outside food is OK.
Van Buren Drive-In
3035 Van Buren Blvd
Riverside 92503
951.688.2360
Refurbished in an "orange ranch" theme in keeping with Riverside's history, the Van Buren has three screens (one PG) and is open every day. Check the website for show times and snack bar coupons. Give yourself plenty of time to arrive on weekends; this location gets very busy and can sell out.
Vineland Drive-In Theater
443 N. Vineland Ave
City of Industry 92503
626.961.9262
Vineland is open seven days a week and has been since 1952. It shows current release double features on four different screens. Films are digitally projected and not 3D; one screen typically features PG movies. The gate opens at 7pm; movies begin at dusk—and on Friday, Saturday, and Sunday nights the first movie is rebroadcast after the second.
Originally published August 23, 2013