Fishing Tournaments for LI Kids in the Hamptons & North Fork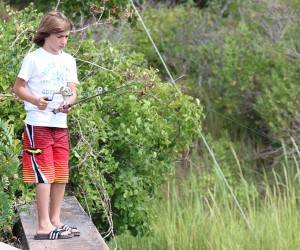 There are many perks to living on an island, and fishing is definitely one of them. Mid to late summer offers East End children an opportunity to enjoy this fun and family-friendly activity with a series of saltwater tournaments sure to delight young anglers.
The prize catch for kids is usually the snapper, the juvenile version of the bluefish. Plentiful on either fork and fun to catch, they offer kids an introduction to game fishing from the safety of the town dock. Other tournaments target the elusive fluke or flounder and require a trip offshore. But whatever the prey, kids can enjoy a day in the sun while perhaps picking up a trophy or two.
Here are our favorite fishing tournaments for kids. Parents should check the websites listed or call in case of weather-related changes. And make sure to check out our Hamptons and North Fork Guide for the best in family-friendly entertainment on the East End.

Molnar's Landing Annual Fluke Shootout
August 13, 2016 at 9am
31 Alanson Lane
, Hampton Bays
631-728-1860

This popular event targets the East End's favorite flatfish with entry for kids and teens priced at $25, half the adult charge. Prizes are offered for the largest fish. Fishing is done offshore from 9am to 3pm, with a rain date of Sunday, August 14. The entry fee includes a barbecue and awards ceremony back at the dock. Advance registration is recommended.
Town of Southampton Snapper Derby

August 25, 2016 at 11am
Tiana Bay Park

87 Dune Road, Hampton Bays

631-728-8585

Spirited competition awaits in youth (5-14 years old) and adult (15-older) divisions with prizes for the most snappers caught. There is a separate prize for the longest snapper taken. Participation is free to Town of Southampton residents but competitors must bring a fishing pole and tackle; the town provides bait. Pre-registration is required; fishing begins at 11am.


Shelter Island Snapper Derby
September 3, 2016 at 3pm

Various locations on the Island

631-749-2110
Each year on the Saturday of Labor Day weekend, kids across Shelter Island race to catch the biggest snapper in an end-of-summer ritual as time-honored as the Island itself. In fact, nearly 150 young fishermen took part in the free event in 2015, with prizes for the biggest fish and the most caught and released. A separate competition is held for bluefish (mature snappers). Advance registration is not necessary and children are encouraged to take part in a logo design contest. 

Greenport Maritime Festival Snapper Contest

September 25, 2016 at 1pm
Railroad Dock

End of Third Street, Greenport
631-477-2100

Held on the Sunday of festival week, the snapper contest is one of the highlights of the three-day celebration of Greenport's maritime history. Late September is an ideal time to land snappers before they mature into full-fledged bluefish and migrate for the autumn and winter. This mad-dash derby begins at 1pm with competition in an 8-and-under division. At 2pm, the younger kids give way to the 9-16 age division; competition in each groups lasts only an hour, giving parents and kids plenty to time to enjoy the pageantry of the festival.



Town of Riverhead Snapper Derby
October 1, 2016 at 10am

Gazebo at Ammann Park 

Main Street, Riverhead

631-727-5744

Riverhead's tournament, open to residents and non-residents, encourages children and adults to grow in their appreciation of fishing. It also raises money for the Recreation Department's Scholarship Fund. Participation is $8 for kids and $15 for adults, and prizes for the most fish caught are awarded in youth (15-and-under) and adult (16-and-older) divisions. T-shirts are given to the first 100 registrants. Fishing begins at 10am; an auction follows the competition with prizes donated by local merchants.

If competition is not your child's thing or you fancy a trip off the East End, consider these low-cost fishing clinics, where the atmosphere is more instructional.
I Fish NY Clinic
August 24, 2016 at 5:30pm

Gazebo at Ammann Park 

Main Street, Riverhead

631-444-0283
The state Department of Environmental Conservation provides rods, reels and bait for snappers. Children are taught fishing regulations, species identification and conservation. Advance registration is required. The DEC offers similar clinics across Long Island, including in Sayville (July 21, August 11), West Hempstead (July 23, August 6), Captree State Park (July 31, August 31) and Blue Point (August 9). See the DEC website for more information.
Cold Spring Harbor Fish Hatchery
Fridays through Tuesdays through August 31
516-692-6768
The trout conservatory in western Suffolk County offers on-site fishing for $5 admission and $4 per trout. All trout must be taken home; there is no catch-and-release fishing. While there, enjoy the laboratory's 10 exhibits, including its aquarium and hatch houses.
Photo: Shelter Island Snapper Derby