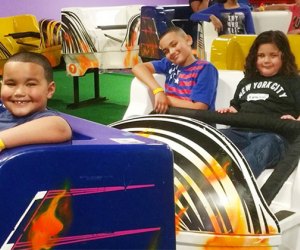 Review: @Play Amusements on LI Offers a New Spin on Indoor Fun
What do a carousel, laser tag arena, and a roller coaster have in common? You can find them all INSIDE at @Play Amusements in Farmingdale. This new space feels more like an indoor amusement park than most of the play spaces and bounce spots found on Long Island.
Newly opened at the former FunZone location, @Play Amusements is equipped with exciting rides, more than 100 arcade games, inflatables, a play maze and more. At first glance, the inside is almost overwhelming. There's so much to do it's hard to figure out where to start. Luckily, my twin, 3-year old boys were with a birthday party and led us around to the age-appropriate areas for little ones.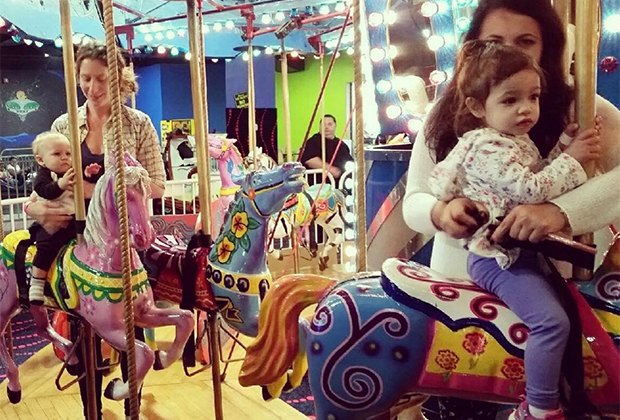 The indoor carousel runs at an ideal speed for toddlers. Photo by rs_locke via Instagram.
We started at the carousel, which features plenty of seats for kids of all ages; even my 18-month old was able to catch a ride. The carousel is colorful and runs at a perfect speed to ease your child into some of the more exciting rides that follow, including the indoor roller coaster. The coaster tracks run in a slightly elevated circle; the ride starts off slowly, but increases in speed as it progresses. Children and adults have the option to get off before the ride goes in reverse, a direction change that was a huge hit with my giggling boys.
While it was hard to wrestle the children away from the coaster, the next area featured bouncers of all shapes and sizes, including one designed as an obstacle course. This area was gated off so kids could run around to all slides and bouncers. While there, our group was visited by a Teenage Mutant Ninja Turtle in a surprise to the birthday boy. @Play offers interactions with superheroes and other popular figures depending on the birthday child's inclination.
A highlight for littler ones was the toddler area. It's a cute, fenced-in space with a mini merry-go-round, smaller slide, and other age-appropriate toys. Younger children play safely there while older siblings attack the giant slides, laser tag, or bumper cars.
@Play offers five party rooms that vary by the size of the group. The venue has specific times for toddler play and open play; check its website for the latest schedules.
@Play also offers a laser tag arena for ages 8 and older. It is one of its most popular spots. Children wear a vest and are given a phaser gun. Unlike other laser tags in the area, children can get back into the game 10 seconds after being "shot."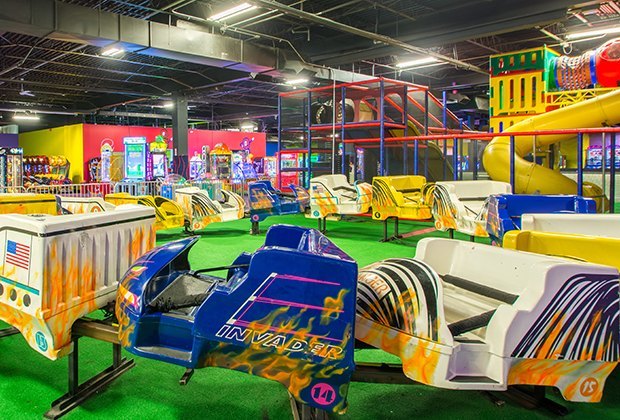 From roller coasters to bounce houses and even laser tag, kids won't run out of things to do at @Play. Photo courtesy of the venue.
@Play is open Tuesdays to Sundays. The busiest times are, not surprisingly, Saturdays and Sundays during the day. But @Play does offer birthday parties during the week and tours for adults who want to see the venue, learn more, and determine if it's the right place for their child.
Top photo: Kids of all ages will appreciate @Play's indoor roller coaster. Photo by lebroncorrine via Instagram.