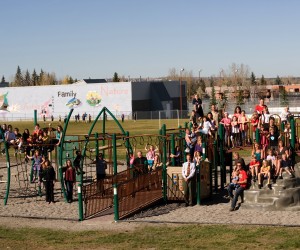 LA Elementary Schools with Community Playgrounds Open to the Public
We have one in our neighborhood, and perhaps you have one in yours. Or maybe you walk your kid to one every morning, and you wonder as you peer through the fence: Why does all that good space go unused when school is not in session? Ah, yes, school playgrounds. Those acres of wide open land we (and our children) often crave here in this space-cramped city of ours - play spaces, though, that (frustratingly) we mostly can't access on weekends and in the summer. Thankfully, this has started to change.
A handful of area schools have opened (or will soon be opening) their play yard gates on weekends and in the summer. Hurray! Below is a list of playgrounds already waiting for your kids to visit, as well as information on others slated to open in the not too distant future. If you, too, would like your neighborhood school yard to be open on weekends, read on. We cover that, too.
Community School Parks
While some of us take parks and yards for granted (maybe we can walk to the local Rec Center or drive to a favorite city park), many area residents have little to no safe or accessible recreation space. And while green space may flood some of our visual fields as we look down the street at our neighbors' lawns, there are others among us who have little contact with permeable ground. LAUSD, for example, owns a vast amount of land in LA, and yet most of that land is impermeable - covered in asphalt or cement. Temperatures increase in such areas, and rain water runs off. Greening school grounds - removing portions of asphalt and replacing it with gardens, trees, and native plants - makes sense, from both health and environmental perspectives. And inviting the community to use the greened space makes even more sense.
Thanks to the passionate folks at organizations such as People for Parks, a few Community School Parks are opening up. In early 2012, People for Parks, in collaboration with LAUSD, helped two area schools to beautify and open their playgrounds for after-hour play. Two more school parks will open within the next year or so in the Pico Union and Westlake-MacArthur Park neighborhoods (specific locations are still being determined).
Trinity Elementary School
3736 Trinity Street
Los Angeles, CA 90011
Two entrances: one by the school parking lot on Trinity Street, the other on Adair Street
Map
323.232.2358
Open Sat-Sun, 9am-4pm
Summer: 7 days, 9am-4pm
This South Los Angeles neighborhood is one of many with little or no space for outdoor play: no safe local parks and few yards (because of a higher percentage of apartment buildings). People for Parks and LAUSD teamed up to renovate the Trinity Elementary School playground, ripping up areas of asphalt and replacing it with trees, plants, and gardens (with generous help from TreePeople). The playground is now open on weekends and during the summer for kids to explore. Two full-time supervisors offer group activities such as arts and crafts, theater, gardening, and sports. Sign up when you arrive. Parents or guardians must be present at all times (no drop-offs allowed). All activities are free. The grounds include a play structure, running track, basketball hoops, handball walls, a volleyball net, and a small playing field. Kids can also help tend the edible garden. Restrooms are not yet available.
Vine Street Elementary School
955 N. Vine Street
Hollywood, CA 90038
Map
323.469.0877
Open Sat-Sun, 9am-4pm
Summer: open 7 days, 9am-4pm
Entrance off Vine Street, just down from the car wash
The same commendable efforts from People for Parks and LAUSD made possible a community school park at Vine Street Elementary as well. According to Principal Chris Stehr, "The yard was once just covered with black asphalt. Now there are trees and plants. The school looks more beautiful, and it's a great place to hang out." Vine Street provides the same opportunities as Trinity: two full-time supervisors offer group craft and sport activities on weekends (and during the summer). Or kids can run around the track, kick a soccer ball on the field, and play on the play structure. Parents or guardians must be present at all times (no drop-offs allowed). Restrooms and drinking fountains are available.
Brentwood Green at Brentwood Science Magnet School
740 S. Gretna Green Way
Los Angeles, CA 90049
Map
Hours: Weekdays, 3:30-dusk; Sat-Sun, 9:00am-dusk; Summer, 9:00am-dusk every day.
Two entrances: on Gretna Green just south of San Vicente, and on S. Bundy, also south of San Vicente.
In 1999 the first Community School Park in the LAUSD opened at the Brentwood Science Magnet School. Thanks to a unique partnership between Brentwood Green, LAUSD, and the YMCA, funds were raised, and an inviting play space was created for after school, weekend, and summer recreation. Volunteers removed asphalt, planted more than 200 trees (with help from TreePeople), built gardens, and secured monkey bars and slides so that all children would have an additional play place in South Brentwood. Today kids can enjoy ample play structures, basketball courts, handball walls, a track and a soccer field, not to mention lots of open space to march and jump around.

Calvert Elementary School - Woodland Hills
19850 Delano St
Woodland Hills, CA 91367
Map
Though not yet open for general public use, the grounds at Calvert Elementary School are quickly being transformed. Volunteers and eager parents have helped to remove more than 180 tons of asphalt, plant trees and drought tolerant shrubs, build garden beds, create shade, and otherwise beautify the once less-appealing space. The efforts are spear-headed by Calvert Green, a group of committed parents and neighbors that came together in 2004 eager to green the the yard, create a neighborhood park space within walking distance, and thereby return the school to its roll as center of the community. Play spaces will be available after school hours at a later date.

Saturn Elementary School
5360 Saturn Street
Los Angeles, CA 90019
323.931.1688
Map
The school yard once had only one tree, surrounded by an expanse of asphalt. Concerned neighbors (some of whom didn't even have children at the school) and parents formed the non-profit Rings of Saturn and set about greening the space so that the kids in the neighborhood would have an appealing place to play, in an area that otherwise had no decent recreation spaces. The play yard will not open to the greater public for some time (a year or more), but the amazing transformation has begun. A generous grant from the California Strategic Growth Council, guidance and management from the LA Conservation Corps, and a stunning master plan from RC Design Federation have motivated countless volunteers to remove asphalt and plant trees and plants. The master plan includes a "meadow," a "forest," an orchard, an outdoor teaching space, and an amphitheater.
School Play Yards outside LAUSD

Santa Monica-Malibu Unified School District
More than 10 years ago, the City of Santa Monica joined forces with the Santa Monica-Malibu Unified School District to green select elementary school grounds and open them during certain non-school hours for unsupervised use. Though Santa Monica has many accessible city parks, the collaborators in this initiative saw the opening of school grounds as a further investment in youth health, creating more opportunity for outdoor recreation. Currently six Santa Monica elementary schools offer their yards to all children. Youth 18 years and younger are invited along with their families and friends to use the play spaces.
Hours (See note below regarding Muir/SMASH hours)
Franklin Elementary School
2400 Montana Avenue
Santa Monica, CA 90402
Park & enter from Idaho Ave
Map
Grant Elementary School
2368 Pearl Street
Santa Monica, CA 90405
Park & enter from 24th Street
Map
McKinley Elementary School
2401 Santa Monica Blvd.
Santa Monica, CA 90404
Park & enter from Chelsea Ave
Map
Will Rogers Elementary School
2401 14th Street
Santa Monica, CA 90405
Park & enter from 16th Street
Map
Roosevelt Elementary School
801 Montana Avenue
Santa Monica, CA 90402
Park & enter from 9th Street
Map
Muir/SMASH Schools
Los Amigos Park
2526 6th Street
Santa Monica, CA 90405
Park & enter from 5th Street
Map
Note: The hours at Muir/SMASH Schools at Los Amigos Park are different from the other Santa Monica school grounds.
Mon-Fri, 6-10pm, Sat-Sun 6am-10pm

Resources for Transforming Your Neighborhood School
Whether you are a school parent who wants to improve your school grounds for the benefit of your kid's classmates, or you're a school neighbor (with or without children) who would like to help redesign your neighborhood school, here are some things to consider:
1. Rayna Saslove, a concerned and passionate neighbor who helped to spearhead the efforts of Saturn Elementary School suggests: Talk to the principal, talk to other school parents and neighbors, and generate interest and support. Walk the school grounds, meet the kids. Get a sense of what exists for the kids, and think about what changes could make it better. Rayna does not have a child at Saturn Elementary. But she saw the importance of creating access to a safe and beautiful play space for her community as a whole, and for the health and wellbeing of the neighborhood kids.

2. Call your local school district and inquire about what the first steps might be (it will depend on your district).
For LAUSD: Ana Lasso, Program Manager of the LAUSD Joint Use Development Program, ana.lasso@lausd.net

3. Read up, get in touch, get inspired:
MAS (Moving from Asphalt to Sustainable) Schools
Contact: Astrid Diehl, Landscape Architect at Mia Lehrer + Associates, 213.384.3844

LAUSD Sustainable Schoolyard Ombudsmen
Tracy Bartley, tracy.bartley@lausd.net
Teresa Dahl, teresa.dahl@lausd.net

People for Parks
Saturn Elementary School
Brentwood Green at Brentwood Science Magnet
Playground Partnership Program - Santa Monica

4. Jump in. Intend to make it a beautiful space for your own kids, your neighbors, and the community at large. And, as Rayna Saslove shared, "Hopefully the rest will fall into place. It did for us."
Originally published February 4, 2012