Día de los Muertos: What Other City Has This Many Day of the Dead Celebrations?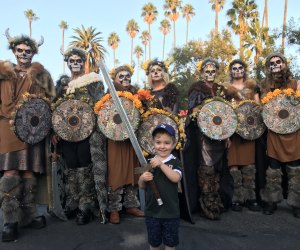 Hauntingly close to Halloween, El Día de los Muertos – the Day of the Dead – is a magical holiday that's also a living history lesson, demonstrating the tendency of conquerors to absorb indigenous customs into their own. Christian Europeans arrived in Mexico already fans of All Hallows Eve (modern-day Halloween), only to stumble upon an ancient tradition celebrated by the Aztecs on November 2, with a spookily similar theme. Day of the Dead is a time when the door between worlds is meant to open so that celebrants can honor departed loved ones and hopefully lure them back for a visit.
The traditions involved are anything but somber, the intention being to laugh in the face of death and allow it no power over the living. Festivities are full of dancing skeletons (calacas) with faces that are both creepy and beautiful, skulls (calaveras) made of sugar, plus plenty of candles, masks, and marigold petals. Eating candy and dressing up like skeletons are thus more American than apple pie.
We lucky Angelenos have several opportunities to dance with the calacas. Below you'll find a selection of Día de los Muertos events, offering families a taste of Aztec tradition and—in some cases—an extra airing for the Halloween costumes. Keep checking our calendar, as we add events daily!
Note that this post was last updated in 2019, but many of the events linked below update annually. Click through for current info.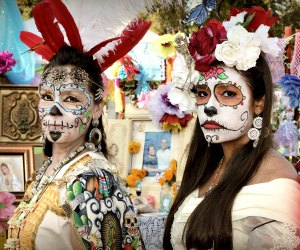 All dressed up at Hollywood Forever. Photo by Salina Canizales/CC BY 2.0
Central / Downtown LA Day of the Dead Celebrations
Día de los Muertos Novenario
Olvera Street
The candlelight Novenario processions are held Downtown nightly for nine evenings. The traditional, pre-Columbian procession evokes special memories of deceased loved ones with colorful pageantry and indigenous blessings. Following each procession, free pan de muerto (sweet pastry) and champurrado (a Mexican hot beverage) are served.
Fiesta Muertos
El Pueblo de Los Angeles / Olvera Street
El Pueblo joins with the Olvera Street annual Day of the Dead celebration with ofrendas, face painting, and entertainment throughout the week, especially on Oct 26 & 27, and Nov 1 & 2. Festival-goers can enjoy the display through November 2, including the nightly candlelight Novenario Procession (Parade of Living Muertos).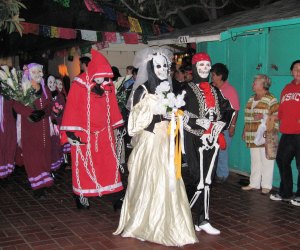 The happy wedding couple stroll down Olvera Street. ​Photo by Roberta Romero/CC BY 2.0
Día de los Muertos Family Day
LA Plaza de Cultura y Arte
The dead come to life at LA Plaza, with a Day of the Dead celebration featuring hands-on workshops, as well as live music and dance performances, and an evening screening of Disney Pixar's Coco.
Día de los Muertos Community Procession
Cypress Park Library Branch
The free community procession sponsored by the library is nearly a mile long and culminates in music, food, and refreshments for everyone, as well as the unveiling of grand altar/art installations.
Día de los Muertos at Hollywood Forever
Hollywood Forever Cemetery
LA's largest Day of the Dead events celebrates the memories of the departed among some of the city's most famous departed. Ceremonial tributes and memorable altar creations are set up throughout the grounds of the cemetery amidst music, dance, face painting, phenomenal food, and traditional processions of calacas. Every skeleton who is anyone turns up for this fiesta!
Festival de los Muertos
24th Street Theater
The theater's annual Día de los Muertos block party celebration features decorated altars as well as live music, dancing, theater, face painting, authentic Mexican food, and a graveyard where families can create their own altars for loved ones.
Day of the Dead on the Westside
A Fishy Fest for Día de los Muertos
Santa Monica Pier Aquarium
The aquarium celebrates the occasion with a fishy flair. Kids can create their own masks and explore a mad scientist's laboratory, along with face painting, crafts, naturalists' bioluminescence presentations, and a marine animal graveyard.
Día de los Muertos at the Cayton Children's Museum
Cayton Children's Museum
The Cayton's Children's Museum hosts a Día De Los Muertos Festival, exploring the origins, traditions, and rituals of the celebrated Mexican holiday. The festival features live music from Conjunto Tenocelomeh, work from artist Daniel Gonzalez, and a special meet and greet with the PJ Masks. The event is open to the public. Costumes and characters are welcome and encouraged!
Día de los Muertos Fall Festival
Edison Language Academy
Santa Monica's biggest Día de los Muertos fair includes traditional altars, home-made tamales, live music, crafts, games, bouncers, and a kid-friendly haunted house - all in support of a local school.
Día de los Muertos Celebration
Woodlawn Cemetery
Families are invited to join in a traditional Mexican celebration. Last year's event included opportunities to create coronitas (crowns) of fresh marigolds and papel picado (paper art), tour grave sites of Santa Monica's ancestors, watch a documentary about the holiday, and enjoy a traditional Nahuatl Ceremony with live music.
Fowler Families Día de los Muertos
Fowler Museum
The Fowler Museum celebrates with music, dance, regalia, and storytelling by the Los Angeles-based group, Xipe Totec Danzantes Aztecas. Performance begins at 12:30 followed by hands-on artmaking in the courtyard.
Day of the Dead in the Valleys
Playhouse District Annual Día de los Muertos Event
Pasadena Playhouse District
Zona Rosa Caffe and the Pasadena Playhouse present a Día de Los Muertos / Day of the Dead event that is free and open to the public, with sugar skulls, marigolds, exhibitions, altars, calaca face painting, and live performances.
Canoga Park's Día De Los Muertos Festival
Main Street, Canoga Park
Canoga Park hosts its annual festival honoring the Day of the Dead. Families can spend the whole day at the free event, enjoying traditional holiday altars, arts & crafts, food, a car show, a children's art pavilion, a stage with live "Dead" entertainment, and chalk art.
Long Beach / San Pedro Day of the Dead
San Pedro's Día de los Muertos Festival
Historic Downtown San Pedro
Art, culture, delicious cuisine, live entertainment, and Day of the Dead face painting accompany an altar exhibition featuring the work of artists and community members. Kids can make free Day of the Dead crafts, too. Free admission.
Día de los Muertos Family Festival
Museum of Latin American Art, Long Beach
Activities include mask-making and other art workshops, an Aztec dance performance and procession, children's storytime, interactive activities, sugar skull decoration, face painting, and a live DJ. Día de Los Muertos attire is strongly encouraged.
Orange County Day of the Dead Celebrations
Noche de Altares
El Centro Cultural de Mexico, Santa Ana
This free community event invites families to create or enjoy altar displays amid music and dancers.
Community Ofrenda & Family Festival
Bowers Museum, Santa Ana
Guests can join the free celebration and enjoy pan dulce with Mexican hot chocolate, face painting, special art projects, and performances by Rhythmo Mariachi Kids, Folklorico Raices de Mexico, Trio Tres Souls, and Xipe Totec Danza Azteca.
Originally published October 18, 2011