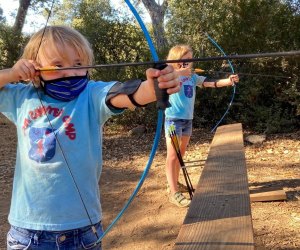 Amazing Traditional Outdoor Summer Camps for LA Kids for Summer 2021
Los Angeles is blessed with a whole bunch of summer camps (just check our camp guide and directory). Parents with kids who are driven to spend their summers focusing on musical theater, art, a particular sport, science, or even horseback riding have all the options they could wish.
But sometimes summer needs to be about good old-fashioned swing-on-a-rope, splash-in-a-pool type fun. Sometimes what our kids really need is to spend a couple of weeks in the fresh air doing things that won't necessarily fill a college application, but sure will fill a memory book. For those types of summers, we offer up these great summer day camps in the Los Angeles area that are all about playing outdoors.
Editor's Note: Summer camp information for the 2021 season is changing daily. Please click the links to the individual camps for the most up-to-date information. Some photos in this post were taken prior to the pandemic.
Malibu
Ages 4-15
Aloha Beach Camp offers kids a chance to surf, boogie board, and swim in the ocean, along with some tubing, jet skiing, wakeboarding, beach ecology, and other seaside activities. Kids are grouped in one of three age-appropriate aquatic programs and then can choose from over 200 beach and ocean activities. Free transportation is available from just about any neighborhood in the LA area.
Topanga
Ages 4-14
Cali-Camp offers kids from pre-K through high school a chance to spend the summer engaging in classic outdoor activities, up in the fresh air of artsy, woodsy Topanga. Campers can get a taste of horseback riding, gymnastics, target sports, tennis, rock climbing, rope climbing, and more. Transportation is included in tuition, with pick-up locations all over town—and once your kid is on the bus, Cali-camp promises a non-stop ride to Topanga.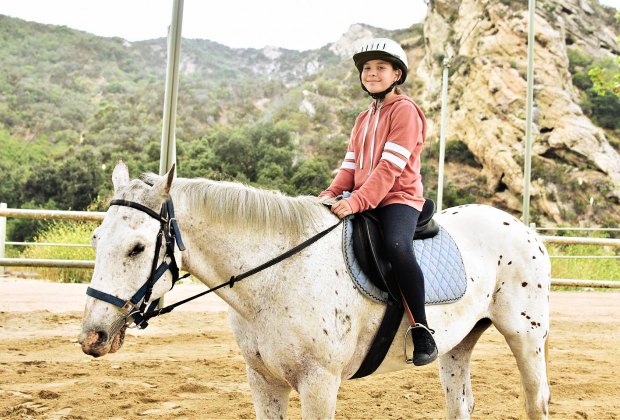 Photo courtesy of Camp Cali
Playa del Rey and Redondo Beach
Ages 4-13
Camp Awesome is a drop-off only beach summer program that consists of play, leisure, sports, arts and crafts, water activities, exercise, and positive reinforcement. Parents can follow their children at any time online through social media. There are not currently any field trips scheduled for the summer of 2021, due to the pandemic, but this could change at any time.
Santa Monica
Ages 6-12
Camp Cosmo is a favorite with local kids, because every single day, kids get to decide what they do. Kids can choose from activities including making music, creating art, jewelry making, science projects, cooking, water play, taking apart computers, or something else entirely. Camp Cosmo Live will resume in June of 2021 and run through September, in small groups and for full weeks only. There is also an online option for families who don't feel comfortable with in-person gatherings this summer.
Agoura Hills
Ages 3-14
Set on 30 acres of park-like land in the Santa Monica Mountains, Camp Keystone is one-stop camping with non-stop fun that includes a giant waterslide, horseback riding, go-karts, boating, swimming lessons, rock climbing, classic arts & crafts, and every sport a kid could want to play. This place does camp the old-fashioned way. Transportation is available from many locations around the Valley and the Westside for an additional fee.
Agoura Hills
Ages 4-14
Located up in Agoura Hills, on the site of a former sleep-away camp, Kinneret feels pleasantly far from home. Traditional outdoor camp activities include swimming, horsemanship, crafts, hiking, archery, ropes, paddleboats, and miniature golf—there's even a petting zoo. Campers can attend for two to five days per week, in four or five-week sessions. Transportation is included. Camp will look a little different for the summer of 2021; to see what safety measures have been taken and the changes that will be made, please check the website.

Photo courtesy of Camp Summertime
Agoura Hills/Malibu
Ages 4-14
Camp Summertime is at the beautiful Calamigos Ranch on over 120 private acres including 2 ponds and 3 swimming pools. This traditional day camp keeps kids busy and active from the moment they arrive until the second they leave. Campers build self-confidence, self-esteem, and self-respect within a supportive environment. For the summer of 2021, kids must enroll in a minimum of 10 days.
West Hollywood
Ages 4-12
Camp Wildfolk is a wildly fun, unique day camp, blending the spirit of traditional camp with a progressive, camper-centered approach. Campers can create their own experiences by choosing their class electives. Wildfolk is a hands-on, project-based adventure where kids team-build, explore, create, and innovate. A Guides-in-Training program is offered for teens ages 13-17.
Pacific Palisades
Ages 4.5-14
The Pacific Ocean is right there, so kids can spend a day romping and camping on the beach in the Palisades, enjoying sand, water, and sunshine at Sandy Days Kids Camp. A typical day includes a nature walk, hula-hooping, boogie boards, ball games, and crafts. Extended care is available.
Altadena
Ages 5-12
This old-fashioned camp nestled in the San Gabriel foothills is run by a pair of long-time campers by the names of Mama Mía and Cowboy Joe, who like to tell shaggy dog stories by a campfire. That's just the start of the wholesome, outdoor fun, of course. Kids get to choose daily between crafts, group games, scavenger hunts, swimming, hikes into the chaparral hillsides, science experiments, and camp cooking. Camp is open to children entering kindergarten to sixth grade. For the summer of 2021, campers will be divided into cohort groups, and SK-PreK camp will not be offered.
West LA
Ages 4-14
Located in the hills just west of the 405, Tocaloma offers campers tennis courts, a swimming pool, and fields for just about every type of athletic activity. Kids can try their hands at archery, photography, drama, and music in addition to a full array of outdoor sports. Camp weeks can be reserved with two, three, four, or five days per week, but a minimum of three weeks of enrollment is required. Transportation is available for an additional fee. Note: The TOTS program for the youngest campers will not be offered in 2021, but will resume in 2022. Kids must be 4.5 by June 1, 2021, to enroll this summer.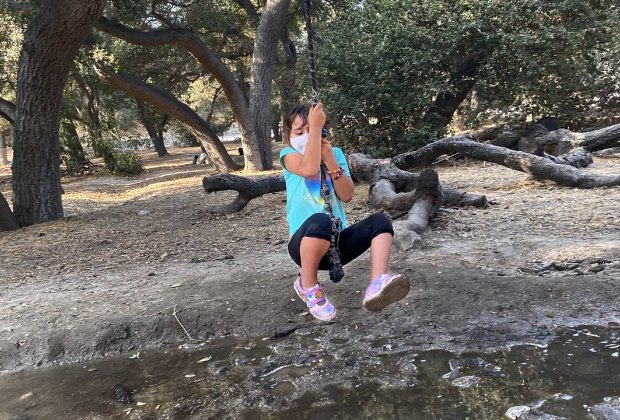 Cowabunga! Photo courtesy of Tom Sawyer Camp
Altadena
Ages 3-14
Tom Sawyer Camp strives to live up to the legacy of its namesake, offering classic outdoor adventures for kids young and older. Activities include such old-fashioned kid fun as fort building, hiking, making dams, frog catching, horseback riding, archery, obstacle courses, and swimming. Camp weeks can be reserved with two, three, four, or five days per week, but a minimum of three weeks of enrollment is required. Transportation is included in the fee. Pre Camp for the littlest campers will still be offered this summer, but please note that pre Campers must be potty trained and 3 years old by June 1, 2021.
West LA
Ages 4-14
Tumbleweed offers some of the LA area's most popular summer day camp programs, keeping kids entertained in the fresh air, on horseback, in swimming pools, hiking, climbing, and playing traditional Chumash games all summer long. The camp is located up in the hills above Brentwood, by Crestwood Hills Park, and transportation is included in tuition. Campers must be at least 4 years old on the day they start camp.
Originally published February 1, 2012 and updated annually