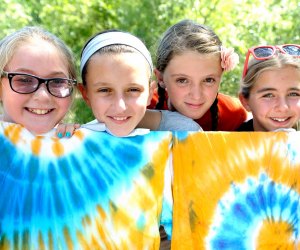 10 Traditional Outdoor Summer Camps for LA Kids
Los Angeles is blessed with a whole bunch of summer camps (just check our camp guide and directory). Parents with kids who are driven to spend their summers focusing on their music, their art, their particular sport, science, or even cooking have all the options they could wish.
But sometimes summer needs to be about good old-fashioned swing-on-a-rope, splash-in-a-pool type fun. Sometimes what our kids really need is to spend a couple of weeks in the fresh air doing things that won't necessarily fill a college application, but sure will fill a memory book. For those types of summers, we offer 10 great summer day camps in the Los Angeles area that are all about playing outdoors.
Note that summer camp information for the 2020 season is changing daily. Please click the links to the individual camps below to see which ones are offering programs this year.
Cali-Camp
1717 Old Topanga Canyon Road
Topanga, CA 90290
310.455.0404
Mon-Fri 8am-3:30pm
$$$
Ages 4-14
Cali-Camp offers kids from pre-K through high school a chance to spend the summer engaging in classic outdoor activities, up in the fresh air of artsy, woodsy Topanga. Campers can get a taste of horseback riding, gymnastics, target sports, tennis, rock climbing, rope climbing, and more. Transportation is included in tuition, with pick-up locations all over town - and once your kid is on the bus, Cali-camp promises a non-stop ride to Topanga.
Camp Keystone
2854 Triunfo Canyon Road
Agoura Hills, CA 91301
818.889.2224
Mon-Fri 9am-4pm
$$
Ages 3-14
Set on 30 acres of park-like land in the Santa Monica Mountains, Camp Keystone is one-stop camping with non-stop fun that includes a giant waterslide, horseback riding, go-karts, boating, swimming lessons, rock climbing, classic arts & crafts, and every sport a kid could want to play. This place does camp the old-fashioned way. Transportation is available from many locations around the Valley and the Westside for an additional fee.
Camp Kinneret
29646 Agoura Road,
Agoura Hills, CA 91301
818.706.8255M
Mon-Fri 9am-4pm
$$$
Ages 4-14
Located up in Agoura Hills, on the site of a former sleep-away camp, Kinneret feels pleasantly far from home. Traditional outdoor camp activities include swimming, horsemanship, crafts, hiking, archery, ropes, paddle boats miniature golf - there's even a petting zoo. Campers can attend for two to five days per week, in four or five week sessions. Transportation is included.
Rustic Canyon Park
601 Latimer Road
Santa Monica, CA 90402
310.454.5734
Mon-Fri 9am-3pm
$
Ages 6-15
Rustic Canyon is a secluded gem of a city park - so secretive that no one is even sure which city it's in. (The address says Santa Monica, but it's actually over the border into Los Angeles/Pacific Palisades.) The cool, clean air and big shady trees imply a location much farther from the city than it is, and the quiet, hundred-year-old rec center, once known as the Uplifters' Ranch, lends an atmosphere of days gone by. Camp is conducted in two-week sessions all summer, with daily activities that include swimming, singing, field games, and crafts. Fridays are usually set aside for field trips. Extended care is available, as is a shorter, preschoolers camp.
Sandy Days Kids Camp
Will Rogers State Beach
15100 Pacific Coast Highway
Pacific Palisades, CA 90272
310.569.1274
Mon-Fri 9am-3pm
$
Ages 5-12
The Pacific Ocean is right there, so kids can spend a day romping and camping on the beach in the Palisades, enjoying sand, water, and sunshine at Sandy Days Kids Camp. A typical day includes a nature walk, hula-hooping, boogie boards, ball games, and crafts. Extended care is available.

Summerkids Camp
3697 N. Fair Oaks Avenue
Altadena, CA 91001
626.577.9979
Mon-Fri 9am-3pm
$
Ages 5-12
This old-fashioned camp nestled in the San Gabriel foothills is run by a pair of long-time campers by the names of Mama Mía and Cowboy Joe, who like to tell shaggy dog stories by a campfire. That's just the start of the wholesome, outdoor fun, of course. Kids get to choose daily between crafts, group games, scavenger hunts, swimming, hikes into the chaparral hillsides, science experiments, and camp cooking. Camp is open to children entering kindergarten to sixth grade.
Tocaloma Summer Day Camp
16000 Mulholland Drive
Los Angeles, CA 90049
310.399.2267
Mon-Fri 9am-4pm
$$$
Ages 4-14
Located in the hills just west of the 405, Tocaloma offers campers tennis courts, a swimming pool, and fields for just about every type of athletic activity. Kids can try their hands at archery, photography, drama, and music in addition to a full array of outdoor sports. Camp weeks can be reserved with two, three, four, or five days per week, but a minimum of three weeks enrollment is required. Transportation is available for an additional fee.
Tom Sawyer Camp
4550 Oak Grove Drive
Altadena, CA 91108
626.794.1156
Mon-Fri 9am-3pm
$$-$$$
Ages 3-14
Tom Sawyer Camp strives to live up to the legacy of its namesake, offering classic outdoor adventures for kids young and older. Activities include such old-fashioned kid fun as fort building, hiking, making dams, frog catching, horseback riding, archery, obstacle courses, and swimming. Camp weeks can be reserved with two, three, four, or five days per week, but a minimum of three weeks enrollment is required. Transportation is included in the fee.
Tumbleweed Camp
1024 Hanley Avenue
Los Angeles, CA 90049
310.472.7474
Mon-Fri 9am-4pm
$$$
Ages 4-14
Tumbleweed offers some of the LA area's most popular summer day camp programs, keeping kids entertained in the fresh air, on horseback, in swimming pools, hiking, climbing, and playing traditional Chumash games all summer long. The camp is located up in the hills above Brentwood, by Crestwood Hills Park, and transportation is included in tuition.
Originally published February 1, 2012 and updated annually