Westchester Pool Parties: Best Outdoor Swimming Pools for Kids' Birthdays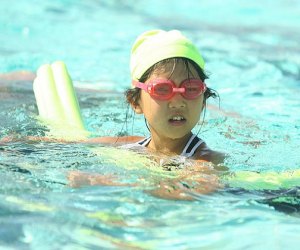 Temperatures are on the rise in Westchester and if your kid is lucky enough to have a summer birthday, why not throw an awesome pool party to commemorate the occasion? Nothing beats a pool party for fun-in-the-sun summer memories--the smell of chlorine, the hot scratchy pavement on wrinkled toes, the endless games of Marco Polo. If you don't have a pool in your backyard, no need to fret! Three of the hottest water play locations in Westchester County are also some of the best places for summertime pool parties!
These pools are available for parties Monday-Friday (holidays excluded) from either 11:30 to 1:30 or 2:00 to 4:00 and must be reserved in advance. Pool party packages include a reserved space with picnic tables and unlimited swimming; though lifeguards are on duty, it is expected that enough adults will be on hand to appropriately supervise the children. Pool party permits allow groups up to 30 in the reserved area. All food at the party must be purchased at the local concessions stand; the only outside food allowed in the party area is cake. Reservations should be made by contacting the individual park offices listed below; a Westchester County Park Pass is required for all reservations.
The Brook at Tibbetts Park - Yonkers
355 Midland Avenue
Reserve The Book at Tibbetts Park and your party will have access to the lazy river, basketball and water-volleyball pools, spray playground, extensive picnic area and all of the amenities at this extensive saline water park. Contact the park office for reservations at (914) 231-2865.
Saxon Woods Park - White Plains
1800 Mamaroneck Avenue
With Westchester's only fully accessible playground, an 18 hole mini-golf course, the largest county-owned swimming pool and a separate kiddie pool with a spray playground, Saxon Woods park in White Plains offers an outstanding pool party experience for kids of all ages.
Willson's Waves - Mount Vernon
East Lincoln Avenue
Located within Willson's Woods Park, Willson's Waves is a 4 section water park and water recreation area. Made of a wave pool, two 18 ft tall waterslides, a water playground filled with caverns and waterfalls and a spray-deck, there is plenty at this park to entertain young and old alike.
Looking for more options? Check if your local town has a public pool. Some allow residents to either reserve the town pool for parties or have parties during open hours.