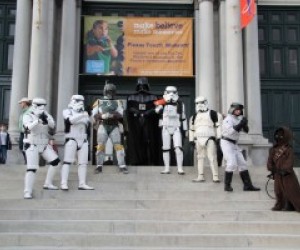 Weekend Fun for Philly Kids: Airplanes, Star Wars, Performances August 22-23
All Weekend
Festival of Flight- Toughkenamon, PA
Families can enjoy seeing antique cars, antique planes and watching a remote control airplane demonstration at New Garden Flying Field's Air & Car Show.
Disney's Aladdin Jr.- Media, PA
It's the last weekend to take a magic carpet ride to a whole new world to see The Media Theatre's production of Disney's Aladdin Jr.
Chocolate & Vanilla Festival- Camden, NJ
Which do you prefer- chocolate or vanilla? Visitors to Camden Children's Garden learn about the plants responsible for both of these delicious flavors through crafts and educational activities.
Junior Engineers- Wilmington, DE
Guests to Delaware Children's Museum can discover what it takes to be a computer hardware engineer during its weekend Junior Engineers event.
Saturday, August 22
Canoe with Perks- Audubon, PA
Meet at the John James Audubon Center at Mill Grove for a guided canoe tour of Perkiomen Creek to discover birds, macroinvertebrates and possibly a muskrat too.
Butterfly Festival- Media, PA
Tyler Arboretum is set for visitors to enjoy a spectacular display of butterflies. Guests can see butterflies at different life cycle stages and view a monarch tagging demonstration.
Lowe's Build & Grow- All locations, PA
Kids can make Thor's Chariot from the Marvel's Avengers Assemble series at a Lowe's store near you. Registration is suggested.
Seafarin' Saturday- Philadelphia, PA
Create your very own pirate story during Independence Seaport Museum's Seafarin' Saturday. Afterwards, enjoy the museum and all it offers.
Limerick Community Day- Limerick, PA
Celebrate one of the last weekends of summer at Manderach Memorial Playground. Guests can enjoy the farmer's market and then play at the playground.
Mushroom Foray- Doylestown, PA
Children learn about these intriguing fungi through games and activities at Peace Valley Nature Center. See how to identify different species and what role they play in the environment.
Storytime! Beauty and the Beast- Rose Valley, PA
Hedgerow Theatre's production of Beauty and the Beast closes this weekend. Children can watch this creative performance and then participate in inspiring a new ending.
Sunday, August 23
Star Wars Day- Philadelphia, PA
The force is strong at the Please Touch Museum. Visitors can dress as their favorite Star Wars character and participate in a variety of intergalactic fun including storytime, character meet and greets and R2D2 demonstration.
Back to School Evening Hike- Wilmington, DE
Before the hustle-bustle of the school year begins, pause for a relaxing walk through the Brandywine Zoo to visit the animals.
Butterflies and Bugs- Huntingdon Valley, PA
Explore Lorimer Park to discover insects of all kinds. During the visit, guests can use bug boxes with magnifying glasses to see bugs more closely.
Photo credit: Please Touch Museum