Turkey Trot! Thanksgiving Day Runs in New Jersey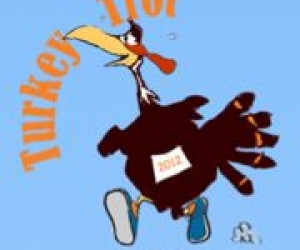 Turkey trots and turkey races are a fun activity for Thanksgiving Day morning. Before you sit down to that delicious Thanksgiving meal, take the family out and trot like a turkey! Running is a sport everyone can participate in…it encourages health and fitness, can benefit a charity and doesn't require great skill or practice. There are many "Turkey Trots" across the state of New Jersey, all of which are family friendly. Check out one close to you and burn some calories before you add more.
CEA/Johanna Foods Turkey Trot, Flemington, NJ
CEA is the Center for Educational Advancement, the sponsor for this annual Thanksgiving Day 5K and 2K walk. Join the over 1000 participants to help CEA provide employment, jobs, and social skill training for people with severe disabilities. The course is flat and well-marked….many dress in their best holiday themed hats, costumes, etc. This one is a hoot….we do it every year!
Krogh's Turkey Trot, Sparta, NJ
Sparta's Turkey Trot takes place on Thanksgiving Day at beautiful Lake Mohawk. Events beside the 5K include a 1 mile run/walk and optional pasta party the night before the races. The registration fee benefits the Sparta Educational Foundation and Sparta Public Schools. Register online or by mail.
Somerset Turkey Trot, Somerset NJ
Somerset County Parks sponsors this race that does not happen on actual Turkey Day, so check website for dates. There is a 5K which begins at 9:30; the 1 mile run begins at 9.
Gobble and Wobble 5K and 1 Mile Dash, Manahawkin NJ
Join fellow turkey trotters at this fun 8:30am start race. This is a timed race to benefit CASA of Ocean County and Stafford Township DARE programs.

Morris County Thanksgiving Turkey Trot, Morris Township NJ
Trot to support the Literacy Volunteers of Morris County and The Interfaith Food Pantry. Over 3,000 runners, walkers, and children join together for the pre-feast fun.
Hoboken Turkey Trot, Hoboken, NJ
The day will start with a 1-mile fun run at 9:30am, followed by a 5K run at 10am. All proceeds will benefit local charities in the City of Hoboken.