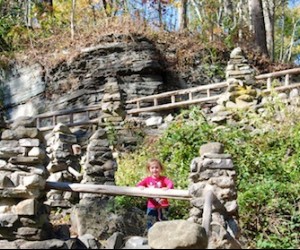 Top Ten Things to Do with Kids in East Haddam
East Haddam, a town in southeastern Connecticut that is rich in natural scenery and history, is a fabulous destination for a day trip and there is no better time to visit than the fall. Located along the Connecticut River, most of its charms are outside, so be sure to wear comfy shoes and bring a camera because there will be some spectacular fall foliage photo-ops. You might have to plan two day trips, however, to fit everything in. Below is our list of the top ten things to do with kids in East Haddam. And be sure to check out our CT Day Trips Guide for more charming towns to visit.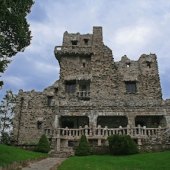 Gillette Castle State Park, one of the most popular attractions in East Haddam, is worthy of a trip in itself. The medieval-style "castle," built by actor William Gillette (best known for playing Sherlock Holmes), is an imposing yet quirky structure set on miles of grounds that include paved paths, unpaved hiking trails, stone structures, a duck pond, bridges, and picnic areas. Some of the trails have a steep slope leading down to the river; young children need supervision but should be able to traverse the terrain if they are slow and careful.
The castle has a large stone terrace that offers a beautiful view of the river where you can watch the Chester-Hadlyme ferry cross. There is also a covered stone pavilion, also with river views, the perfect place to enjoy a picnic lunch. If you don't want to pack a lunch, there are food concessions and a gift shop right off the main parking lot. The large public restroom, in my experience, has been very clean. During our visits to the Castle my kids and I have been occupied enough by the grounds that we have never made it inside. It is, however, open every day for tours from Memorial Day weekend through Columbus Day.
67 River Road, East Haddam, CT 06423
The Chester-Hadlyme Ferry transports cars and passengers across the Connecticut River from the historic Hadlyme section of East Haddam to the Essex Steam Train in Chester. The short five minute ride is a fun experience for little ones. If you are bringing your car over be prepared that it might be a wait on a busy day as it can load only 9 cars. A better option might be to take the ferry from Chester to Hadlyme, explore Gillette Castle, and then ferry back. Ferry rides operate from April 1 to November 30, Monday through Friday from 7 a.m. to 6:45 p.m., and weekends from 10:30 a.m. to 5 p.m. It costs $5 per vehicle on weekdays, $6 on weekends, and only $2 to walk on as a pedestrian or bicyclist.
In Hadlyme: From East Side of CT River: Route 148 off Route 82 (follow signs to Ferry Landing)
In Chester: From West Side of CT River: Route 9 to exit 6, Route 148 (follow signs to Ferry Landing)
Right next to the legendary Goodspeed Opera House, the Gelston House is a historic building in its own right. Built in 1736 as the River Slide Inn, it has been operating as the Gelston House since 1853. Although it is known for its fine dining, the restaurant has recently added the Gastropub in the Gelston Pub, an informal bar and grill, in an existing dining room. In good weather you can sit out on the large patio after hiking Gillette's trails and relax with burgers and fries while looking out at the river and historic swing bridge.
8 Main Street, East Haddam, CT 06423 / (860) 873-1411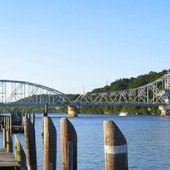 This local landmark, a steel bridge built in 1913, is 899 feet long (believed to be the longest swing bridge in the world). It swings open on the hour and half hour to accommodate recreational river traffic, and on-demand for commercial barge traffic. Rather than swing up, it swings out. There is a great view of the bridge from the patio of the Gelston House as well as from the banks of the river outside of the restaurant.
Route 82, East Haddam, CT 06423
Another great hiking spot in East Haddam is Devil's Hopyard. Near the entrance is one of the main attractions, Chapman Falls, which drop 60 feet over a series of steps. After you pass the falls your hike will take you over a covered bridge where you can choose from various trails. There are picnic areas near the covered bridge as well as a restroom. You can also fish for trout in the stream.
366 Hopyard Road, East Haddam, CT 06423
Ray of Light is a unique resource in southern Connecticut. A nonprofit animal rescue and animal-assisted therapy center, Ray of Light rescues abandoned or abused horses, some of which are eventually adopted while others remain as therapy animals. The farm offers pony rides, riding instruction, educational children's programs, and a party room for events. A farm and tack shop is open every day except Wednesday. There are other farm animals who live at Ray of Light as well. It is open Thursday through Tuesday, from 10 a.m. to 3 p.m. It is free to visit, but donations are appreciated. Pony rides are $10.
232 Town Street, East Haddam, CT 06423 / (860) 873-1895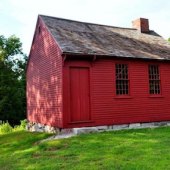 Peeking into this one-room red schoolhouse is like stepping back more than 250 years into history. Built by Revolutionary War hero Nathan Hale, who served as schoolmaster here, the schoolhouse has displays of Nathan Hale's possessions as well as items of local history. For kids, it is most interesting to simply see and imagine what school would have been like confined to one tiny room. Located on a hill overlooking East Haddam Village and the Connecticut River, the schoolhouse grounds offer yet another scenic vista. The schoolhouse is open May through October, Wednesday through Sunday, from noon to 4 p.m., or by appointment.
29 Main Street, East Haddam, CT 06423 / (860) 873-3399
8. Lower Moodus Reservoir/East Haddam Town Beach
Flanked by beautiful foliage in the fall, the Lower Moodus Reservoir, in the Moodus section of town, is a lovely spot to picnic and play. It is home to East Haddam Town Beach, a sandy area with a small playground where lifeguards and swimming lessons are available in the summer. There is also a dog park located in an adjacent former ball field if you want to bring your pooch.
291 East Haddam Colchester Turnpike, Moodus, CT 06469
There's no better way to cap off a great fall foliage trip than with a stop for pumpkins and apple cider. Drop by Staehly Farms for decorative fall items like mums, hay bales, and cornstalks, and farm stand goodies for the kids. (Don't forget to grab a bottle of wine for after the kids are in bed.)
278 Town Street, East Haddam, CT 06423 / (860) 873-9774
Allegra Farm is the largest "livery stable" in Connecticut dedicated to the restoration of vintage horse drawn carriages. Take an authentic, horse drawn hay ride around East Haddam's beautiful Lake Hayward; in the winter, take a ride through the snow on an antique sleigh. Country carriage rides (think Little House on the Prairie) are also offered. There are lots of fun options here; be sure to call ahead for more details before your visit.
69 Town Street, East Haddam, CT 06423 / (860) 537-8861