The Brooklyn Flea Market and other fun stuff for kids in Ft Greene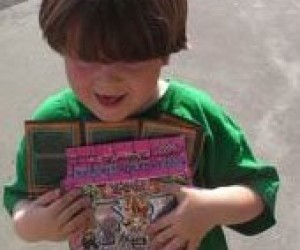 You don't hear about Fort Greene that much and that's probably a good thing. Good for me anyway. I've been enjoying spending afternoons there, with and without my kids. Fort Greene's quiet, bucolic tree-lined streets are the perfect antidote to a stressful day of work and there's lots of fun stuff to do in the neighborhood with kids.
We hit the Brooklyn Flea Market on a recent Sunday. There's not a ton for kids, but it's fun digging around and there are some really yummy food vendors in the back. My son was able to haggle his way to a two dollar double pack of fake Yu-Gi-Oh cards and my daughter settled for a fresh organic lemon ice.
Neighborhood retailer Still Hip also had a table of cool, vintage toys and new handmade baby clothes, but why not head to their store a couple of blocks away where they frequently have fun classes and events. Still Hip is more of a community hub than a store and makes you want to move to the Fort Greene just to be near it. As of 2011, Still Hip is now closed.
I also love Fort Greene Park which is like a mini Central Park right in the middle of Brooklyn. It has these giant old trees that I just find so peaceful and relaxing to be around. There's a playground, tennis courts and other stuff too, but just walking through the park takes you miles away. A new moms group meets there on Tuesdays at 11am. Find out about it on their yahoo group: http://groups.yahoo.com/group/fortgreenebabies Fort Greene Park also has lots of children's nature programs run by the Parks Department on the weekends, but this weekend is the Fort Greene Festival with live music including Meshell Ndegeocello, a wonderful singer, at noon.
The icing on the cake for me is the great restaurants which just have that perfect chill vibe and great food. Habana Outpost is a fun place to stop with kids on weekends when parents can hang out in the outdoor patio while kids are entertained in the Kids Corner with craft activities.
Read more all about Fort Greene with kids in our neighborhood guide, where Karen of A Child Grows in Brooklyn serves up the whole inside scoop.