Take a PEEC: Visit the Pocono Environmental Education Center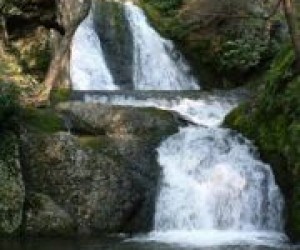 "Mom, I'm bored!" is a phrase that strikes dread into the hearts of moms during the summer. Trying to think of some great day trips to fill the hours? Look no further than PEEC: Pocono Environmental Education Center. PEEC is only a 90 minute drive from NYC or most New Jersey counties. It is located within the 77,000 acres of the Delaware Water Gap National Recreation area along the Delaware River and offers hands-on activities for all ages.
PEEC's mission is "to advance environmental education, sustainable living, and appreciation for nature through hands-on activities." They offer 12 miles of guided trails, hands-on activities, and a comprehensive list of birds for your budding ornithologist. There are 6 specific trails that each have a focus, such as the Fossil Trail which travels through a fossil quarry, a Tumbling Water Trail (perfect for a hot summer day) and the Sensory Awareness Trail. The trails and the main lobby, which has some eco-displays, are open 9am-5pm year round.
One of the best parts of PEEC is the EcoZone. Would your kiddos love to sit in an eagle's nest, explore a beaver dam, or rest in a bat cave? The EcoZone allows children to explore nature's inaccessible places on a life-sized scale and the fee varies from Free to $5/per person depending on the date. Check the EcoZone schedule for more information and available dates. PEEC also has homeschool group opportunities and facility rentals.