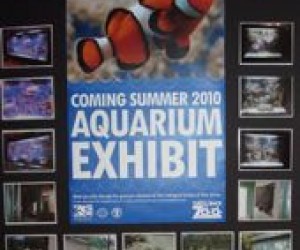 Sneak Peak: Turtle Back Zoo's New Aquarium Exhibit
There's something new at the zoo! (Besides the new face painting and glitter tattoo artist, of course). The charming Turtle Back Zoo in West Orange has been around since 1963, but it's always re-inventing itself. In late September (date to be determined) Turtle Back will open its newest exhibit, "Worlds of Water" aquarium. Here I'll share details with you about the aquarium that will definitely be on your must visit list.
I was invited to participate at a special event for bloggers on August 26th, and it definitely was an early sneak peek. So early in fact, that the fish weren't even in the aquarium yet, but hanging out in the Fish Hospital. My husband and children accompanied me and were delighted to dash around the blissfully empty zoo as special guests. As any aquarist will tell you, an aquarium is a major undertaking. All zoo animals require great care and tending, but there's nothing like a creature that thrives at a water temperature of 74-75, but suffers at 73 or 76. When the aquatic quality has to be at 100% all the time, there's no room for error, but Turtle Back is braving the waters, so to speak.
Worlds of Water finds its new home in Turtle Back's old Monkey House; all traces of said monkeys have been erased and 75 different species of fish have taken their place, not to mention a lovely outdoor enclosure for Shore and Wading Birds. The entrance to the aquarium is a kelp curtain, both setting the mood for what lies inside and controlling the amount of light entering the building. The 900 gallon Coral Reef Tank pictured above will have coral mounted on the outside walls to extend the illusion and a touch-screen computer to answer kids' (and parents', because what do we know, really?) questions about the marine life they are seeing. It will house a huge variety of fish along with my personal favorite-named sea creature, the Chocolate Chip Starfish. Delicious. Sorry, I mean "cute".


Rows of smaller tanks will house the more, shall we say, unusual varieties of sea life, like these guys below:


Honestly, I didn't even write down the name of these dudes, because all I heard was "venomous". Pretty awesome-looking, but wouldn't want to be in a tank with them. We got to see these poisonous fellas and other fish in the 1.8 million dollar Essex County Animal Hospital that Turtle Back Zoo built in 2005 to serve the zoo's animal residents and operate as a quarantine facility for a growing animal collection.
This exhibit promises to be well worth a trip to Turtle Back Zoo. We had a fantastic time and are pleased to inform you that the new World of Waters Aquarium is MAC (Marine Aquarium Council)-approved. This adds to Turtle Back's other distinctions, the most important being accreditation by the American Zoo and Aquarium Association; this distinct honor places Turtle Back Zoo amongst the elite zoos and aquaria of the United States and means that the zoo adheres to the highest standards for zoos in the country.