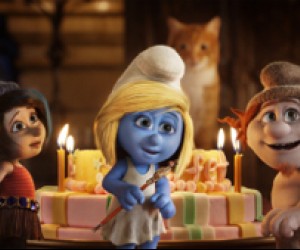 Smurfs 2: Kid and Parent Reviews
My eight-year-old has been obsessed with Smurfs since the age of two, and has been counting down the days to the release of the second Smurfs movie all summer. So, imagine our delight when we were invited to a screening of Smurfs 2 in 3D at the Regal Fenway theaters. Although only one of us has a bizarre affinity for the little blue people, the whole family went to the show – we all liked the first film, and we were actually looking forward to the second one, too. Did Smurfs 2 live up to our expectations? Find out from my kids first, and then read on for my take on the film as a parent. If you decide to see Smurfs 2 with your kids, consider making a night of it at one of the drive-in theaters near Boston. You just might feel like a kid again yourself.
---
A 10-year-old's review:
Smurfs 2 is an extreme family story, packed with traps, daring rescue missions, and rule-breaking, all in a few days time. Basically, the evil wizard Gargamel is trying to take over the world again, with the help of the Naughties, his Smurf-like creations. He kidnaps Smurfette after he learns she has the key to his power, and the other Smurfs go off to save her, with their old (and some new) friends, the Winslow(-Doyle)s. Meanwhile, Smurfette is befriending the Naughties and may be tricked into telling Gargamel the secret recipe at any time. Will the Smurfs get there in time? And worse, even if they do, will Smurfette want to come back home with them?
My favorite character? That's Vexy, one of the Naughties. Sure, she's kind of the bad guy, but later in the movie you can see she's destined to be a true-blue Smurf because she has a heart of gold just like any Smurf, even if it doesn't show at first. And, she's full of spunk. Something I liked – a female main character! (Really, two: Smurfette and Vexy.) I also liked the plot. Something I didn't like was that Smurfette seemed to be easily tricked in the beginning.
The movie is not very scary at all. I heard a lot more laughs than screams in the theater! (Meaning that I didn't hear any screams.) Although, with under five-year olds, you may want to watch it in 2-D because there are some parts that could be scary for little kids, which would seem scarier in 3-D. If you have older kids who are reluctant to go, you may want to consider seeing it in 3-D, which is scarier for younger kids, but more exciting for the older ones. I would say that really anyone might enjoy this movie: Younger kids just love it, older kids like the idea, though they may not admit it, and adults find that they enjoy the lightness of the story and some jokes put in that only the adults would understand.
---
A Smurfs-obsessed 8-year old's review:
Smurfs 2 is a Smurftastic film with Smurfy events such as traps, puzzles, FUN, and a Smurfunderstanding.
Summary: It was Smurfette's birthday. She took a walk and an evil Smurf, Vexy, took Smurfette to Gargamel. Vanity, Papa, Grouchy and Clumsy fight Gargamel with some friends to get Smurfette back.
Favorite character: Vexy, because she is a kind-ish character who is also very naughty.
What I liked: Everything
What I didn't like: Nothing
Ranking of movie, on a scale of 1 to 5 (1 = stunk, 5 = great): 5
---
A parent's perspective:
Well, my kids have just about covered it, but I want to add a few thoughts from a parent's perspective:
Overall, the movie was highly entertaining. I almost busted a gut from laughing so hard, and there were plenty of deeper issues explored in the movie to keep me interested in the story and the characters. However, the plot got a little murky in the middle, and there are a few things to be aware of when deciding whether to take kids to see the movie:
- In keeping with the original cartoon, there is a lot of slapstick comedy, and injuries are brushed over (think of old cartoons where the antagonist is always being blown up by his own TNT, but always survives). If you want kids to see realistic consequences of extremely dangerous situations, this may not be the movie to take them to.
- The setting in Paris is absolutely gorgeous, and I think seeing it in 3D enhanced the aesthetics. However, scenes that might not otherwise be scary are much more intense in 3D. For example, Gargamel's cat, Azrael, goes on attack after being magically enlarged to a gargantuan size. Normally not a big deal, but in 3D, with fangs and claws in your face – yikes!
- There is some rude humor. Actually, there's a lot of rude humor and some language that's foul without actually being profane. Insert "Smurf" in place of less savory words, and you get the idea. However, I think most of the language and jokes go over the heads of very young children.
Smurfs 2 definitely met our expectations, and those of most of the audience. Applause filled the theater at the end, and there were lots of happy faces spilling into the lobby afterwards. That's a pretty good endorsement.
---