Rockin' Music Classes in Nassau County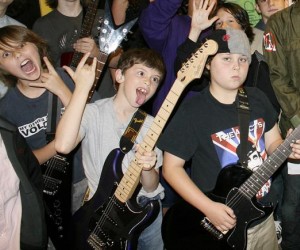 There's no denying the many benefits music has in a child's life, and studies show that learning how to play an instrument can not only help your child do better in school, but also relieve stress, boost self-esteem and teach discipline. There are plenty of places in Nassau County where kids can start to learn to play a variety of instruments. So whether your child wants to be the next John Mayer or Mozart, it's never too early to start.
Bach To Rock
1015 Port Washington Boulevard, Port Washington
Bach to Rock sessions include a variety of half and full-day music programs for all ages, early education programs for ages 3-6 focus on developing musical skills by playing games and learning new songs. Rock Band and Glee Club for ages 7-11 feature playing music in groups culminating in a live band performance on the Back to Rock stage. Teen programs for ages 12-15 use state-of-the-art recording technology including Pro Tools to give hands on experience in recording, mixing, and mastering music in a professional recording studio.
Long Island Aardvarks: Music for Aardvarks
Great Neck, Port Washington, Roslyn, Syosset and Bellmore locations.
Music for Aardvarks is an exciting and stimulating way to expose babies and toddlers to music. Classes are geared toward children 4 months to 4 years old and incorporate singing, dancing, musical storytelling, and instrumental jam sessions. It's an interactive musical experience that is sure to get the kids moving and grooving.
New York Music & Arts
41 South Middle Neck Road, Great Neck
Music & Arts offers the highest quality of musical education in Nassau with a world-renowned faculty, consisting of graduates from the Julliard School. The music school rivals the top institutions in the world. When you register for individual lessons, you receive more than a weekly lesson. Your tuition covers a wide range of activities, and allows you to expand your musical talents.
North Shore Performing Arts Center
609 Jericho Turnpike, Syosset
Here, music classes help children gain self-confidence, coordination, and self-expression. The instructors at NSPAC teach dance, music and theatre classes. It is the studio's mission to encourage all students to reach their full potential physically, emotionally, and socially. Small class sizes, positive instruction, friendly and educated faculty, allow for one of the best and growing performing arts programs in the area, with more than 150 weekly classes to choose from.
Not Just Art/Music Together
183 South Street, Oyster Bay
At this studio parents and kids can choose from various art and music classes that help to establish creativity and self-esteem by honing in on individual talents.
School of Rock
154 Mineola Avenue, Roslyn Heights
540 Smith Street, Farmingdale
The best way to learn music is to play music. Here, students from the lesson room to the stage, develop both their confidence and musicianship with programs designed for all skill levels. School of Rock teaches guitar, bass, vocals, keyboards, and drums, and combines weekly private music lessons and group band rehearsals to prepare students to take the stage in front of live audiences in an authentic concert setting.
iSchool Music & Art
14 Vanderventer Avenue, Port Washington
14 Cold Spring Road, Syosset
325 Sunrise Highway, Rockville Centre
iSchool offers group and individual music lessons for ages 3 and up.
Originally published 2014
Photo courtesy of School of Rock