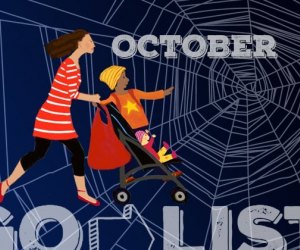 October GoList: Best Things To Do with LA and OC Kids Halloween Month
Kids cannot live by Halloween alone—or can they? Just in case, we've included several events on our October GoList that are not about Halloween. Just to mix it up. Of course, if Halloween festivals, pumpkin patches, and corn mazes are what you're craving, they're with us all month long in abundance. Ghost trains, too. But with all the activities October has to offer, a little curating is definitely in order. Read on for our top choices of things not to miss in LA, Ventura, and OC this month. We'll keep adding to our calendar daily and sending our weekly newsletters, too; with so much going on, we'll have to!
Los Angeles Greek Festival - Downtown
October 4-6, 2019
LA's largest Greek festival is a star-studded, three-day event with music, dancing, and a whole lot of baklava.
Orange County Children's Book Festival - Costa Mesa
October 6, 2019
The OC is home to the largest book fair in the country devoted solely to children's lit. Over a hundred authors and illustrators appear, including this year's headliner, noted children's author Kobe Bryant.


Photo courtesy of Orange County Children's Book Festival
CicLAvia - Heart of LA - Westlake, Chinatown, Little Tokyo, Boyle Heights, and Downtown
October 6, 2019
UCLA is turning 100, so let's go for a walk. Or a ride. Or a scoot. (But not in Westwood: in Downtown, where UCLA originated). Fun along the way includes street poets, photo ops, cooking demos, children's storytimes and games.
Feria de Moles - Downtown
October 6, 2019
Fans of exceptional Mexican food won't want to miss this: the annual festival in Grand Park is a mass celebration of all Mexican cuisine, but especially the savory, chocolatey, spicy dish that lends the event its name. No one leaves hungry.
Classic Horror Festival - El Segundo
October 4 - 26, 2019
Ain't no scares like the classic scares: The Old Town Music Hall sends shivers down your spine with iconic movie monsters from movies Golden Age, including Dracula, Frankenstein and The Invisible Man.
Hocus Pocus - Hollywood
Through October 7, 2019
Disney's El Capitan Theatre brings back its annual Halloween-time run of the wacky, spooky, triple-witch classic that bewitches movie-goers with the antics of Bette Midler, Sarah Jessica Parker, and Kathy Najimy as Salem witches come back from the dead on Halloween night. The El Capitan celebrates each screening as if it were Rocky Horror. Then go back to the El Cap the following weekend for a return engagement of Dia de los Muertos themed favorite Coco.
Reyes Adobe Days - Agoura Hills - FREE!
October 10-13, 2019
Agoura's annual festival explores California's heritage through festivities that include a parade, music, art exhibits, historical demonstrations, games, tours, and pony rides.
ArtNight - Pasadena - FREE!
October 11, 2019
Pasadena's semi-annual art event is always worth putting on the calendar; all the museums are free (and there are more than you might think), as is transportation between them all evening. Food trucks mean no need to factor in dinner—just a safe, fun, educational night on the town.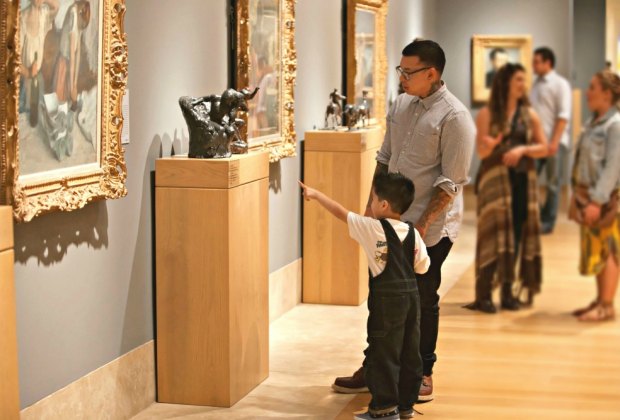 Kids love ArtNight at the Norton Simon Museum. Photo courtesy of Norton Simon Art Foundation
Calabasas Pumpkin Festival - Calabasas
October 19-20, 2019
True, there are a lot of pumpkin festivals this month, but how could you miss the one in the town whose name actually means "pumpkins"? Parking can be a little harsh, but that's probably because all the fun (rides, games, entertainment) is included in one $5 advance-purchase admission (otherwise, $10 at the door).
Baby Shark Live! - Long Beach
October 19, 2019
Baby Shark, du du du dudu, a whole stage show, du du du dudu, the best thing ever? du du du dudu, it may be if you're two, du du du dudu....

LA Cancer Challenge 5k - Westwood
October 20, 2019
Families can spend a day running a 5k and doing a fitness challenge on the UCLA campus, enjoying Halloween themed activities and raising money for a good cause.
Novenario Processions - Downtown - FREE!
October 25 - November 2, 2019
If your family is game for a unique cultural experience, the nine evenings leading up to el Día de los Muertos (the Day of the Dead) are a great time to visit Downtown and dance among the skeletons.
Anaheim Fall Festival & Halloween Parade - Anaheim - FREE!
October 26, 2019
Anaheim has been throwing this party for nearly a century (Babe Ruth was the first Grand Marshall, to put things in perspective). Between the evening parade on Saturday and the roller coasters, there are some great photo ops for this year's Halloween costume.

There are pumpkins and a whole lot more at the annual Kidspace festival. Photo courtesy of Kidspace Children's Museum
Kidspace Pumpkin Festival - Pasadena
October 19-20, 2019
The annual Kidspace Pumpkin Festival features crafts, rides, games, bouncers, live performances, and free photos at the pumpkin patch. Oh - and lots of pumpkins.
Sea Scare - San Pedro
October 26, 2019
San Pedro's gem of an aquarium is a little spooky at night already; add some ghouls, ghost stories, treasure-hunting pirates, and a monstrous DJ, and you've got a family Halloween celebration worth braving the 405 for.

Kinderfest at Old World's Oktoberfest - Huntington Beach
Sundays through November 3, 2019
Thoughts of an Old World Oktoberfest might conjure up images of beer mugs and lederhosen (not that there's anything wrong with that), but the annual Huntington Beach Oktoberfest goes well beyond that to create a weekly kid-focused event with carnival games, costume contests, and wiener dog races.

Trick-or-treating in Disneyland—who wouldn't want to do that? Photo courtesy of Disneyland
Oogie Boogie Bash – A Disney Halloween Party- Anaheim
through October 31, 2019
We're not claiming it's cheap or anything, but trick-or-treating is a heck of a way to see Disneyland. This year's event has a Nightmare Before Christmas theme and is held in California Adventures. Prices for the nighttime event are slightly lower than by day, and (even better) crowds are smaller because the number of tickets sold is limited.
Underwood Farms Fall Harvest Festival - Moorpark
through October 31, 2019
Take your pick, because Underwood Farms' wonderful fall festival runs every day all month. Weekends pack in more activities; weekdays offer lower admission. Either way, you can come home with a basket of freshly picked vegetables as a bonus.
Nights of the Jack - Calabasas
October 3, 2019 - November 3, 2019
A nighttime walk in the woods surrounded by all manner of carved and illuminated pumpkins—what's not to love? Enjoy the fresh air and Halloween atmosphere, throughout the season and even a few days after the sugar rush.