News: Sesame Street Exhibit Opening at the Library, Free Gift Cards & Craft Demos, New Urban Farm on Governors Island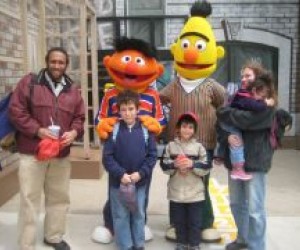 "Sunny day, chasing the clouds away." No matter how old your kids are now, you probably recognize those lyrics (heck you may have grown up with them, yourself). That's why we're so psyched about the new Sesame Street exhibit coming to the Performing Arts Library this fall. We've got the scoop on that plus a new urban farm on Governors Island, how you can find FREE gift cards hidden throughout the five boroughs, high-tech school lunch inspiration, no-cost craft demos, and we weigh in on the never-ending overprotected kids debate.
Openings... only! "Can you tell me how to get, how to get to Sesame Street?" Yes! Come September 18, all families have to do is head over to the New York Public Library for the Performing Arts at Lincoln Center for the new exhibit Somebody Come and Play: 45 Years of Learning on Sesame Street. Organized by the library and Sesame Workshop, the installation chronicles the show's creation, and features scripts, storyboards, pictures, animation cells and even a few Muppets. There will also be screenings and public programs on puppeteering, scriptwriting and digital media for kids and adults, plus a hands-on play area for the show's youngest fans where they can explore Sesame Street branded books, games and apps. Stay tuned for more details!

More great news from the library: Starting this fall, two Queens Library branches will become part of NYC's universal pre-K initiative. The Woodhaven and Ravenswood libraries will host pre-K programs from 8am to 2:30pm for an as yet unspecified number of children. For more information, call the central branch at 718-990-0700.

Last month we raved about the Battery Urban Farm, where families can volunteer to help grow and harvest their own vegetables. Well there's a new similar urban farm in town on Governors Island. GrowNYC, which runs multiple local green markets as well as another urban farm on Randall's Island, has opened an 8,000-square-foot fruit and vegetable patch on Governors Isle. Families can stop by on weekend from noon to 4pm to help tend the crops, pick fresh produce like tomatoes, pears, figs and kale, and even attend on-site cooking demos.
Freebies & sales I have been packing lunches every weekday morning for the past eight years so I admit I'm running a little low on ideas. Clearly, LaLa Lunchbox had moms like me in mind when it made its app FREE to download throughout the back-to-school season (which, according to all the commercials I see, has arrived... in mid-July). It's a cute idea: The app is like a video game that lets kids choose their favorite foods, and then turns their picks into a handy grocery list for parents. Hey it's FREE so how can you go wrong?

Last Sunday, a brand-new Michaels craft store opened in Chelsea. Even if you missed the grand opening festivities, throughout its first week the store is hosting no-cost craft demos every day at 6pm, and giving away gift cards and other prizes.

And even more FREE gift cards: NewYork.com's 5-Day, 5-Borough Dash for Cash kicks off on Monday, July 28. Families can run around searching for up to $5,000 worth of gift cards for experiences like the American Museum of Natural History, A Slice of Brooklyn Pizza Tour, the Liberty Cruise and more. Ten gift cards will be hidden each day in a different borough, and clues will be given out on NewYork.com's Google+ page and Twitter feed. Sounds like a great way to amuse the kids and possibly snag some fun prizes.

While kids can't bowl for FREE like they do at Queens' Astoria Bowl and Brooklyn's Shell Lanes, Manhattan's Bowlmor Chelsea Piers is offering a pretty good deal this week. Through Sunday, July 27, the spot is hosting all-you-can-bowl hours for just $10 per person (not including shoe rental). Looks like some restrictions apply so be sure to call ahead before you bring the whole family: 212-835-2695.
To supervise or not to supervise, that is the eternal questions We couldn't do a news post this week without acknowledging the latest in the never-ending free-range kids debate. If you've logged on to social media this week, read the Times or just surfed the Net, you've probably heard about Debra Harrell, the single mom and McDonald's worker who was arrested for letting her nine-year-old play at a park while she worked. It's actually just one of a rash of news stories about moms who've gotten in legal trouble for leaving their children unattended. Obviously, the decision as to when your child is mature enough to stay home/go out/wait in the car alone is a very personal one, and many states like New York have no official laws, only vague guidelines. As a mom who has been raked over the coals online for letting my kids stay home alone and walk home from school alone, through a blizzard, no less, I, obviously, have no problem with Harrell or the Connecticut mom who left her 11-year-old in the car while she ran into the store, or the widow who left her four kids, ages 5 to 10, home while she attended a college class. I do, however, have an issue with the busybodies who reported all of these parents. What about you? How did you react when you read Harrell's story? Share your thoughts in the comments.