Must-Try Ice Cream Shops in Lower Hudson Valley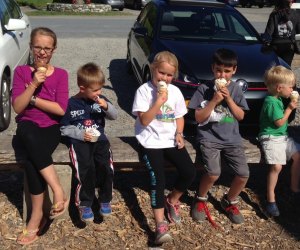 Few summer traditions are as timeless as ice cream melting down your wrist on a hot day. My kids and I don't need much of an excuse to indulge in this tasty treat and though ice cream stands, shops and chains are plentiful throughout lower Hudson Valley, there are a few local shops that really stand out. All of these are destination-worthy, using handmade or locally sourced ice cream for their creative concoctions and traditional favorites. Here is our list of 5 destination-worthy ice cream shops in the lower Hudson Valley. Also, be sure to check out our top picks for local ice cream shops in Westchester County!
Bellvale Creamery – Warwick
Featured on our list of 25 Things to Do in Warwick, Bellvale tops the list for its homemade ice cream that's made thanks to the dairy farm's cows. There are around a dozen flavors offered each day, each one incredibly rich and heavenly (albeit not exactly cheap). The lines can get pretty long, especially on extra-hot days, but you can take in the breathtaking valley views while you're waiting. There's often a lull directly during dinnertime, so that window may be your best bet. Like many of the stands on this list, Bellvale opens in the spring and closes up shop sometime in the fall.
Blueberry Mountain – Middletown
All of Blueberry Mountain's ice cream and gelato are homemade, and while it's not quite as rich as Bellvale, it edges out the competition in both variety and price. You can get a baby cone for just 97 cents(!), and the single scoop proves to be the perfect amount for my 4-year-old. Flavors range the gamut from Willy Wonka-inspired creations like Nerdy Vanilla and bright blue Smurf, to traditional standbys like pistachio and butter pecan. Adjacent to the stand is what must be the world's smallest miniature golf course on site, with games only $3 for kids and $5 for adults--not bad! Blueberry has both indoor and outdoor seating, but the indoor seats are extremely limited. It is open from April through September.
Weir's Ice Cream – Salisbury Mills
Weir's is an Orange County mainstay, first opened in 1956. The stand, which has outdoor seating only, is plastered with illustrations of its dizzying array of choices: hard ice cream, soft serve, ices, frozen yogurt, sherbert, sundaes, smoothies, cyclones, dips, egg creams, novelties…we could go on forever! Weir's is just around the corner from Hil-Mar Lodge and is only open from April through Labor Day.
The Dairy O – Westtown
Family-owned and operated, the Dairy O serves 36 flavors of homemade ice cream it sources from Manning's Farm Dairy in Pennsylvania. It also has a selection of fresh baked goods available, including apple dumplings, brownies, pies and cookies (and usually kettle corn). The Dairy O opens April 1 and stays open through the fall, depending on the weather. Note: While The Dairy O used to sell lunch, it no longer does so.
For more summer fun, be sure to check out our Summer Activity Guide and our Indoor Fun Guide.