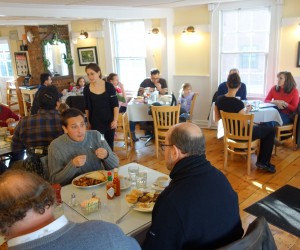 Kid-Friendly Restaurants in Cold Spring: Top Picks for Family Dining & Dessert
We continue our month-long coverage of Cold Spring with a look at restaurants and other eateries. Though Cold Spring is small, there's a reliable cadre of restaurants to choose from, most of which are on Main Street and all of which are within walking distance of the MetroNorth station. Outdoor seating is a staple.
You won't find changing tables in the bathrooms or kids-eat-free deals, but the places we've highlighted are all welcoming of children and very laid back. For those craving sweets, your best bet is ice cream, but be forewarned, there are several excellent spots for that, so you'll have to try them all!
Read on for our top picks for dining with families in Cold Spring. Also, be sure to check out our Winter Fun Guide and Indoor Activity Guide for ideas to keep kids busy all season long. And if you haven't already, sign up for our FREE newsletters to have our latest content delivered right to your inbox.
The Foundry Café
55 Main Street
There's a good reason why The Foundry Café can get quite crowded. The low-key vibe, the down-home food and the reliability of service appeal to locals and visitors alike. You'll see friends catching up, families lingering and residents reading the newspaper. Be prepared for a good wait—both for a table and for your order. It's very "chill," so if your kids are restless, send them to the antique shops across the street while you hold your place on line. At least one person in your group should order their famous French toast!
Hudson Hil's Market & Cafe
129 Main Street
Open from 8am to 4pm Wednesday through Monday, Hudson Hil's relies on fresh ingredients from organic Hudson Valley farms. Both the breakfast and lunch menus are extensive, and a kids' menu is offered at both meals. My daughter loves the chocolate-chip pancakes! Snag one of the tables on the porch when weather permits.
Cold Spring Depot Restaurant
One Depot Square
Though this popular spot has multiple virtues, the best thing about the Cold Spring Depot Restaurant is its location. Situated inside the former Cold Spring station house (built in 1893), diners are afforded a close-up view of Hudson Line trains whizzing by. There's an outdoor patio with ample seating and, as an added perk, live Dixieland music out there on the weekends. Inside is a cozy fireplace for chillier weather. The menu offers "pub grub"—chicken wings, burgers, ribs, potato skins, meat loaf, chicken pot pie—as well as a few surprises (like a salad with roasted butternut squash and hazelnuts). Little ones will like the Wizard Sundae—a scoop of ice cream with a cone hat and M&M "eyes."
Silver Spoon Cafe
124 Main Street
Silver Spoon offers a large assortment of breakfast items, including breakfast burritos and crepes, plus twists on traditional fare such as gingerbread waffles and brownie waffles(!). For later in the day, a burger is a reliable option, and there's a good selection of vegetarian options. The kids' menu offers staples like chicken fingers, pasta and mozzarella sticks.
The Cupoccino Cafe
92 Main Street
Cupoccino, an inviting café, serves coffee, baked goods, breakfast, and lunch, including grilled cheese with your choice of bread and choice of cheese. The café carries Jane's ice cream, a supplier in the Hudson Valley. Though a variety of flavors are offered, it's hard to beat Killer Chocolate, with its rich, deep flavor. Order at the counter and grab a seat.
Garden Cafe
116 Main Street
Garden Cafe is a catch-all for lighter fare. Grab a panini, soup, wrap or salad for lunch, a smoothie or frozen yogurt for the kids and a cup of coffee or espresso for yourself. Daily specials are offered as well. Free WiFi is available if you simply cannot unplug.
And for dessert...
Moo Moo's Creamery
32 West Street
Moo Moo's Creamery is the only eatery we're noting that's off the main drag, but its location opposite the Hudson River affords it great views and an easy way to grab a treat to enjoy on a bench overlooking the water. Location and scenery aren't all that recommend this establishment. The myriad flavors that rotate in and out of the freezer (16 are offered daily) are homemade with love. Whereas my kids go for the standard flavors, I swoon over the inventiveness you can count on, like Butterscotch Toffee Crumble or--get this--Peanut Butter Banana Marshmallow Chip. Need it now!
Go-Go Pops
64 Main Street
If you think ice pops are less exciting than ice cream, think twice about Go-Go Pops. These are artisanal and made from wholesome ingredients. Some of the selections have dairy in them for a creamy texture, while others are straight fruit. With flavors like Fudgie Wudgie and Banana Puddin', how can you miss? The shop also carries high-caliber chocolates and makes all-natural smoothies and juices from fresh fruit.
Check out our Kid Friendly Restaurant Guide for more ideas for dining out in Westchester and the Hudson Valley!
Photo: Hudson Hil's.