Highland Orchards in Chester County: 5 Reasons to Make a Family Day Trip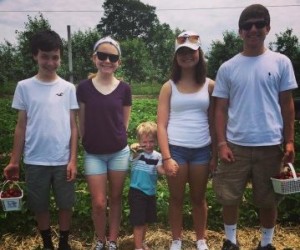 Undoubtedly, the simplest of activities can often make the best memories for our young children. Visiting an area orchard or farm is an easy, low-cost outing and a great way to bring the little ones closer to nature. Highland Orchards, a Chester County farm market and pick-your-own field, provides fresh air, fresh food, and fun times for families all year round. During the warmer weather, families can take advantage of its outdoor activities, including pick-your-own strawberries, a playground, and a spot to feed animals. Fall is the height of apple picking and hayride season, and in the cold months, Highland Orchards continues its open hours in the farm market, where kids and grownups can enjoy the freshly baked pies and other baked goods (and other tasty free samples!)
This summer, don't miss an opportunity to go to Highland Orchards for eating, playing, or even taking a structured tour of the grounds. Check out the top 5 reasons why it's worth a drive to the Chester County countryside for a visit.
1. Pick-Your-Own Fruit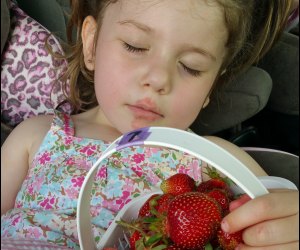 Highland Orchards is home to about 200 acres of pick-your-own fields. The season typically starts out with rhubarb and strawberries, but kids love to get their hands on different fruits all season long. It's a good idea to come prepared with hats, sunscreen, and sturdy shoes for any picking adventures because the fields don't provide much shade, and the ground is often uneven. Pickers can find out what fruit is in season by visiting the orchard blog, which is updated regularly.
During the late spring and summer, families can take their own vehicles out to the fields for picking — the shuttle is only available in the fall. This makes it easy to come back into the fields for more fruit, without carrying heavy bags or baskets all the way back to the main parking area. Additional baskets for berries and bags for peaches, apricots, and other larger fruits are available for purchase right in the fields.
Insider tip: Raspberry and blackberry picking can be very tedious. The berries are small and delicate, so it takes quite a while to fill up a basket with them. Consider saving this activity for a cooler day. Younger children might lose patience with the raspberry-picking process as well.
2. Playground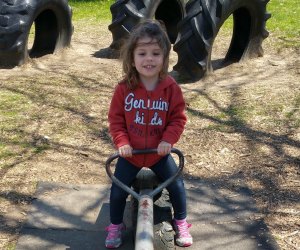 At the main parking lot outside the farm market, kids can enjoy the small playground that's free to use. The playground has a slide, a seesaw, a small wooden jungle gym, and a few swings. Even though it's not fancy or colorful, the playground does provide a fun way for children to burn off some of that summertime energy!
Plus, there are benches and picnic tables available for families to use within the play area. Parents can sit down in the shade for a bit (maybe while munching on some freshly picked strawberries), while the kids play. The playground is small, however, and it can get a bit crowded on a beautiful Saturday afternoon.
3. Goat Feeding
Kids of all ages love to interact with goats who call Highland Orchards their home! Throughout most of the year, playful goats are on display in a large, fenced area next to the playground. Younger children are really entertained by just watching their antics — the babies are particularly fun to watch because they're so full of energy.
Visitors of all ages love to feed the goats, who seem to be endlessly hungry. They know that people give them food, so they're anxious to see what goodies might be coming their way — this is a great way to talk about sharing with young children as well. Luckily, there are a few vending machines that dispense corn for feeding them, so don't forget to have a few quarters on hand. Hand sanitizer is always available for cleaning up little hands after playing with the goats.
4. Birthday Parties and Tours
Throughout the entire year, Highland Orchards provides structured tours and birthday parties for visitors of all ages. Party tents, hayrides, and other fun activities are available for parties, or tours can be scheduled for any occasion.
Tours can be customized to suit any age group, all the way from preschoolers to college students to corporate events for grownups. Every season brings new opportunities for fun tours. Spring and summer are great for the Growing Tours that focus on flowers and plants, as well as the Nature Tours, which provide hayrides and walks for all ages. For more information on birthday parties and tours, call Highland Orchards at 610-269-3494.
5. Sweet Treats
Kids love all kinds of tasty goodies, and Highland Orchards has a huge variety of the ones they love. Of course, everyone loves to dive right into the fresh fruit that they just harvested from the fields, but sometimes the only thing that will hit the spot is a frozen treat. On a hot day, families can indulge in ice cream from the deli, as well as other convenience snacks that are also available for purchase.
Plus, the farm market is home to a bakery that does not skimp on free samples! There's always something delicious for kids and parents to nibble while deciding on which freshly baked pies and cookies to bring home. The homemade cider donuts are a popular treat, but be prepared to wait in line for them because they have a great reputation with the locals.
For more information about upcoming events at Highland Orchards or to learn more about the parties and tours, visit highlandorchards.net or call 610-269-3494.