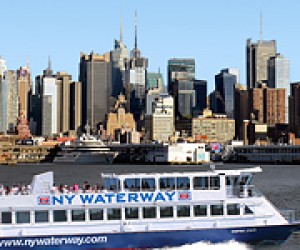 Go to NYC in style and comfort on NY Waterway
When I'm shlepping myself and two kids to NYC, I gird my loins for a hot descent into the PATH, a motion-sickness-inducing ride on the bus or mind-numbing traffic in the tunnel. But recently I met a friend to take the NY Waterway ferry to mid-town Manhattan and the experience was as different as, well... the difference between a nauseating bus ride and a lovely, fresh-air boat journey. Read on for the wonders of NY Waterway and their Summer Special for travel out of Port Imperial in Weehawken.
Who doesn't love easy, safe, convenient and attractive? All of these descriptions fit my travel experience with NY Waterway. Starting with a brief ride on the Light Rail (see other ways to get to Port Imperial Terminal here), I got off at the Port Imperial stop, crossed the street and stared up at the Port Imperial terminal, which is about as lovely and civilized as any building you're going to find. Bright, airy and modern, it almost seemed a shame that my time there was going to be short; of course, if you want to stick around a while, you have the dining options of Waterway Cafe and Robongi Japanese Restaurant.
I met my friend, we purchased our tickets and then stood chatting and staring out at the gorgeous Manhattan skyline. As opposed to my usual "just get to the city as fast as you can and with minimal angst", the trip itself seemed exciting and fun. Once we were on the ferry, the ride was peaceful and lovely; all the passengers seemed calm, unlike the frenetic folks I usually am far too close to on the PATH train. When we exited at the 39th Street terminal to transfer to our free NY Waterway shuttle bus, I have to admit I was a little sad the ferry ride was so short (approximately 8 minutes). Who knew that a journey into Manhattan could be as fun as Manhattan itself?
On the heels of my new-found love for ferry travel to NYC, we're excited to tell you that NY Waterway is running a Summer Special out of the Port Imperial Terminal in Weehawken--just $13 for an adult roundtrip ticket to Midtown Manhattan and kids 12 and under ride free (for leisure travel only: weekends and after 10am weekdays)! A printed coupon is required for the adult ticket (and parking discount, see below) and you can obtain that from the NY Waterway website. Not only that, but if you want to drive to Port Imperial and leave your car in safe and secure 24-hour parking, there is a coupon for $2 off parking as well.
Enjoy your summer travel, New Jersey!
For more information on the NY Waterway Summer Special, call 1-800-53-FERRY or visit the NY Waterway website.
This post is sponsored by NY Waterway.