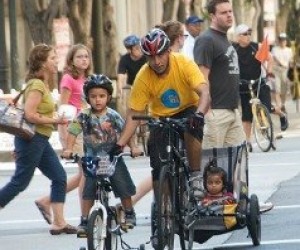 Fun & Free Things to Do with LA Kids this Weekend: CicLAvia, Jack O'Lanterns & Hot Wheels, Oct 4 - 5
This is a weekend of the weird and the quirky, the spooky and the ooky. Things popping up unexpectedly, nothing where you expect it to be, and surprises at every turn. What has put such mystery in the air? Is it the end of the summer and the beginning of the Fall? The approach of our most spooktacular holiday season? Or maybe, just maybe, it's the renovations our site is undergoing which might lead to some extraordinary and/or unexplainable results. For which we apologize and/or say you're welcome.

There is also much going on to leave you inspired. It is a weekend filled with compassion, and hope, and giving back. Whether there's an angel on your shoulder, or a Mustang in your garden, this is the kind of weekend that reminds us that LA is really just our own little hometown. Grab your bike or take a stroll, say hola to your amigos and listen to the music of your neighborhood.

You know what else? Pie! And Hot Wheels! Let the October fun begin!

Keep reading for our most perfectly placed picks for the weekend...
ALL WEEKEND

Underwood Family Farms' 17th Annual Fall Harvest Festival - Moorpark
The popular Harvest Festival adds a new themed weekend this year: Farm Country. Local Ventura County bands perform throughout the weekend alongside pig races, hay rides, and animal show fun.

Opening Weekend of Spooky Science & Thomas the Train - Santa Ana
Two exhibits open at Discovery Science Center this weekend: the Halloween-ready Spooky Science and a hands-on, STEM-based exhibit about Thomas the Train.

Camp Spooky - Buena Park
The Knott's Berry Farm kid-friendly Halloween celebration is all cheer, no fear. (We reviewed it last year, in case you were wondering.)

Festival Of Philippine Arts & Culture - Downtown
Grand Park hosts a two-day festival celebrating Philippine Arts & Cultures, with traditional food, dancing, martial art demonstrations, kids' activities, and craft vendors.

Manhattan Beach Hometown Fair - Manhattan Beach
The free fun in the fair's Kid Country includes pony rides, a petting zoo, a show that features various wild animals, and a giant 50-ft slide.

Tangled (PG) - Hollywood
This is your last weekend to catch Tangled (with guest appearance by Sofia the First) at El Capitan.

Pumpkinliner - Fillmore
Spooksters can ride a vintage train to the Pumpkin Patch where Jolly Jumps, a carousel, arts & crafts booths, face painting, and the perfect pumpkin await.

RISE of the Jack O'Lanterns - La Canada Flintridge
More than 5,000 hand-carved jack o'lanterns created by professional artists and sculptors are arranged in artful displays throughout a scenic trail within Descanso Gardens.

SATURDAY OCTOBER 4

Home Depot Kids Workshops - Multiple Locations
Got an emergency? Kids can make their own EMS truck at the free project this month.

Hot Wheels Garage - El Segundo
A life-size Hot Wheels Garage opens at the Automotive Driving Museum. The fun includes a build-your-own Hot Wheels car workstation and a special DVD screening of newly released movie Team Hot Wheels: The Origin of Awesome.

Southeast Asia Day - Long Beach
Families can dive into the culture of Southeast Asia at this day-long festival at the Aquarium of the Pacific, featuring live performances of music and dance and demonstrations of cultural crafts.

Pseudonymous Bosch presents Bad Magic - Santa Monica
Pseudonymous Bosch, or his Impostor (we can never tell who's who), returns to the Santa Monica Public Library to present his exciting new kids book series BAD MAGIC.

Mustangs in the Garden - Arcadia
Parents can ooh and ahh at classic cars while kids go on a scavenger hunt at the Los Angeles County Arboretum & Botanic Garden.

Silk Road Story Time - Pasadena
This month the Traveler's Tent features stories from India.

Angel Festival - Sierra Madre
Fans of angels gather to celebrate the mystical beings at Sierra Madre's Memorial Park.

Dora and Friends - Culver City
Fatima Ptacek, the voice of Dora, reads stories and does meet and greets at Westfield Culver City.

Public Star Party - Griffith Park
Lost your way, having trouble navigating? Look up, and let the stars guide you!

Eagle Rock Music Festival - Eagle Rock
The community street festival along Colorado Blvd. features a Family Stage with child-friendly performers, including Mia Doi Todd, Bonne Musique Zydeco, Lily Beats, The Hollow Trees, and Sock Puppet Sitcom Theater.


SUNDAY OCTOBER 5

15th Annual Mattel Party on the Pier - Santa Monica
Sarah Michelle Gellar hosts this annual fundraiser on Santa Monica Pier. Featuring carnival games with Mattel toys as prizes, meet and greets with teen celebrities, and unlimited rides.

The National Eczema Association Third Annual "Itching For A Cure" Walk Fundraiser - Westwood
Families can walk a 1.25 mile stroller-friendly loop (more if you're up for it) to help raise funds for Eczema research.

CicLAvia - Heart of LA - Downtown
These boots were made for walking. Or biking. Or riding in a stroller. Whatevs. Explore Los Angeles without your car, enjoying the city car-free on a new CicLAvian route. Highlights include a pedestrian zone in the Broadway Theater District, and a kids zone at the East LA Civic Center.

Free Day at the Bowers - Santa Ana
The Bowers celebrates Italian Heritage Month with live musical performances of romantic and uplifting traditional songs from Italy, modern tunes from around the world, and a special marionette puppet show.

A Faery Hunt - Brentwood
The Faery Hunters share the Mermaid's Tale in Crestwood Hills Park.

Free Day at the La Habra Children's Museum - La Habra
Baby, you're a star! Kids can join local actor troupes and put on a show, learning lines, using props, and dressing up in two different impromptu productions.

Ferdinand the Bull - Topanga
Creative Playground tells the story of imaginative, storytelling Ferdinand, a bull who does not like to fight.

Hammer Kids: Close Encounters: Acts of Artful Compassion - Westwood
Hammer visitors can observe Tibetan Buddhist monks creating a Mandala of Compassion and contribute to a community art project that fosters compassion for all.

Family Art Workshop - Hollywood
The free art project this weekend travels to Egypt for canopic jars, which is really cool, 'cause those were the jars used to store organs in the mummification process and now your kid can make his own and, wait. What?

Valley Preschool Fair - Brentwood
The Valley Preschool Fair brings together preschool directors and teachers from more than 30 Valley-area preschools.

Andell Family Sundays - Draw It! - Mid-Wilshire
This month at LACMA, families can view traditional and nontraditional drawings then experiment with different drawing materials and techniques in artist-led workshops.

Kids in the Courtyard: Pie Day - Westwood
KCRW's Annual Good Food Pie Contest comes to the Fowler. Kids can make a mini pie, take a food-themed tour, and create a kitchen accessory.

Target Sundays at CAAM: Lighting The Fuse On Jazz And Blues - Exposition Park
The California African American Museum promises to ignite a musical comflagration of jazz and blues at its monthly installment of Target Sundays.

Zimmer Sunday Family Programs - Mid-Wilshire
Teacher Davis visits the Zimmer for some interactive musical fun.

Free Movie: Planes - Mid-Wilshire
Did you know that the Petersen is closing for a year for renovations? Luckily, there are some fun things planned before its Oct 19 closing - like this free screening of Planes.

And as always, there are many more activities listed on our daily events calendar. Of course, we really recommending subscribing to our newsletter to stay on top of all the fun - especially at this time of year. Whatever you choose to do this weekend, we hope you have a spectacular time!