Remote Learning by the Pool? Vacations Where Kids Can Homeschool and Parents Can Work Remotely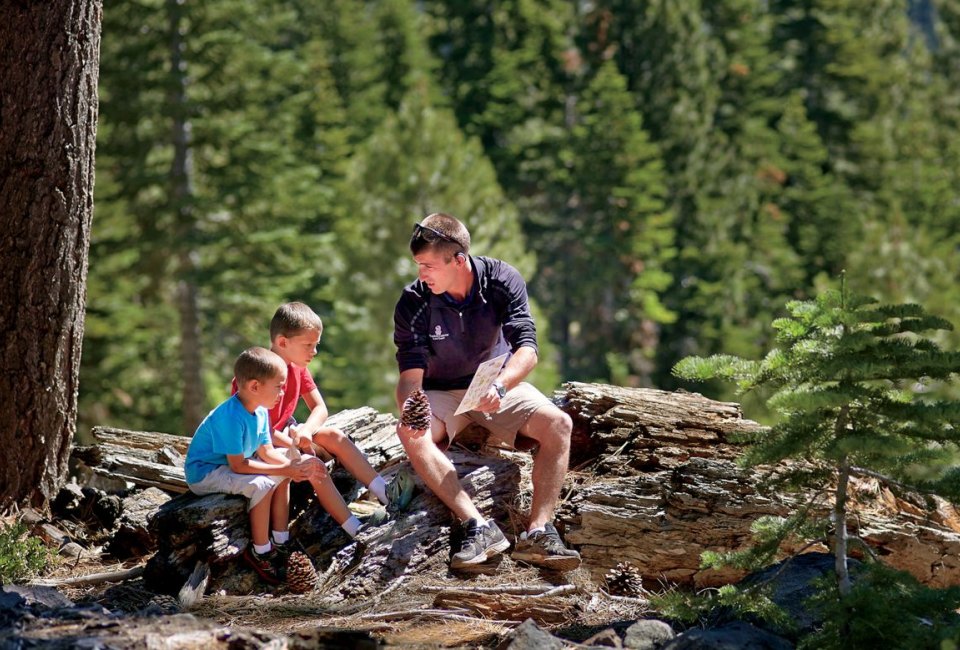 10/9/20
- By
Charlotte B
With millions of kids across the country attending school remotely this fall, many hotels, resorts, and campgrounds are now offering online learning assistance to ease the burden placed on parents by this new remote and homeschool lifestyle. These vacation options offer families a way to work and learn in a new environment.
From private learning suites to converted conference rooms, and chef-inspired lunches, these travel destinations have pulled out all the stops to make virtual learning while on vacation as stress-free as possible. Of course, these classrooms come with the best kind of "recess," from resort pools and water parks to cycling and surfing.
So pack your bags and plan a much-needed "schoolcation" getaway from this relentless year. Find more family vacation ideas in our Family Travel Guide.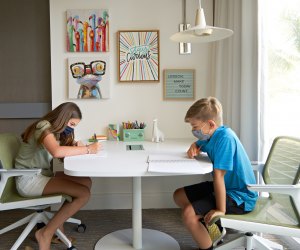 Kids busy at work in the Tutor Zone. Photo courtesy of Boca Resort
The Boca Raton Resort & Club recently debuted a new Oceanside Edu-cation program designed to help facilitate remote learning for visiting guests. Families will have access to a private edu-cation suite that connects to their guest room. Each suite is complete with five separate zones, including a "Tutor Zone" for collaboration, a "Heads Down Zone" for focus and productivity, a "Lounge Zone" for snacking and breaks, an "Invisible Zone" for mindful movement, and a "Rocker Zone" to relax with a good book. A dedicated concierge is onsite to help with screen breaks and "afterschool" activities, such as surf lessons, banana boat rides, bike rentals, or family yoga.
This waterfront RV resort offers a dedicated "open-air study hall" for e-learners to complete their schoolwork in a quiet, shaded setting with socially distanced tables complete with power supplies and wireless internet access. Parents are required to supervise their kids and masks are required at all times. After schoolwork is completed, families can enjoy activities such as bubble soccer, human foosball, sandcastle building contests, campfire sing-alongs, and much more.
Families staying at the Four Seasons Resort at Walt Disney World can enroll their virtual learners in supervised study sessions held in dedicated small-group learning spaces of no more than six kids per class. Both half-day and full-day options are available. While kids are in class, parents can relax at the resort's adults-only Oasis pool or schedule a treatment at the onsite spa. When the school day is complete, the whole family can enjoy an afternoon at the resort's 5-acre Explorer Island water park, complete with water slides, pools, and a lazy river.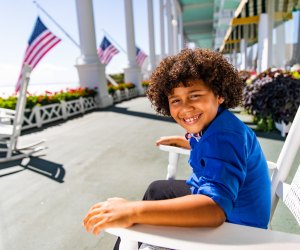 Study breaks are never this good at home. Photo courtesy of Grand Hotel Mackinac Island, MI
4. Grand Hotel — Mackinac Island, Michigan
The Grand Back to School Package at the Grand Hotel includes a tiered discount based on the number of nights booked. Dedicated meeting spaces will be set up for students during school hours, Sunday through Thursday each week through the end of October. With this deal, children age 17 and under stay for free and guests will receive free admission to the nearby Richard and Jane Manoogian Mackinac Art Museum. After kids are done with their schoolwork for the day, the whole family can enjoy some of the wonderful activities the hotel has to offer, including Fort Mackinac, the Grand Hotel horse stables, biking, FootGolf, lawn games, and swimming.
Five Great Wolf Lodge locations are offering Howl 'N Learn vacation packages in which the indoor water park resort has repurposed conference rooms to create "Wiley's Schoolhouse," socially distanced workspaces for kids complete with high-speed internet, plexiglass barriers, and dedicated supervision. During breaks, kids can participate in activities such as YogaTails and crafts. Pre-packaged healthy snacks will also be provided. This package includes late checkout, giving parents extra time to work in their room or to enjoy the lodge while kids complete their schoolwork. Locations offering this option include Pocono Mountains, Scottsdale (Arizona), Atlanta, Grapevine (Texas), and Chicago.

All the supplies kids will need to do their work - and snacks, too! Photo courtesy of Kimpton Hotels
Kimpton Hotels Group has rolled out a new Chief Virtual Learning Officer at many of its hotel chains to help families travel while children are remote learning. The officer is expected to help ensure its youngest guests have what they need to rock their school day, including free WiFi, complimentary midday snack packs, school supplies, kid desks, and complimentary document printing. Guests can purchase a CVLO package to receive extra perks like a bagged lunch for kids, an option to purchase a guestroom as day space to work, and late checkout, so kids can finish their school day prior to leaving. Participating locations include New York City, Toronto, Philadelphia, Pittsburgh, Charlotte, Bozeman (Montana), Winston-Salem, Salt Lake City, and Austin.
This beachside California resort offers an Edu-Cations getaway package, complete with dedicated private study rooms, homework help, and an onsite Ocean Education Enrichment Center. Each study room is complete with high-speed internet, a seating area, stand-up desk, printer and scanner, restroom, and a private terrace. After the kids are done with their schoolwork for the day, families can enjoy outdoor activities such as family fitness classes, surfing, house bicycles, and SUP tours.
Take a break and learn a more delicious skill. Photo courtesy of Montage Hotels & Resorts
Montage Academy, available at four Montage Hotels & Resorts locations, provides access to a monitored study hall setting during the school week for kids ages 6-17. Each day's schedule includes "movement breaks," healthy snacks, lunch and afternoon "electives," such as yoga, art, and woodshop. There are 24/7 virtual tutoring services available, too. Kids participating will be provided with a swag bag including headphones, hand sanitizer, a notebook, and a gift. The Montage Academy is taking place at the Deer Valley (Utah), Laguna Beach, Palmetto Bluff (South Carolina), and Los Cabos Mexico resort locations.
The Ritz Kids Study Buddy Program is a fully customizable option for remote learning families. While parents work in the privacy of their guestroom, a dedicated counselor, a.k.a "Study Buddy," will assist and mentor kids through their virtual class schedule. During breaks, e-learners can also participate in additional experiences, such as fishing at the onsite lake, harvesting in the chef's garden, or taking a nature walk. There is also a recreation hub complete with an arcade, lawn games, and arts and crafts. Both full-day and half-day options are available.
This California hotel offers a remote learning package that includes daily access to a dedicated meeting space with a large screen, high-speed WiFi, and a daily lunchbox curated by the onsite chef. While kids are busy e-learning, parents can take a break at the rooftop pool and bar, or enjoy an in-room spa service. Guests staying at this hotel can save at local attractions and establishments with the Rowan Refers program.
11. Wyndham Grand — Clearwater Beach, Florida
Wyndham Grand at Clearwater Beach has partnered with the Clearwater Marine Aquarium, home of Winter from Dolphin Tale, to offer a one-of-a-kind experience for remote learners to study in paradise. Each child will have a dedicated learning pod at the aquarium to engage in their virtual schoolwork in a fun, supervised environment. After the school day has ended, kids can participate in an aquarium tour and activities with a marine biologist. This package also includes a dedicated workspace for parents at the resort, as well as two spa treatments.
Happy trails, and happy learning!