Family Fun Along The Chestnut Hill West SEPTA Line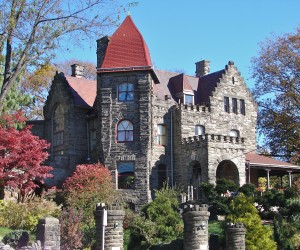 Northwest Philadelphia is full of history, and the Chestnut Hill West SEPTA line is your personal guide to many different historic sites, as well as the Wissahickon. Whether families are interested in a night at the theater, a winter walk, or even indoor play spaces, they'll find these activities (and more!) along the Chestnut Hill West line.
For several stops, (Highland through Allen Lane), families can gain easy access to the Wissahickon Park, packed with hiking and biking trails that equal a fun outing for all ages, year-round.
Get off at Carpenter, where parents and children can walk from this historically designated station to the Philadelphia Irish Center and learn how to be Irish in Philly!
In the same neighborhood, make sure to stop in at the Big Blue Marble Bookstore, one of the cities top-rated bookstores.
Upsal has several highlights. Older kids who love history, might also love the Ebenezer Maxwell Museum. This Victorian house boasts a ton of educational workshops and events, including an upcoming 19th Century Food Demo and Tasting, a live staging of Little Women, and a watercolor painting techniques workshop. Another great neighborhood resource near Upsal is the Mt Airy Learning Tree, which offers seasonal classes, from art and sports, to computer and tech skills.
The Tulpehocken stop, in a designated historic area of Germantown, is a perfect place for families to take a walk and marvel at the mansions built from 1850 to 1900. Expect to see more than 100 historic buildings that have made the National Register of Historic Places.
Travelers to the Cheltan Avenue stop can walk to the West Rittenhouse Street entrance into the Wissahickon Park, which houses the Historic Rittenhouse Town paper mill. Built in 1690, six of the original 45 buildings stand, and visitors can learn about the life and experiences of America's early industrial times. Excellent and educational for older kids!
Image courtesy of Wikipedia