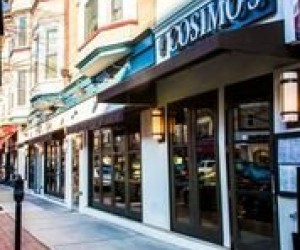 Family Friendly Restaurants in Westfield, New Jersey
Westfield, NJ is a Union County town that brings together small-town charm and metropolitan appeal. The downtown area is home to well-known retailers, trendy boutiques and an abundance of restaurants, from fine dining to casual eateries. Westfield is a family oriented community, and there's no shortage of family restaurants to choose from. With popular chains as well as neighborhood establishments, there's always something to satisfy hungry little ones. Here's a taste of the many kid friendly dining options in Westfield.
Cosimo's Italian Restaurant
Cosimo's lies in the heart of downtown Westfield, and on a warm day, is bustling with both indoor and outdoor diners. The adult menu includes generous portions of signature pasta dishes, hot and cold subs, and, popular with my family, pizza with toppings that range from traditional favorites, like pepperoni and mushrooms, to more unique options, like pineapple and smoked bacon. Drinks are BYOB. The children's menu includes Italian selections, such as cheese ravioli and penne marinara, as well as safe choices like mac and cheese and hotdogs with fries. (908)654-8787.
Tinga Fresh Mexican and Bar-B-Q
If your family likes Mexican food, Tinga is the perfect place to get a quick bite in a snug but lively atmosphere. The menu includes Mexican staples, such as tacos, large burritos and salads, with gluten- free options. If the kids don't fill up on the baskets of chips, the children's menu offers burritos, quesadillas, tacos and hotdogs, with a drink included. On Mondays and Tuesdays, the kid meals are only $2, and every Thursday from 5:30-7:30pm, Tinga's jam-packed with kids for Balloon Night. Weekend brunch is served as well. (908)301-0100.
Westfield Diner
A few blocks away from the downtown district is Westfield Diner, a popular eatery for hungry families. Kids are entertained with crayons and a dependable children's menu that contains grilled cheese, burgers and silver dollar pancakes, with drink and dessert included. A smaller room in the back is an ideal seating area for those of us with rowdy young diners (it's where my family usually winds up). The adult menu offers large selection of diner standards. Service is fast, and the kids will enjoy grabbing a cookie on the way out. (908)233-5200.
Turning Point
Creative breakfast, brunch and lunch options are served up at this cozy eatery, which has its own free parking lot (a big plus in a downtown area) and a warm fireplace. Breakfast picks, with a unique- spin, include whole wheat French toast, lobster eggs benedict and a garden frittata, while wholesome sandwiches and salads are available for lunch. The kids menu, which doubles as a coloring book, includes cheesy scrambled eggs, French toast sticks with whipped cream and sandwiches, all served with drinks. With a gluten sensitive menu as well. Turning Point offers families fresh and unique options. (908)264-8180.
And for a sweet finish…
Bovella's Pastry Shoppe
You'll never have trouble finding this Westfield landmark since the fresh baked aroma hits you from a block away. This small town bake shop offers a sundry of delicious pastries, cakes and cookies. They also make custom desserts and platters for occasions. Seating is limited, so at a busy time, you may want to grab your treats to go. (908)232-4149.
Photo courtesy of Cosimo's Italian Restaurant