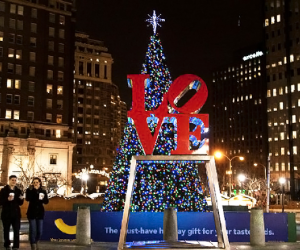 Black Friday Activities for Philly Families (No Shopping Involved!)
Black Friday is almost upon us, but this year, you can hit the snooze button! Instead of making your way, bleary-eyed, through the crowds of people clamoring for the season's most-sought toys and tech, take advantage of all that the Philadelphia area offers for holiday cheer. Get out, get some fresh air, work off the turkey, and enjoy the season with family, with many activities at low or no cost. Let's spend time, not money!
Get Active!
If the first thing on your agenda post turkey-day is burning off the extra thousand or so calories, you can take a hike on more than 50 miles of hiking trails in the Wissahickon Park. Make it a family affair, and check out some natural and historic landmarks along the way. On November 27, it is also offering a Trails Less Traveled guided hike.
If you want a truly wintry experience, Winterfest at Penns Landing opens for the season, with ice skating that is sure to melt off the excess trimmings you had the day before. It's winter fun for kids and parents alike! Rentals are available at minimal cost. Also enjoy festive décor, finger foods, warm drinks for kids and adults, and the return of the family-friendly beer garden for this pay-as-you-go activity.
For families that prefer a city view to the river, the Rothman Institute Ice Rink, at the brand-new Dilworth Park at City Hall, will be open from 3:00 to 9:00pm. Skate rentals are available and are reasonably priced. Insider tip: Expect to see Santa taking a spin on the ice on 11/28.
Take in Some Culture!
The National Constitution Center is extending its hours for Thanksgiving weekend, from 9:30am-6:00pm. The weekend exhibits celebrate the early days of the constitution in honor of the first-ever national Day of Thanksgiving, proposed by George Washington.
It's Beginning to Look a LOT like Christmas!
With Christmas around the corner, the day after Thanksgiving is the unofficial start to holiday decorations. Get started on your family's exploration of the amazing light shows around Philadelphia by taking in a few of the earliest on the scene. For instance, take a trip to Center City to see some of the most renowned Philadelphia holiday sights. Enjoy hot chocolate at the Christmas Village at Love Park to see handmade crafts and take advantage of classic Philly photo ops. It can be crowded, so parents with young children would likely be more comfortable using a carrier rather than a stroller.
Nearby, head to Macy's (after the flurry of sales passes!) to enjoy a tradition that dates back to 1956 with the Macy's Christmas Light Show. Every day, more than 100,000 LED lights create a show accompanied by the sounds of the Wanamaker Organ and narration of classics by Julie Andrews. Performances take place at 10am, Noon, 2pm, 4pm, and 6pm. Also, head up to the third floor to experience a 6,000 square foot recreation of a Dickens Village. Featuring 100 fully animated figures, scenes from A Christmas Carol reenacted before your eyes!
The light show at Franklin Square kicks off at 4:30 and runs every 30 minutes until 8:00pm, showcasing more than 50,000 lights choreographed to holiday music. While there, families can visit Santa, ride the holiday train and carousel, or take in the sights on the always-free playground, which is great for toddlers and young children.
Another light show not to miss takes center stage on the Comcast Experience video wall. Free 15-minute shows feature dancers from the Pennsylvania Ballet to the music of the Nutcracker. Shows run at the top of the hour from 10am through 8pm, excluding 5pm on weekdays.
For little ones who love trains, the Reading Terminal Market displays its annual 500-square-foot holiday railroad on Black Friday (and beyond). There are 14 trains working the lines, with Center City and the countryside featured in miniature.
For a truly Victorian experience, take a visit to Pennypacker Mills. Open 10am to 4pm, see the house decked out in shiny glass ornaments, ribbons, and gems! Discover how Christmas cards were sent and what families ate on Christmas day.
Take the Holidays Home with You!
Now is the time for Philly families to take the trip and get a Christmas tree. Christmas tree lots dot the city and suburbs, but for the pick-your-own experience, Christmas Land at Linvilla Orchards is a must. In addition to selecting a tree, families can enjoy a small animal farm, a huge playground, and tasty treats like hot mulled cider.
(Photo courtesy of Philly.com)