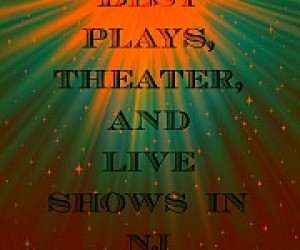 Best March Plays, Theater and Live Shows for Families in NJ
I always enjoyed live theatrical performances as a child and am so grateful my parents took the time to take me to various productions—from the circus to community theater. Now, as an adult and a mom, I'm excited to share the power of performance with my daughter—seeing family-friendly shows is a great way for loved ones to bond over the arts. Here's a list of March 2014 live shows the family can appreciate and enjoy these next few weeks.
One of Broadway's most beloved musicals, The Music Man, will be revived at the New Jersey Performing Arts Center and features an African-American cast. The concert version of this show will be performed in both Newark and in Red Bank, since this production is co-presented by Two River Theatre Company in Red Bank. This version of August Wilson's award-winning musical runs Friday, March 21 to Sunday, March 23rd in Newark, and various dates in March in Red Bank. This staged version is directed by Robert O'Hara.

Also at NJPAC is a staged version of We're Going on a Bear Hunt based on the classic children's book by Michael Rosen. The catchy musical adaptation is about a father and his four brave children who set out on an adventure to capture…you guess it—a bear! Imagination—not just a potential furry animal—runs wild in this performance, which is scheduled for March 29th and 2 p.m. Recommended for children pre-K to Grade 3.

If your family enjoys the beloved classic The Little Mermaid, in which a beautiful mermaid falls in love with a human prince, check out the theatrical version at The Pax Amicus Castle Theatre in Budd Lake. The live show is running on Saturday afternoons until March 15th. Pax Amicus is a not-for profit, cultural-educational foundation that survives and thrives on ticket sales and individual donations.

Everyone's favorite boy who won't grow up is Peter Pan, right? The beloved classic story comes to life Fridays, March 14th and 21at at 8:00 p.m.; Saturdays March 8th, 15th and 22nd at 2:00 p.m. and 8:00 p.m.; and Sundays, March 9th, 16th and 23rd at 2:00 p.m. Audience members will join The Yardley Players as they fly away to the magical world of Neverland led by the enchanting Peter Pan and the Darling children. There's "lost boys", pirates, Indians, mermaids, crocodiles, and of course, Captain Hook. Musical performances held at The Kelsey Theatre at Mercer Community College in New Windsor.

Fancy Nancy, the classic children's book series, will be presented at the Bergen PAC this Month. From the producers of Pinkalicious The Musical and Angelina Ballerina, in Fancy Nancy The Musical, Nancy and her friends, Bree, Rhonda, Wanda, and Lionel are going to be performing in their very first show, "Deep Sea Dances." But things don't turn out the way Nancy wanted! What's a fancy gal to do? Find out at the live show and attend a performance on Saturday, March 8th at either the 1:00 p.m. or 4:00 p.m. show. Older kids can check out Celtic Nights at BergenPAC on Thursday, March 13th.

On Saturday, March 15th, the Pushcart Players will put on a performance of Stone Soup and Other Tales at the Morris Museum in Morristown. This show blends folk tales from around the world and provides a delightful introduction to theatre as well as to the cultures and customs of many different lands. (This performance is in association with The New Jersey Theatre Alliance's Stages Festival and Family Week at the Theatre.) Recommended for children 3 to 9 years of age. ($10 Members; $12 Non-members)

Paper Mill Playhouse in Millburn's March Children's show is Junie B. Jones, based on the popular book series. Junie B. Jones is finally ready for first grade, at last! But getting used to the whole new group of friends, a new teacher, and new glasses is challenging for the journal-loving little girl! Showtime is Saturday, March 22nd at 10:00 a.m. and the production is performed and sponsored by Theatreworks USA. Ages 4 and up.

The NJ Ballet and award-winning musicians of Jazz House Kids honor jazz greats Wayne Shorter, Christian McBride, Count Basie and more at the Mayo Performing Arts Center in Morristown on Saturday, March 15th at 8:00 p.m. The program showcases the heritage of America's original musical art form with new musical arrangements, and world premieres from Ray Mercer, Earl Mosley and Matthew Rushin.

The Wheaton Arts Center in Millville will stage a production of If You Give a Moose a Muffin—the sequel to the adorable children's book If You Give a Mouse a Cookie—on Saturday, March 29th at Wheaton Arts. In the staged version, the young host is again run ragged by a surprise guest. Kids will delight in the comic complications that follow when the young host entertains a cheerful moose. Showtime is 2:00 p.m. to 4:00 p.m.

The South Orange Performing Arts Center's clever musical Diary of a Worm, a Spider, and a Fly will be performed on Sunday, March 16th at 2:00 p.m. Recommended for children 5 and older, the premise is three bugs find their own special talents at the start of a new school year. Children will cheer them on as these bugs grow and learn.