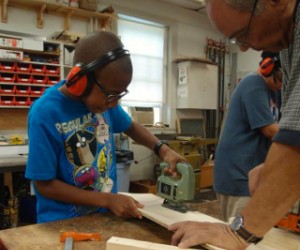 Arts and Crafts Classes for Kids in Boston
Does your child need a creative outlet? Right here in the city, we have a wide range of options for kids to learn and create art, whether it's the kind you hang on the wall or the kind you wear. From traditional fine art classes at the MFA to woodworking at The Eliot School, there's a class for every kid: Drawing, painting, sculpting, printmaking, woodworking, knitting, sewing, glass fusing – even map art.
---
The Eliot School of Fine & Applied Arts
24 Eliot Street, Jamaica Plain, MA 02130
617-524-3313
People of all ages and backgrounds create art in the historic schoolhouse in Jamaica Plain that houses The Eliot School of Fine & Applied Arts. Kids (ages 6 and up) can take classes and learn to use their hands in woodworking, sewing, drawing and painting. They can also learn to draw comics and learn to see maps as art. For preschoolers, The Eliot School offers a parent-child art class (based on a class developed at the Met in NYC) where kids ages 3-5 and adults work at separate tables on different versions of the same project.
---
Museum of Fine Arts, Boston
Avenue of the Arts, 465 Huntington Avenue, Boston, MA 02115
617-267-9300
We have heard many good things about the art classes at the MFA. Children's Program classes are for ages 5-11 (and are broken down into smaller age groups). Classes meet once a week on Saturday or Sunday for ten-week sessions during the fall, winter, and spring. Students explore the Museum's galleries and respond to what they have seen through drawing, painting, sculpture, collage, printmaking projects, and more. The MFA also has a Preschool Program for ages 4-5 with an adult, and Teen Classes too.
---
Diablo Glass School
123 Terrace Street, Roxbury Crossing, MA, 02120
617-442-7444 or info@diabloglassschool.com
At Diablo Glass School, kids can learn how to fuse glass scraps and make the coolest friendship bracelets and necklaces ever. The workshops are usually one or two days, and are open to kids ages 8-12. Younger kids can take the classes if they have an adult with them, and Diablo also offers Teen classes and classes for homeschoolers.
---
Stitch House
846 Dorchester Ave, Dorchester, MA 02125
617-265-8013
At the Stitch House, kids (ages 10-13) can learn the basics of knitting, crocheting, or sewing and leave with a finished project. Once they've completed a class, they have the skills and tools to keep stitching and make presents for you (or, more likely, their friends).
---
Art School 99
99 Franklin Street, Allston, MA 02134-1411
info@artschool99.com
It may not look like much from the outside, but something special happens inside Art School 99, which is housed in an old A&P building. In addition to fine art classes for adults, the school offers classes for adult-child pairs and birthday parties for children.
---
Photo courtesy of The Eliot School of Fine & Applied Arts, photographer Maggie Carberry
Post originally published November 2013; updated August 2014