25 Things to Do With Kids This Summer in the Farmington Valley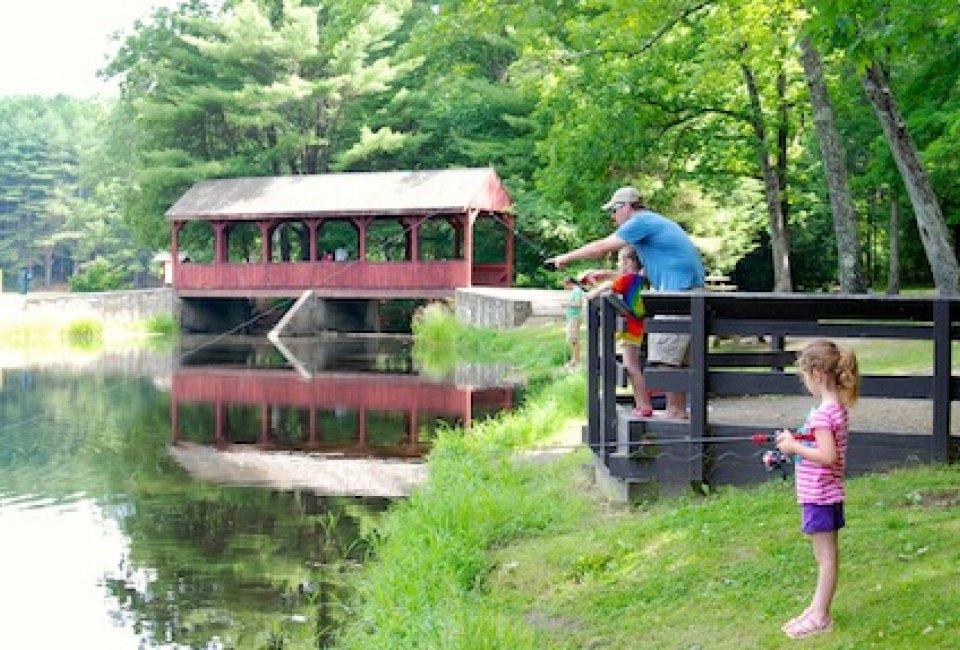 7/16/15
- By
Erin McNamee
The Farmington Valley, located along the western border of Hartford County, comprises the quaint towns of Avon, Simsbury, Farmington, Canton, and Granby. Traversed by the Farmington River and dotted with lakes, farms, and horse stables, the area is quiet and picturesque yet also home to great restaurants, top-notch sports facilities, and a plethora of cultural events. Check out our list below and take advantage of some of the area's attractions (many of which are free!).
Simsbury
1. Take a swim, have a picnic, dig in the sand, go fishing, play the Three Little Billy Goats over the gorgeous covered bridge, and explore the hiking and biking trails at Stratton Brook State Park.
2. Head to Flamig Farm, where the kiddies can pet and feed the animals, go on a pony ride, and buy some farm fresh eggs at the farm store.
3. On your way home from Flamig, stop at Tulmeadow Farm for their fresh, homemade ice cream, available 7 days a week from noon to 9 pm. Check out the farm store, open from 9 am - 9 pm, while you're there for seasonal produce.
4. Check out a horse show at Folly Farm, a beautiful facility nestled at the base of Talcott Mountain. The stable hosts about 12 shows a year; check their website for dates and times.
5. Play at the Rotary Park Playground, a huge boundless playground at Simsbury Meadows. The playground borders the rails to trails bike path so you can pair the outing with a bike ride or end it at one of the many restaurants just across the road on Hopmeadow Street.
6. Go swimming at Simsbury Farms, the town's huge recreation center. The outdoor aquatic area consists of four separate pool areas: an 8-lane pool, a training area, a wading pool, and a separate diving pool. Non-residents pay only $2 more per day. Check the schedule for fun, themed days, like waterslide fun.
7. Beat the heat and go ice skating at the International Skating Center, open all summer.
8. Hike up Talcott Mountain and climb to the top of Heublein Tower. Be sure to bring snacks to enjoy at the picnic tables while enjoying the amazing views under the pavilion at the top.
9. Bring a blanket and a picnic and listen to the symphony under the stars at the Talcott Mountain Music Festival at Simsbury Meadows.
Granby
10. Relax with a glass of wine while the kids play at the scenic Lost Acres Vineyard in Granby. The winery, also a farm, has animals on the premises, a large grassy area with outdoor tables and chairs, and yard games available, including croquet, corn hole, and horseshoes. You can bring your own food.
11. Explore the 13 miles of trails at the historic Holcomb Farm in West Granby. Terrain varies from open meadow to dense forest to very rugged, rocky ridges. Holcomb Farm is also home to many wonderful events and activities, from concerts to art classes to exercise. Check the website for more details.
12. Go to Salmon Brook Park. This place has it all: 2 playground areas (one fully fenced in), a swimming pond, a horse exercise area, a dog park, multiple sports fields, trails, a brook, tennis courts, basketball courts, and a bandshell for a summer concert series.
13. Enjoy a unique ice cream experience at Grass Roots Ice Cream, only minutes from Salmon Brook Park. This parlor prides itself on "ice cream made from real food" and does not use any artificial dyes and colorings. Try unusual flavors such as strawberry balsamic, apricot white chocolate chip, molasses oatmeal, cardamom cashew, lemongrass coconut, and honey lavender (conventional choices are also available).
14. Walk through Hayes corn maze, open from August until October. The extensively designed maze asks wanderers to solve problems and find hidden items in order to problem solve their way out.
Farmington
15. Visit the Hill-stead museum and meander through the Sunken Garden and peaceful grounds.
16. Get a glimpse into colonial life during a visit to the Stanley-Whitman House. If you're able, sign up for a workshop -- next up: colonial games. (Check the website for the full schedule.)
17. Play putt putt at Farmington Miniature Golf, a landscaped, classic course, followed by ice cream at the adjacent old-fashioned ice cream parlor.
18. Check out a nature program, outdoor concert, or family climbing day at the climbing tower (including ziplining) at Winding Trails, a private outdoor recreation center in Farmington. You do not have to be a member to access these events for a slightly higher fee.
Avon
19. Go fishing, enjoy a scenic hike around the pond, or use one of the well-maintained athletic fields for a pick-up game at Fisher Meadows Recreation Area.
20. Canoe or kayak down the Farmington River. Huck Finn Adventures offers 3-, 5-, or 9-mile guided trips, perfect for novice paddlers and families.
21. Pick your own fresh produce at the Pickin' Patch in Avon. The facebook page is updated regularly with the latest pyo information.
Canton
22. Start your back to school shopping at the Shoppes at Farmington Valley. Old Navy, Justice, Clark's, and Kohl's all offer kidswear. While there, get a trim at Snip-it's, check out story time at Barnes and Noble, and grab lunch at Panera, Flatbread Company, or Chipotle, followed by dessert at Ben and Jerry's or Froyoworld.
23. Go tubing down the Farmington River. Drive through Canton to start in New Hartford at Farmington River Tubing and float downriver through Canton. Tubers must be at least 10 and able to swim.
24. Play miniature golf at the Matterhorn, a brand new 18-hole course with a Swiss theme. Enjoy home-made ice cream at Canton Creamery next door. On a rainy day, head to the Glow Cove Black Light Mini Golf at Canton Indoor Golf Center.
25. Hike the walking trails at Roaring Brook Nature Center, which also features animal displays, a small collection of live animals, a Native American longhouse, and outdoor gardens. Many educational programs for all ages are offered throughout the year; check the website for the most up-to-date information.
Sign up for the Mommy Poppins Newsletter today!