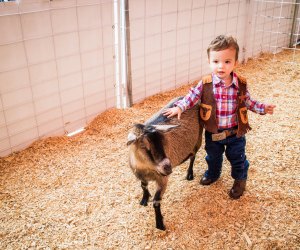 Best Spots To Buy Rodeo & Western Gear For Houston Kids
The Houston Livestock and Rodeo will be here before you know it. It is the perfect occasion to dress up your little cowboy or cowgirl with the cutest boots, vests and cowboy hats. If you want to avoid waiting until the actual rodeo (and the steep prices), we have gathered this list of stores that carry rodeo gear all year long for our little Texans. If you're new to town, know that most Target, Academy and Walmart stores carry boots and apparel for reasonable prices, but for the full western experience, here are some stores and boutiques you'll want to visit.
Boot Barn - Various Locations
5080 Richmond Ave. Houston, TX 77056
713-840-1250
From boots to clothing to all kinds of cute Western accessories, this store has it all for the Rodeo Fanatic.
Kid to Kid - Various Locations
1737 Post Oak Blvd. Houston, TX 77056
713-622-2545
We all know kids outgrow clothes and shoes super fast. If you don't want to spend big dollars on their Rodeo wear, you can find second-hand outfits and shoes at this cute store. Be on the lookout for their "Rodeo Opening" weekend for the best selection.
Pinto Ranch - Galleria
1717 Post Oak Blvd. Houston, TX 77065
713-333-7900
One (or two, wink wink) steps into Pinto Ranch and you'll immediately feel in awe at the store's handmade boot selection - there are literally thousands. The store also stocks any and every kind of belt buckle and accessory a young cowgirl or boy needs.
RELATED: Free Things to Do With Kids at the Rodeo
Leon Western Wear - Northside
​6360 Airline Drive Houston, TX 77076
713-694-4088
You can buy your boots and get their repaired all at Leon Western Wear. The store also carries a selection of beautifully handcrafted leather goods and accessories.
Outback Western Wear - Magnolia
30405 Dobbin Hufsmith Road Magnolia, TX 77354
281-259-9378
Way out northwest in "the country" (or it used to be, anyway) you'll find a gem of a western apparel store. Outback is locally owned and operated and sells boots, accessories, hats, and more and also offers an online store (but that's missing the point!) Bonus - you can also take dancing lessons here to brush up on your quick steppin'.
Republic Boot Co. - River Oaks
4222 San Felipe St. Houston, TX 77027
832-767-6586
The custom beauties sold at Republic Boot Co. should be considered works of art! This is probably the most Texan store on our list because you can even buy engraved and personalized whiskey barrels...amazing. But for the kids, you won't be disappointed by the clothing and boot selection.
RELATED: Best Food Options for Kids at the Houston Rodeo
Fiesta Mart - Various Locations
8130 Kirby Dr, Houston, TX 77054
(713) 666-9260
This International grocery store has a lot more than just food. You can find all kinds of boots, hats and a lot more for a good price all year long.
Top photo by Shary Peck
Originally published February 9, 2018