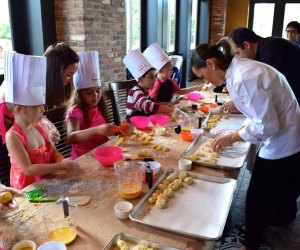 Bon Appétit: Cooking Classes for Kids in Houston
Teaching your kids to cook instills confidence and a sense of achievement when they finally make the perfect grilled cheese, omelette, or chocolate chip cookie. Houston, a budding foodie hotspot, is home to lots of cooking schools with classes for kids aspiring to be the next Bobby Flay.
To find more enrichment classes for kids around Houston, from STEM to music, visit our ultimate classes guide, and check our directory to discover even more.
Figlia Kitchen
Who better to teach your kids to cook than a mom whose 11-year-old figlia ("daughter" in Italian) has competed on the Food Network? "Chopped Junior" star Kate Daniel's passion for cooking was the inspiration for this kid-focused cooking school. In weekly classes, kids ages 6-18 learn essential cooking skills, including kitchen safety and presentation, in a fun and educational curriculum. Participants can even try their hand at competition cooking with Figlia's Chopped, Jr. workshops.
Sur La Table
It should come as no surprise that cooking classes are offered at the ultimate cookware store, Sur La Table. During the school year, parents and their kids (ages 8 and older) can don aprons together and whip up mainstays like pizza, pasta, or Chinese take-out. With multiple locations throughout Houston offering classes, you can choose from a variety of dates and classes at the location nearest you. Classes are generally 2 and a half hours long and include a 10-percent-off coupon for in-store purchases on the day of class. During the summer, more classes are offered to different age groups (8-12 and 13-17), and typically consist of a 3- or 5-day course where kids learn basic cooking skills as well as dishes that follow a weekly theme like barbecue, seafood, or desserts.

Kids can get hands-on experience in the kitchen during cooking classes. Photo courtesy of Figlia Kitchen.
Tiziana's Cook2Learn Academy
Castagnole, crostata, baci di dama. Not only will your bambini learn to make these Italian dishes, but they might even pick up a few Italian words and phrases as well. Chef Tiziana hosts kids from 3-12 years old at the Italian hot spot Taverna, in River Oaks District. Parents can enjoy a plate of risotto, while the kids explore the different regions of Italy through food and even practice measuring using the metric system. Buon appetito!
Studio June
Whether you're curious about the concept, or an avid advocate of the Montessori method, pop into Studio June for a parent-child class led by a Montessori-trained education professional. Their popular Bake with Me class is for children 18 months to 3 years old. Turn-taking and sharing are practiced as each child has the chance to contribute to a group snack with child-sized tools. While the snack bakes children explore the activities around the room, and then when the snack is ready, the kids set the table and enjoy their creation together. This class is offered in English and Spanish. For children ages 3-6-years-old, a pastry class is offered with a trained pastry chef. Kids can mix, measure, and knead their way through pate a choux and phyllo.
UrbanCHEF
With culinary basic classes from UrbanCHEF, mom or dad can take a night off from cooking dinner and let the littles take over. The Little Chef's Baking Boot Camp for ages 6-9 is a week-long series covering fundamentals of the professional pastry kitchen. Kids will learn about basic baking ingredients, the art of measuring, stages of baking, types of batters and doughs and how to make frostings, fillings, and creams. A snack is offered at the end of each day, as well as a take-home treat. Classes include basic knife skills, mise on place, sauces, soups, doughs, sautéing, braising, baking, curing and making preserves. Culinary Boot Camp for ages 11-16 is a more intensive, week-long culinary series. This course covers all the basics as well as some advanced techniques such as curing salmon and bacon, grinding flour, and making pickles, jams and kimchi. Kids will learn sautéing, roasting, poaching, braising, curing, fermentation, dehydrating, sauces, shellfish, fish, poultry, pie doughs, custards, fillings, sponge cakes, and chocolate. All classes are usually two hours.
Well Done Cooking Classes
Well Done Cooking Classes offers summer camp sessions for kids ages 10 and up to learn the basics of cooking in the kitchen, as well as hone in on more advanced culinary techniques to create unique and flavorful dishes. The 5-day camp offers a progressive curriculum where each day will build on skills learned during the previous day's session. These fun and educational classes are developed to help kids grasp technical terminology in the kitchen throughout daily 4-hour sessions. Each daily session features a different type of cuisine to keep kids interested and learning. From Mexican to Italian to cupcakes, kids will explore a variety of flavors when attending Well Done Cooking Classes.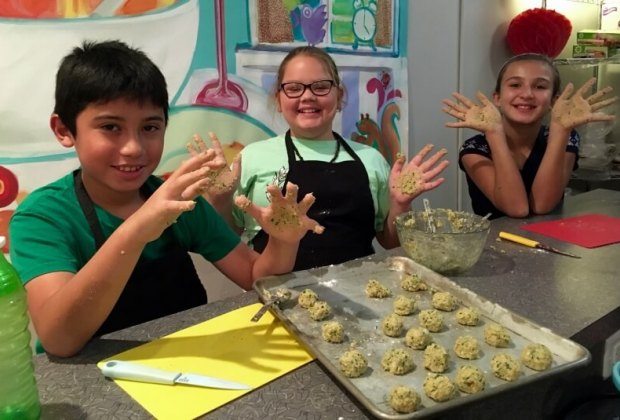 Kids can learn dessert-making skills during class. Photo courtesy The Kitchen Chick.
Main Course Cooking School
Kids can engage in a variety of different cooking classes and camps at Main Course Cooking School. Classes are offered for two ages groups: kids ages 7-11 and teens ages 12-17. Classes for both age groups offer courses where your kids can learn cooking fundamentals through classes that teach knife skills and basic kitchen knowledge, and classes that build confidence in the kitchen. Additionally, classes are offered for both age groups that focus on specific international cuisines like French and Asian, as well as regional American cuisines from places like New Orleans and New Mexico. In the summer, 5-day camps are available for kids and teens, and a 3-day course is offered over spring break each year. Classes are generally two-and-a-half hours long and are limited to 16 students per class. Main Course Cooking School also offers private classes for kids as well as birthday party packages.
Williams Sonoma
You probably already frequent this delightful store to buy your pots, pans, and pretty much any other kitchen contraption you can dream of, but did you know that they host their own Junior Chef cooking courses? While the courses are held sporadically throughout the year at various Williams Sonoma locations, the Westheimer location is one of the stores nationwide that hosts Junior Chef classes on a regular basis. Classes like waffle-making, cookie decorating, and cupcake baking capture and hold kids attention while they learn how to make the most of their time in the Williams Sonoma kitchen. If you have an American Girl fan in your home, Williams Sonoma works in partnership with the American Girl brand to offer classes for girls and their dolls.
The Kitchen Chick
Located just south of Houston in Galveston, The Kitchen Chick offers 2 hour-long kids cooking classes that cover a variety of kitchen skills from basic to advanced. In addition to single classes covering everything from making meatballs and pasta from scratch to perfecting the art of creating decadent desserts, kids participate in 4-day-long summer camps where their culinary skills will be put through an immersive experience each day as they learn new kitchen concepts. Each day of camp consists of 3 and 1/2 hours of cooking and tasting for kids following a theme for the week. Kids will be separated by age for each camp session.
Top image courtesy of Cook2Learn Academy.
This post originally published in 2017.