Cooking Classes and Camps for Kids in Houston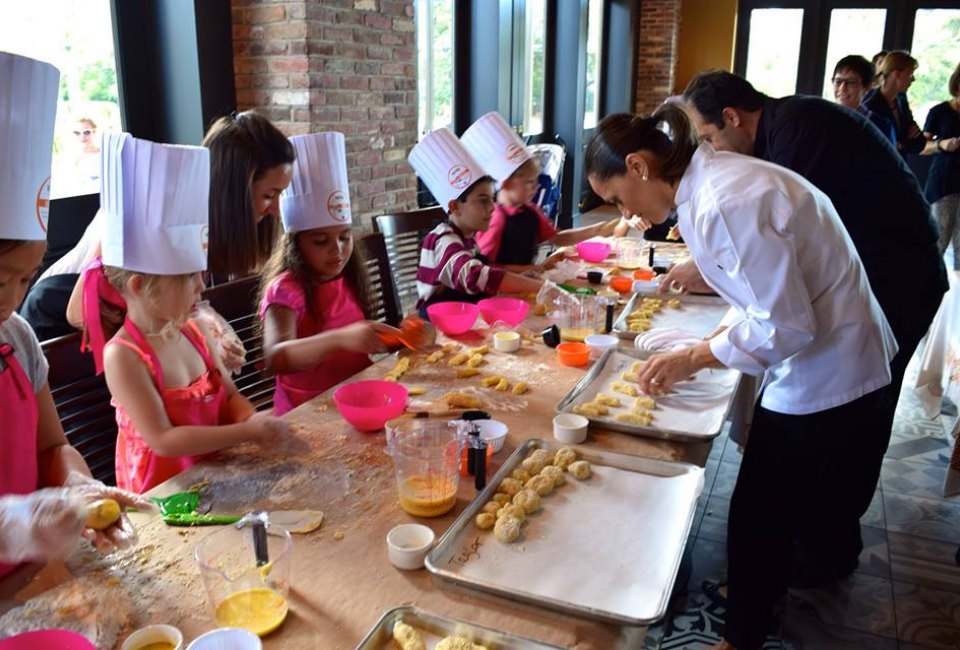 7/4/21
- By
Frances Broussard Denenburg
Teaching kids to cook instills confidence and a sense of achievement when they finally make the perfect grilled cheese, omelette, or chocolate chip cookie. Even better, it may encourage them to make their own snacks! Houston, a budding foodie hotspot, is home to lots of cooking schools with classes and summer camps for kids aspiring to be the next Bobby Flay.
To find more enrichment classes for kids around Houston, visit our ultimate classes guide—or get some culinary inspiration from our Kid-Friendly Houston Restaurants Guide!
It should come as no surprise that cooking classes are offered at the ultimate cookware store, Sur La Table. During the school year, parents and their kids (age requirements vary by class) can don aprons together and whip up mainstays like pizza, pasta, or Chinese take-out. With multiple locations throughout Houston offering classes, you can choose from a variety of dates and classes at the location nearest you. During the summer, more classes are offered to different age groups (7 to 11 and 12 to 17), and typically consist of a 5-day course in which kids learn basic cooking skills as well as dishes that follow a weekly theme like Cooking 101, Global Street Food, and Restaurant Week.
The resounding belief at Cook n Grow is that kids deserve the best, and the earlier they get involved in the kitchen the better relationship they'll have with food and the better choices they can ultimately make. Classes are offered for kids of all ages and span pre-K workshops, after-school classes, mommy/daddy and me classes, special needs classes, and more. These classes can be taken on location, or Cook n Grow can come to you. Camps are also offered during the summer in Katy, Houston, and Tomball for ages 4 to 12 and can be booked as weekly sessions or drop-in classes, both in the morning or afternoon... or both!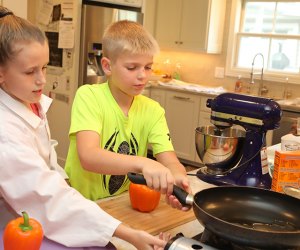 Whether you're curious about the concept, or an avid advocate of the Montessori method, pop into Studio June for a parent-child class led by a Montessori-trained education professional. The popular Bake with Me class is for children 1 to 3 years old. Turn-taking and sharing are practiced as each child has the chance to contribute to a group snack with child-sized tools, and parents learn how to include their children in the kitchen. For children ages 3-6-years-old, a bread-making class is offered. Kids can mix, measure, and knead their way through a different bread from different parts of the world each day.
With culinary basic classes from UrbanCHEF, Mom or Dad can take a night off from cooking dinner and let the littles take over. Kids can choose from themed Cooking Camps to Culinary Boot Camps to Baking Boot Camps, and classes are divided into ages 6 to 11 and 11 to 17. Classes are typically 3 to 4 hours in length, and each camper receives an urbanCHEF t-Shirt and the week's cookbook. In addition to camps, kids can also learn the ins and outs of cooking and baking in private pod camps. These private pods can be reserved for groups of 6 to 12 students.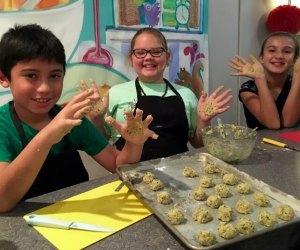 Kids can learn dessert-making skills during class. Photo courtesy The Kitchen Chick.
Located just south of Houston in Galveston, The Kitchen Chick offers 3 hour-long kids cooking classes that cover a variety of kitchen skills from basic to advanced. In addition to single classes covering everything from making meatballs and pasta from scratch to perfecting the art of creating decadent desserts, kids can participate in 5-day-long summer camps where their culinary skills are put through an immersive experience each day as they learn new kitchen concepts. Each day of camp consists of 3 and 1/2 hours of cooking and tasting for kids following a theme for the week. Kids will be separated by age for each camp session.
Well Done Cooking Classes offers summer camp sessions for kids ages 10 and up to learn the basics of cooking in the kitchen, as well as honing in on more advanced culinary techniques to create unique and flavorful dishes. The 5-day camp offers a progressive curriculum in which each day builds on skills learned during the previous day's session. These fun and educational classes are developed to help kids grasp technical terminology in the kitchen throughout daily 4-hour sessions. Each daily session features a different type of cuisine to keep kids interested and learning. From Mexican to Italian to cupcakes, kids explore a variety of flavors when attending Well Done Cooking Classes.
Make cooking in the kitchen fun through Central Market's Parent & Child classes. These classes are typically for one adult and one or two children (ages 7 to 17) and offer demonstrations and hands-on cooking experiences that range from making pizza to decorating cupcakes. Classes are usually two hours long, and parents are required to stay with their children. Each class is led by one of Central Market's expert cooking school instructors or a guest chef from around the world.
This post was originally published in 2017 and has been updated since.