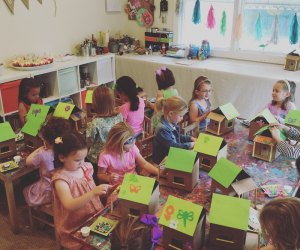 Get Creative: Best Art Camps for Houston Kids
If you're scratching your head and wondering how it's possible that we are already talking summer activities, you're not alone. Luckily, Houston has plenty of options for every child. If you have an artsy kid, keep their creative juices flowing by enrolling in summer art camp.
And for more summer and vacation camp ideas, check out our comprehensive camp guide and full directory of camp listings.
Note that summer camp information for the 2020 season is changing daily. Please click the links to the individual camps below to see which ones are offering programs this year.
Tree House Arts + Crafts - Central Houston
Ages: 3 and up
Located behind her mom's clothing and gift shop, Pattywhacks, owner Annie Polasek has created a charming art haven for mini Monets. In week-long sessions throughout the summer, kids create their own masterpieces in the Treehouse Studio. Camp sessions for children ages 3-8 takes place in the morning from 9 a.m.-noon. A snack and drink are provided, and the facility is nut-free. Each week boasts a different theme, such as "All About Me" and "Reduce, Reuse, Recycle," where the kids can let their imaginations run wild while creating gender-neutral art projects. Campers ages 9 and up are invited to attend tween camp where they create advanced crafts with any and all of the materials in the studio.
City ArtWorks - Spring Branch
Ages: 3-15
A quick search for art camps on any Houston mommy Facebook group will turn up innumerable recommendations for City ArtWorks. This lauded non-profit organization has been providing arts education to children in the public school system for over 30 years. Every summer, City ArtWorks offers nine weeks of art classes at its community studio. Imagination takes flight in classes centered around sculpture, clay, printmaking, drawing, painting, mixed media and other visual art mediums. It's not just about making art - the philosophy of City Artworks is that "summer art classes encourage creative problem solving, help develop critical thinking skills, and expose children to visual arts concepts and history."
ArtMix - West University
Ages: 3-15
It's rare to find a camp that caters to both working and stay-at-home parents. ArtMix does just that, offering a full day camp as well as seven shorter day sessions that can be combined to create the perfect unique art experience for your child. This camp offers short lunch and afternoon workshop sessions as well. ArtMix gives students the opportunity to build and learn new skills in drawing, painting, sculpting, mixed media and collage. ArtMix is a nut-free facility.
The Glassell Junior School - Montrose
Ages: 3-18
For the "Project Runway" enthusiast or the next Charles Schulz, the Glassell offers highly sought-after courses like junior fashion design and cartooning. And it's no surprise at their popularity. The Junior School is part of the renowned Glassell School of Art, which is the teaching institute of the Museum of Fine Arts Full details on summer classes become available when the course catalog comes out at the end of February of each year, but generally, classes are offered Monday through Friday. Classes, which are usually up to two hours long, are open to the public, but priority registration is given to currently-enrolled students. It is possible to take back-to-back classes, and aftercare is offered from 4-5:30 p.m. for any students taking a 2-4 p.m. class.
The Mad Potter - Various Locations
Ages: 3 and up
You've likely spent an afternoon getting your hands dirty with your kiddos at one of the several locations of The Mad Potter. But did you know that these cute paint-your-own-pottery studios host spring break and summer camps as well? For 2019, each camp will run Tuesday- Thursday from 9 a.m.- noon. Campers will create and paint pottery following a different movie theme for each session. Kids can choose from popular movies like Star Wars, Jumanji, and Christopher Robin and take all of their creations home at the end of camp.
Casey Casteel - Memorial
Ages: 3-11
Casey Casteel, a registered play therapist, will be teaching two summer art camps in the memorial area this summer at a location yet to be announced. Camps are offered in June and July for preschoolers and elementary students. Students are grouped by age for half-day and full-day sessions. A full schedule is set to be released in late February.
3 Hues - Copperfield
Ages: 5- 16
Campers can choose from five sessions throughout June and July, each with a weekly theme such as "Slumber Party" and "World Travelers." Sessions run Monday -Friday from 9:30 a.m. - 12:30 p.m.. During each session, art projects will reflect the theme for the week and kids will get to bring their creations home to keep at the end of camp. Campers will experiment with multiple mediums including canvas paintings, ceramics, and jewelry making. They will also play games and build problem-solving skills while enhancing their art skills.
Mad Hatter Art Camp - The Heights
Ages: 5-11
The Art Studio on the Boulevard hosts three sessions of Mad Hatter Art Cap for aspiring artists. Each session features 10 days worth of exploration into cultural and traditional art based on a different theme for each of the three sessions including Egypt, the Middle Ages, and surrealism. Students will be grouped by age and do a deep dive into the world of art in connection to their session's theme. Camp runs from 9 am.- 2 p.m. A morning snack is provided for each camper, but parents must send a sack lunch for their child.
Photo courtesy of Tree House Arts
This post originally published in January 2017.