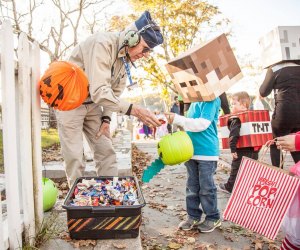 Halloween Events Where Kids Can Trick-or-Treat in Connecticut
Where is the best spot to trick-or-treat in Connecticut? That's a tricky one! But we can certainly point you in some fun directions full of treats! To pair with our county-by-county list of great trick-or-treating neighborhoods where lots of costumed kids flock on October 31st, we've assembled a list of community-sponsored trick-or-treating events where kids will be assured plenty of candy and camaraderie.
For more seasonal fun, check out our jam-packed Halloween Guide. Many stores in local towns and villages will likely will be handing out candy in the afternoon on October 31, but as a general rule, trick-or-treating starts at dusk.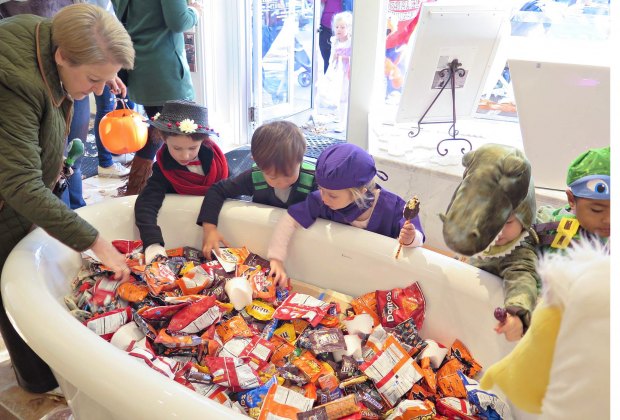 Sweets are assembled for the sweetest costumed creatures around. Photo courtesy of Darien Community Association
Trick-or-Treat Events around Fairfield
Darien Halloween Parade and Magic Show—Darien
Friday, October 25
This is an awesome daytime trick-or-treat parade for preschoolers, sponsored by the Darien Community Association. Meet at the parking lot next to the Darien Fire Station (across from Post Corner Pizza) and trick-or-treat at downtown Darien merchants. After your treat bags are filled, meet at Tilley Pond Park for a performance by the magician Amazing Andy. (A $5 fee per child is requested at the entrance to the park.)
Free Halloween Walk—Ridgefield
Saturday, October 26
The Ridgefield Trust Fund sponsors this annual walk down picturesque Main Street in Ridgefield where merchants hand out treats to costumed kids of all ages.
Halloween on the Green at the Fairfield Museum—Fairfield
Sunday, October 27
Formerly known as "Trick or Treat on Safety Street," this new town-wide event has moved to the grounds of the Fairfield Museum and History Center. It will include a costume parade, entertainment, crafts, games, and a pet parade. The historic Town Green & Fairfield Museum Commons will be transformed into a Halloween village full of places to visit and things to see and do. Exciting displays will be set up in the Victorian Cottage, Sun Tavern, and Old Academy Schoolhouse. Put on your costume and prepare for fantastical fun. Recommended for families with kids 12 and under.
Trick or Treat on Heckscher Farm at Stamford Museum—Stamford
Sunday, October 27
Put on your Halloween costume and head to Heckscher Farm to trick or treat with your favorite farm friends. There are 6 different "trick or treat" stations around the farm, and you will be able to follow clues to each one. When you're done, stop by Overbrook for "Ick Fest" to get slimy with a slime table, visit live reptiles and bugs, and create crafts around some favorite Halloween critters. Bring your own treat bag.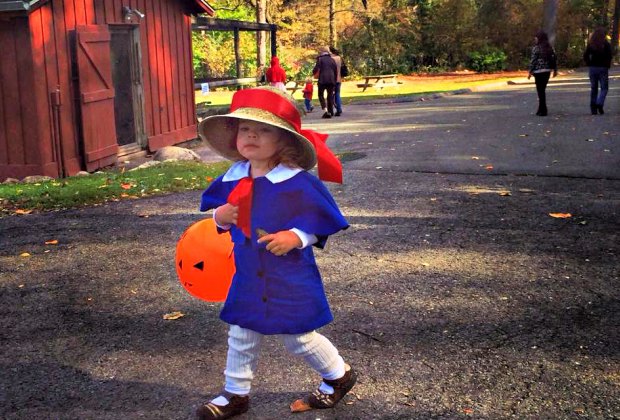 Trick or treat at Heckscher Farm. Photo by Ally Noel
Trick-or-Treat Events around Hartford
Haunted Mini Golf - Farmington
October 17-27
Play a spooky round of mini golf and raise funds for Gifts of Love. Wander through a haunted graveyard, and the Pirate's Tavern. See pictures at their website.
Nomads Trick or Treat—Manchester
Sunday, October 27
Put on your favorite costume and participate in a free trick-or-treat around Nomads Adventure Quest (while the candy lasts).

Trunk or Treat at Salmon Brook Park—Granby
Sunday, October 27
Head to the park (cars must be pre-registered) and decorate your trunk before the little visitors arrive. Candy will be plenty and prizes will be awarded for the best decorated trunks.

Windsor: Nightmare on Broad Street—Windsor
Thursday, October 31
Run by the Windsor Chamber of Commerce, this annual Halloween event brings many downtown Windsor businesses out to the green to hand out candy. In addition to trick or treating on the green, there are free hayrides and a movie. Great for all ages.
Goblins and Giggles - Scary Stories for Kids - Simsbury
Wednesday, October 30
Join professional storyteller Rona Levanthal as she walks your kids through a spooky story or two! Great for ages 5 to 8.
Halloween Night at Old Newgate Prison - Granby
Saturday, October 26
What a great place to have a Halloween event. Newgate Prison is full of history and intrigue. There will be games, activities, and cool decorations. This is a family-friendly event and tickets are only available at the door.
Trick-or-Treat Events around New Haven
HalloWeekend Downtown Milford—Milford
Saturday, October 26
Shop windows will be getting a ghoulish makeover and opening their doors to trick-or-treaters. Enjoy treats, story time, and activities. Win prizes for best costumes (pets included!).
Downtown Trick or Treat and Parade - Seymour
Saturday, October 26
Take part in a costume parade, then go trick-or treating through the downtown shops.
New Haven Trunk or Treat - New Haven
Thursday, October 31
Coogan Pavilion is hosting a trunk or treat.Candy and entertainment! This is a free (and safe) Halloween event. Music and arts and crafts too.
Trick-or-Treat Events around Litchfield
Halloween Trunk or Treat—New Milford
Thursday, October 31
Join New Milford Parks & Recreation for a fun "safe alternative" to trick or treating. Bring a bag of candy for each child attending; drop off at green kiosk on the Middle Green.
Harwinton Halloween Festival - Harwinton
Friday, October 18
Experience the hayride shuttle, free admission, and the largest Fall food truck festival in New England. And carnival rides too!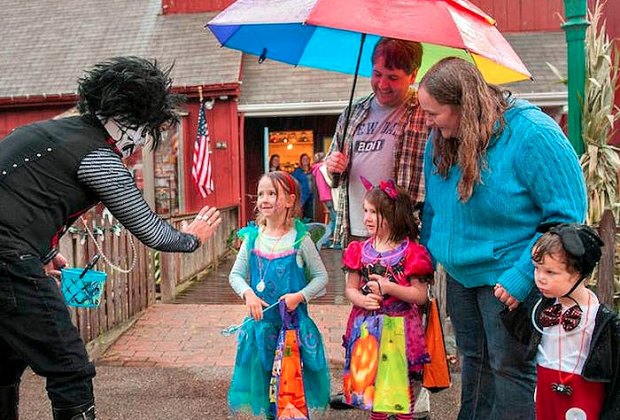 Photo courtesy of Olde Mistick Village ​
Trick-or-Treat Events in Eastern Connecticut
New London Halloween Town —New London
Friday, October 18
Dare to be scared? This event features spooky fun, including a dance party and trick or treating.
Trick or Treat at Mystic Seaport—Mystic
Thursday, October 31
Calling all super heroes, wizards, witches, and other costumed kids. Join Mystic Seaport for its annual trick-or-treat event. Dress in your best costume and walk through the historic seafaring village to gather treats.
Olde Mistick Village Trick or Treat—Mystic
Thursday, October 31
Olde Mistick Village will be hosting its annual Halloween evening full of tricks and treats. The shops will welcome costumed characters with yummy candy and you can choose which shop keepers look the spookiest.
Trick or Treat on Main Street—Willimantic
Thursday, October 31
Over 30 downtown merchants and local organizations will be giving out treats. Church Street to High Street will be closed to traffic and over 30 merchants and friends of downtown will be offering treats and entertainment. There will be pumpkin carving and a haunted house, too.
Trunk or Treat at Stew Leonard's - Norwalk
Friday, October 25
Come down to Stew Leonard's for trick or treating! Bring you children in their costumes to trunk or treat in the parking lot!