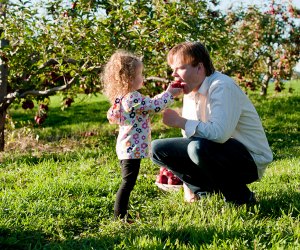 Fun Fall Activities for Connecticut Preschoolers
So many fall traditions in Connecticut seem tailor-made for preschoolers: Who better to upend a freshly raked leaf pile or run around a pumpkin patch long enough to find that perfect Jack-O-Lantern? From local events like apple festivals and pumpkin carnivals to perennial favorites like apple picking, pumpkin patch visits, and corn mazes, we've rounded up 18 of the best ways to have some big fall adventures with little companions this fall. And don't forget our fall fun guide has even more ideas for making the most of the season in Connecticut.

Log some time with some woodland creatures this fall. Photo courtesy of Beardsley Zoo
Fall Things to Do with Preschoolers in the Fairfield Area and Western CT
Deborah Ann's Sweet Shoppe - Ridgefield
This is a place where you and your littles might spend some time sipping delicious hot cocoa and nibbling on some sweet treats on a cool fall afternoon. Don't forget to check out these other Fairfield-area hot chocolate destinations too.
Beardsley Zoo - Bridgeport
Fall is a great time to go to Connecticut's only zoo. Right before the animals are housed for the winter, there is plenty to do, such as the Scarecrows on Parade display, Bat Week, and Zoo Tots, a monthly event for kids ages 22-months to four years old.
Action Wildlife - Goshen
Have your children ever seen a zebra up close? How about an emu? Come and experience exotic animals (and others as well) at Connecticut's very unique Action Wildlife Park. You will be able to drive around 18-acres of open land where your family can see alpaca, white tail deer, donkey, pigs, and more.

Bring on the candy apples! Photo of the Southington Apple Harvest Festival courtesy of Mommy Poppins
Fall Things to Do with Preschoolers in the Hartford Area and Central CT
Southington Apple Harvest Festival - Southington
An annual tradition for Central Connecticut, the Apple Harvest Fest is family-fun all weekend long. This event attracts about a 100,000 visitors every year to listen to music, eat, and enjoy carnival rides. Kids will enjoy crafts, the parade, and evening fireworks.
Foster Family Farm Corn Maze - South Windsor
This corn maze is so little-kid-friendly, in fact, it's reserved for kids age 14 and younger. This year's theme is "African Savannah" in honor of the re-release of Lion King. Foster Farm has a lovely farm yard for the kids to explore, hayrides, and plenty of selfie-spots for photo taking.
Bushnell Children's Theatre- Hartford
Looking for age-appropriate theater? The Bushnell runs a children's series every fall (and spring) where popular books and stories are transformed into live, on-stage productions. This year, also check out Spongebob the Musical.
CT Trolley Museum - East Windsor
For some not-scary Halloween-time fun, jump on the trolley in East Windsor and take a ride out to a pumpkin patch to select your favorite pumpkin. The pumpkin picking is fun, but, the trolley ride is cool for youngsters. The Trolley Station is usually decorated for the season and has a corn kernel pit to jump in.
The Farmington Canal Heritage Trail - Farmington
Would you like to hike, but need preschool friendly trails? The Canal Trail is paved for 58 miles and is just one of 10 Stroller Friendly Hiking Trails Mommy Poppins recommends for small children. Bring a lunch and make a morning of it. You'll have a quiet afternoon when the littles take a well-earned rest time.
Hogan's Cider Mill - Burlington ​
Do your kiddos know how an apple becomes apple cider? It's a fascinatingly simple process but amazing too. Hogan's Cider Mill offers hot, mulled cider tastings and the opportunities to learn about the history of cider making too. Wander through the original barn and see the original cider press.
Nelson's Family Campground - East Hampton
School may be back in session, but many families still go weekend camping into the fall. Pack a sweatshirt and enjoy cool nights by a fire at Nelson's or many other campgrounds in the state that take reservations until the end of October.
Lyman Orchards - Middlefield
From pick-your-own apples to a corn maze featuring "corn cops" to help guide littles through, Lyman is great for a day trip or, if you're close by, an afternoon outing once morning preschool is done.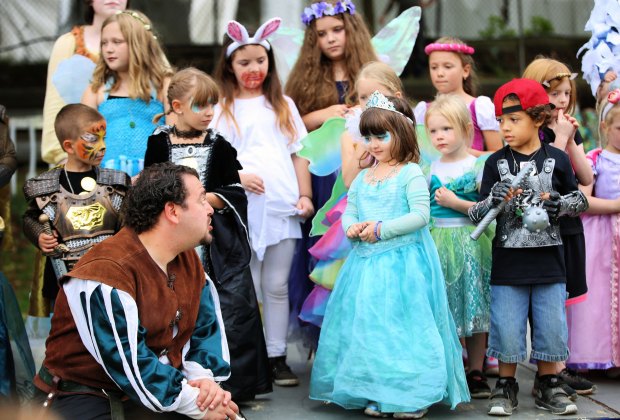 Travel back in time to the Medieval ages at the Connecticut Renaissance Faire. Photo by Eric Tetreault courtesy of the Faire
Fall Things to Do with Preschoolers in East Connecticut
Essex Steam Train Pumpkin Ride - Essex
Combine your preschooler's love for trains and pumpkin picking into one. The Essex Steam Train is now offering a Pumpkin Patch ride into Deep River. Apple cider and yummy donuts are included!
The Connecticut Rennaisance Faire - Lebanon
Your preschooler will never forget the knights in shining armor, the animals, and the entertainment you can find at the Connecticut Rennaisance Faire. Dress up in costume (or don't), listen to minstrel music, and browse though the marketplace for the perfect preschool-size sword and shield.
Pumpkintown USA - East Hampton
This place is a pumpkin-palooza. Preschoolers will get a kick out of seeing 70 pumpkin-headed "people" in all shapes and sizes at this annual, family-friendly, fall destination.
Fort Hills Farms - Thompson
Bring kids to try out "Ernie's Maze," the shorter of their two corn mazes on the property. Ernie's Maze is recommended for 3 and under and takes 30 minutes to complete.
Mashantucket Pequot Museum - Mashantucket
Understand the history of the native inhabitants of Connecticut. This amazing museum will show your little ones the way the Pequot Tribal Nation lived before European settlers arrived to trade in Connecticut. Life-size displays, dioramas, documents, and artwork make this a fabulous and fascinating place to take preschoolers.
The Nathan Hale House - Coventry
Bring your family to learn about the life of this great American (and Connecticut) hero. Nathan Hale was a young man sent to spy for the fledging colonies. Located in a beautiful part of the state, your kids will love the story surrounding the homestead ,and parents will appreciate learning some local history.
Norwalk Seaport Assoc. Oyster Festival - Norwalk
Running the weekend of September 6 to 8, the Oyster Festival is in its 42nd year. There is plenty to do at this festival ,including rides, arts and crafts, the Seaport Circus, motorcycle stunts, daredevil acts, and of course, delicious food. Bring kids to try out "Ernie's Maze," the shorter of their two corn mazes on the property. Ernie's Maze is recommended for 3 and under and takes 30 minutes to complete.