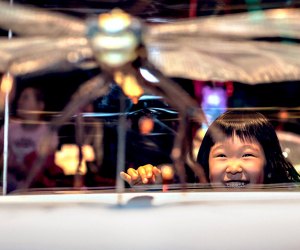 Weekend Fun for Chicago Kids: Taste of Chicago, Bug Encounters, Irish Fest, Street Fests
If your kids like food, music, and activities, we've got good news, and more good news. First off, this weekend brings a tiny little thing called the Taste of Chicago to Grant Park (and a smaller Taste fest to Westmont if you don't want to head downtown). But if you're looking for more opportunities to chow down and get down, there's no shortage of street fairs and festivals. Sample burgers at the Roscoe Village Burger Fest, or hit the Square Roots Fest in Lincoln Square for family performances, a petting zoo, and an art tent. The Southport Art Festival offers kids' activities and free cartoon screenings, while the massive Irish Fest at the Irish Heritage Festival crowds over 100 music and dance performances into two days. The annual Railroad Days festival in Pioneer Park has a carnival, sports, music, and a beer garden, and Westchester Fest is a classic summer street fair for west suburban families.
Still not sure what to do this weekend? Fortunately, there are events lined up for every family interest. Art-loving families won't want to miss the free interactive collaborative arts event Figment Chicago on Saturday. Nature-loving kids should be excited to get up close with creepy-crawlies at the just-opened Fantastic Bug Encounters exhibit at the Field Museum. Music-loving families won't want to miss the day-long music fest Jazz Up Glen Ellyn. The comic-book-obsessed will love FanCon in Arlington Heights. And Naperville Plays brings together nature, storytelling, and history at Knoch Knolls Park.
Believe it or not, those are just the highlights of this jam-packed weekend. For more ideas, see our event calendar, our lineup of Summer Street Fairs and Festivals, and our ever-growing list of FREE things to do with Chicago kids this summer.