End of Summer Bucket List: 15 Things to Do in Chicago Before School Starts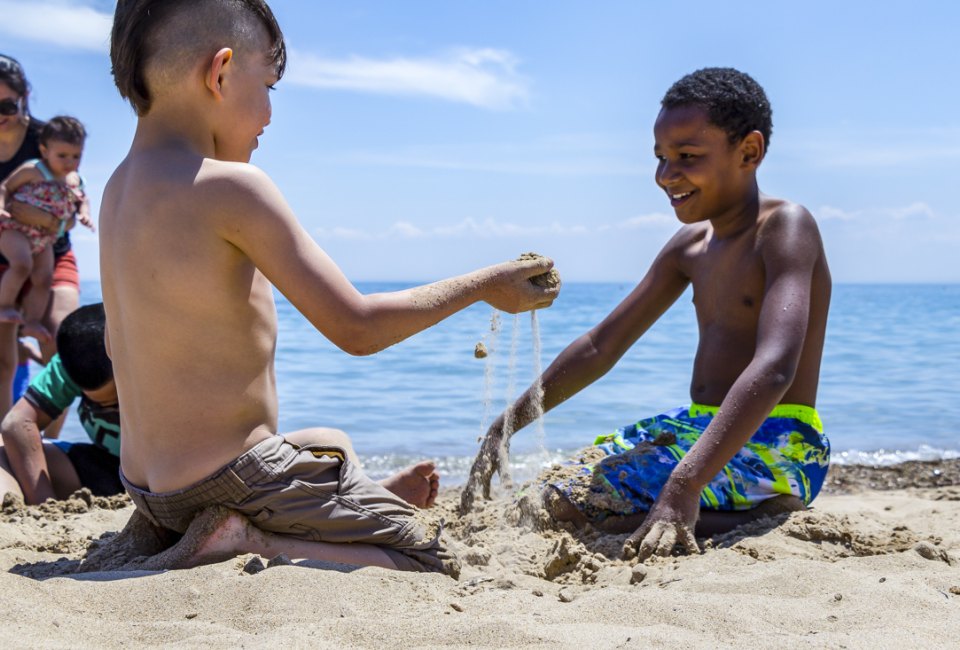 8/5/22
- By
Lauren LaRoche
With the start of school just around the corner, we have everything you need to check off a few more items from your summer bucket list. From outdoor movies to summer day trip ideas, there's still plenty of time to have a little summer fun and make some lifelong memories. Check out this list for all your end-of-summer bucket list ideas and more.
Here are a few of our favorite things to do in Chicago before school starts. For more things to do in Chicago this summer, check out our Summer Fun Guide for Chicago Kids.

Go to an outdoor movie before summer ends. Photo courtesy of Mary Bartelme Movies in the Park
1. See an Outdoor Movie
Whether it's a drive-in movie or a movie in the park, summer is the best time to catch a movie outdoors. Those long, warm nights only last for a few weeks out of the year. Treat the kids to an outdoor movie for a summer night they will never forget. Check out this list for free outdoor movies playing throughout Chicago.
2. Check Out a New Pool
If you've been going to your local pool all summer, now is a great time to explore a new one. With a couple more weeks left in the swimming season, take the family out to explore a new pool in your area or even one that's a short road trip away. Check out this list of free public pools in the city.

Hit the lake while the water is still warm(ish). Photo courtesy of Centennial Beach in Naperville
3. Take a Dip in a Swimming Lake
A swimming lake is an awesome place to beat the heat and make some summer memories. Whether it's jumping off the pier or playing in the sand, both big and little kids will love soaking up the sun while swimming in a lake. We've rounded up some of our favorite local lakes here.
4. Go Fishing
There's just something special about a kid and a fishing pole in the summertime. Whether they catch a bass or some seaweed, the adventure is something they will never forget. Some great local swimming spots are located right in the city's heart and nearby suburbs. Check out our round-up of kid-friendly fishing spots here.
5. Visit a Museum
While a museum is somewhere you can go all year long, it's especially easy to plan a museum day when school is out. You can beat the weekend crowds and even see some cool tourist spots along the way. Chicago also provides free kid's activities and free days throughout the summer as well. We've rounded up all the days when kids get in free at all the local museums here.

Lincoln Park Zoo can be a summer bucket list item. Photo by Contemplative Imaging, Flickr (CC BY-NC-ND 2.0)
6. Go to the Zoo
Summer at the zoo is a magical time. All the exhibits are open and there tend to be more activities and fun festivities happening. From Lincoln Park to Brookfield, we've rounded up the best zoos and aquariums for Chicago kids here.
7. See a Concert
A concert is extra special when it's outside in the summertime. You can enjoy music under the stars while kids get to jam and dance to their favorite music. For the ultimate list of family-friendly summer concerts, check out this list here.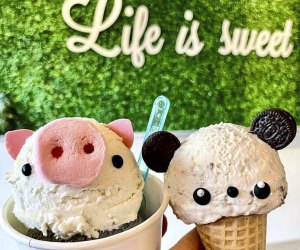 Photo courtesy of Eli's Ark Chicago
8. Get Ice Cream
Summer and ice cream are one of the most iconic combinations of all time. You really can't have one without the other. To help you check off this sweet treat from your summer bucket list we've rounded up some of the best ice cream shops for kids here.
9. Go to a Water Park
A water park is sure to be one of your kid's favorite summer memories. From the lazy river to the tube slides there is no shortage of adventure. Check out our favorite water parks and amusement parks for toddlers as well as the best outdoor water parks for kids here.

Spend more time on the water while you see the city this summer. Photo courtesy of Choose Chicago
10. Be a Tourist
Summer is a great time to be a tourist in your own city. Chicago in the summer has fantastic beaches, window shopping, museums, tour boat rides, and more. Here are our picks for some of the best things to do and see with kids before summer ends.
11. Go on a Hike
Summer is a great time to get out and enjoy the warm air while you can. A family-friendly hike makes for a perfect mini-summer adventure. Check out this round-up for some of the best places to hike with kids.
12. Take a Day Trip
A day trip is a great way to feel like you've traveled without the expensive hotel stay. You can pack up some road snacks and head out to a new city or even a new state while still making it home to sleep at night. Here are some of our favorite summer day trip picks near Chicago.

The famous Chicago Cubs Marquee photo by Clint Mickel (CC BY-NC-ND 2.0)
13. Go to a Baseball Game
While school is out, take a little road trip to watch your favorite baseball team. Kids will love watching the game in action almost as much as they will love all the stadium snacks.
14. Visit a Destination Playground
While your neighborhood park is likely one of your kids' favorite places, a destination playground takes going to a park to a whole other level. Check out this list of the ultimate parks and playgrounds near Chicago and check one off the summer bucket list.

The beach is always on the summer bucket list! Photo by P. Filias (CC BY-NC-ND 2.0)
15. Hit the Beach
Chicago is home to some incredible free public beaches along Lake Michigan. For one last summer day of fun, pack up the beach toys, life jackets, and floaties, and head to the beach. Here's a round-up of our favorite family-friendly beaches.