CTA Holiday Trains and Other Christmas Train Shows in Chicago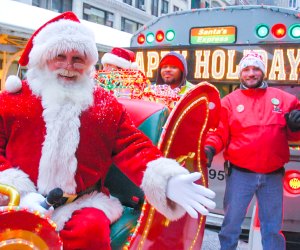 CTA Holiday Trains and Buses are back in 2022! Here's what you need to know.
The Chicago Loop Alliance has announced that the CTA Holiday Train will be riding the rails again for the 31st year in 2022. Holiday buses are back, too! Santa Claus is planning his return to the trains and buses and for pictures with kids after a year off in 2020 and a year of social distancing in 2021.
Read on for our CTA holiday train tips and more Chicago Christmas train show recommendations. And don't miss our list of Polar Express Train Rides and Christmas Trains in Chicago.
The full schedule for CTA holiday trains and buses hasn't been announced yet, but continue to check the CTA website for the latest on when Santa will be on board between Black Friday and Christmas Eve Eve (December 23). The CTA is planning even more rides this year to prevent crowding and keep Santa healthy. Santa will ride around the city on an open-air train flat car and while chuckling "Ho, ho, ho," out of the roof hatch of CTA buses to deliver baskets to local food pantries. He delivered more than 600 last year to community organizations throughout the city. Each basket holds all the ingredients necessary to create a holiday meal.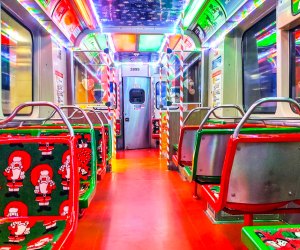 Photo courtesy of the Chicago Transit Authority
Here are our tips for getting on the CTA holiday trains and buses:
Be prepared to wait. Santa and his elves are trying their hardest, but delays are inevitable. Try going during off-peak times if you can to reduce wait times.
Strollers are not allowed on the train or bus, so get ready to carry or wear your baby onto the train or bus.
Have a back-up plan in case the train or bus you plan to get on is too crowded. Overpacked trains and buses will not allow more riders on at every stop.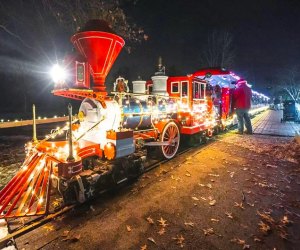 Photo courtesy of the Franklin Park Polar Express at Blackberry Farm
If the CTA Holiday Train or Holiday bus doesn't fit into your schedule this year, consider taking your little train lover to one of the Chicago area's popular holiday train shows. Seeing little trains decked out for the holidays can be just as fun as riding the train, and with less crowding, waiting, and unpredictability. Some of our favorite train-related events include