Best Kids Art Classes in Chicago: Painting, Yarn, Pottery, Toddler, and More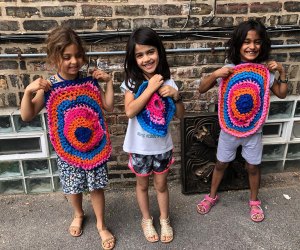 If you have a little artist looking to master their skills, you've come to the right place. From sculpting and pottery to knitting and drawing, we've rounded up the best kids' art classes in Chicago. Our list includes everything from creative, fun art classes for toddlers to more advanced fine arts programs for big kids. Plus, there's a class in Chicago for every schedule: reoccurring weekly classes, camps, after-school classes, and virtual on-demand options.
For more classes and activities for kids check out our Best Kids Classes and Activities in Chicago guide and our new Virtual Camps and Classes that you can book online at Mommy Poppins.
Best Kids Painting and Drawing Classes in Chicago
The Paint Brush provides a unique mix of art and music appreciation in their classes. Young artists can get creative with their hands while also learning about different styles of music and music history. Explore paint, mixed media, drawing, music, and art history.
Young Rembrandts offers a variety of drawing classes for children of all ages. From cartoon drawing to themed workshops, the art classes offered at Young Rembrandts help your children boost their creativity and core learning skills. Young Rembrandts have several locations throughout Chicagoland. They also offer on-demand, virtual classes for drawing lessons at home.
Top Pottery Classes for Kids in Chicago
At Kids Clay Room, your little ones can start exploring the world of clay and pottery. Using their hands, molds, and coils, kids get to make real ceramic pottery. As students advance, they can also start wheel throwing and using the pottery wheel to make cups and bowls.
Penguin Foot Pottery specializes in pottery classes for kids and adults. Their hands-on classes are designed for kids to get their hands messy while teaching them the basics of pottery. Your kids will learn to make mugs and bowls while building with clay, both on and off the pottery wheel.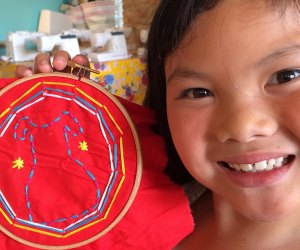 Wishcraft Workshop offers a variety of art classes for kids.
Cool Sewing, Knitting, and Crochet Classes in Chicago for Kids
At Wishcraft Workshop, they offer reoccurring classes that you can take as your schedule allows. Go every week or drop in once a month. There are also camps, class packs, and memberships available. Classes range from crochet, embroidery, and textile work to printing, weaving, and knitting.
Sew Crafty Studio teaches sewing and other techniques to children of all ages. They'll learn how to sew, how to use a sewing machine, how to sew at a seam, how to use a pattern, how to iron, and how to use different technology. Join them for themed lessons and summer camp at their Lincoln Avenue location.
Sister Arts Studio offers beginning, intermediate, and advanced knitting and crochet classes for children and adults. Drop in for a class at their Wrightwood location or join them for a summer camp or after-school knitting classes through various schools throughout the city.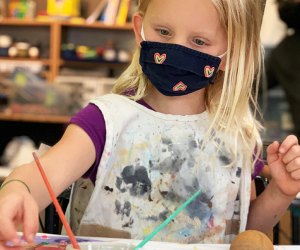 The classes at Chicago's Unicoi Art Studio allow little artists to try many different mediums.
Best Fine Arts Programs for Kids in Chicago
Aartwerk Studio offers a playful and relaxed approach to art education. Classes are offered for kids ranging from ages three to high school and beyond. Little ones will explore textures, smells, and color while learning different techniques and mediums, while older students can hone their portfolio or start learning the basics. Children also learn about cleaning brushes, their art spaces, and more.
Color Wheel Studio provides a creative environment for your child to learn a variety of fine art techniques and history. Color Wheel Studio is for older students with an interest in taking their fine art skills to the next level. Portfolio classes are also available to help your high school or college students review and enhance their work.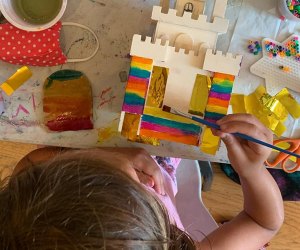 Easel Art Studio is a Chicago art studio with programs just for kids.
Easel Art Studio is designed just for kids. They offer art education in a variety of in-person and virtual classes using many different mediums. From paint and clay to mixed-media, your little one will create art with anything from paint to elements found in nature.
At Lillstreet Art Center, kids can take classes ranging from painting, pottery, wheel throwing, jewelry making, cartooning, photography, and more. Kids can take classes where they illustrate their own storybooks or even make their own dollhouse with furniture. There are also digital art classes and seasonal and holiday-based curriculum.
The Oh Art Foundation offers various fine art classes for children of all ages and skill levels. Oh Art Foundation classes not only teach technique and theory but also how to use materials in different ways and how to collaborate with other students. In addition to semester classes, summer camps are available.
Unicoi Art Studio provides kids with a fun and educational environment to learn technique, form, and history while letting their creativity fly. Children are encouraged to explore different techniques and mediums such as painting, sculpture, drawing, and more. Drop-in, join a pod class, or start a new class with a group of four friends.
Best Toddler Art Classes in Chicago
Bubbles Academy is a great place for toddlers and young children to work on fine motor development in a fun and creative way. Through visual art and sensory-based play and activities, youngsters learn the basics of art while also learning basic artistic skills such as how to hold pencils, how to use a paintbrush, and more.
Kidcreate Studio offers weekly classes, workshops, camps, and homeschool classes for all ages. Kids can explore different techniques and art mediums while having fun and letting their creativity soar. Workshops and classes include a variety of fun projects using everything from paint to glitter and clay.
Photos courtesy of the studios/academies

.