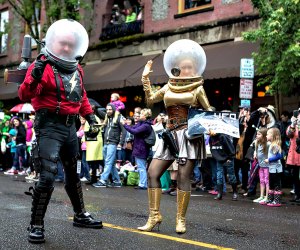 Weekend Fun: UFO Fair, Story Pirates, Cupcake Festival
Be forewarned: there are so many fun, family-friendly events happening this weekend that the task of picking and choosing may be difficult! Dominating the lineup are spring festivals in Westchester and the Hudson Valley, with celebrations of various sorts—even the extraterrestrial.
Returning this year is Celebrate Pinkster, a festival honoring a historic African-American spring celebration, featuring drumming, dancing, cuisine, and more. Carnival season kicks off with the St. Patrick's Annual Carnival's rides, games, and cotton candy. For out-of-this-world fun, resistance is futile at the annual UFO Fair (and, for that matter, at the tantalizing Gardiner Cupcake Festival). And, for a robust agenda of hands-on art fun using assorted media, don't miss the annual Family Arts Bash.
Read on for our top weekend picks, and visit each listing for complete details. Consult our May GoList and our Event Calendar to plan ahead, and stay in the know by signing up for our newsletters!