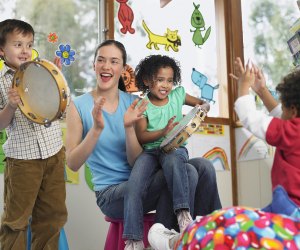 Spanish Classes for Preschoolers in Westchester
Given a child's spongy mind, it's no surprise to learn that kids who learn a second language at a young age may benefit from increased cognitive advantages. While some families may not wish to enroll in a full-on immersion or bilingual preschool, classes that teach Spanish may be more fitting for your child.
We've gathered up several places in Westchester where your preschooler can learn Spanish. While the choices are varied, the one thing they all have in common is an emphasis on fun.
Looking for more enrichment classes? Be sure to consult our Classes Guide and our directory, and don't forget to visit our Preschool Guide.
Little Language League – Rye
22 Purdy Avenue, 2nd floor
(914) 921-9075
The two-hour preschool classes at Little Language League are geared toward ages 3-5. The company touts its low teacher-studio ratios that are capped at 8:1. Children will receive an education in language and culture as they work on literacy, fine motor, sequencing and other skills.
LinguaKids Larchmont – Larchmont
2 East Avenue
(914) 833-0781
LinguaKids offers several programs for kids under 5. Its Explorers program, geared toward ages 2 and up, combines motor-skill building with theater expression and art. Classes are one or two hours, and size maxes out at eight kids. The Voyagers and Adventurers programs are for ages 4 and up. (Adventurers is a continuation of Voyagers.) Students are taught vocabulary and verbs, and they receive practice with both speaking and writing Spanish. These classes are one hour long.
Smart Linguists – Scarsdale
6 Greenacres Ave
(914) 488 4363
These preschool classes are held one, two or three days a week, with each class two hours long. You can choose how many classes you want to take, and tuition is adjusted accordingly. They are geared toward ages 3.5 - 5 (must be potty trained), and ratios are maxed at 8:1. Classes teach Spanish through singing, storytime, and arts and crafts.
The Language Parlor – New Rochelle
455 Main Street
(914) 278-9866
Although the K-1 class at The Language Parlor isn't strictly for kindergartners, we've included it on the list because we like its focus on fun and its low ratio (just 7:1). Children ages 4-6 will learn Spanish through games, singing, crafts and stories, with each class centered around a specific theme.