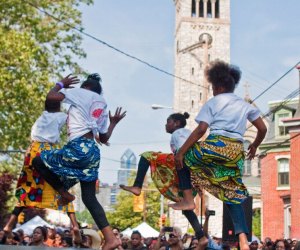 Weekend Fun for Philly Kids: Outdoors, Creek Critters, Festivals June 8-9
As the school year winds down, Philly families gear up for summer mode. Likewise, Mommy Poppins Philadelphia notices the shift in seasons as movies under the stars, concerts in the park, and an increase in outdoor activities fill our events calendar.
Those who like water can head outdoors with boots to splosh about with creek critters at Lorimer Park or hike around Upper Schuylkill Valley Park in search of frogs. If you prefer being above the water than below, try steering a canoe in the Perkiomen Creek or take a boat ride along the Schuylkill River. Once you have had your fill of animals and water fun, turn your attention to the many festivals going on this week. Families can expect carnivals with amusement rides, events featuring beloved comic book characters, and festivals rich in tradition, culture, and delicious food.
So, how will you spend your weekend? Keep reading for additional ideas, then text your friends and make plans for a fabulous weekend.