SPONSORED
PA Cyber: A Tuition-Free Online Charter School With Rigorous, Personalized Instruction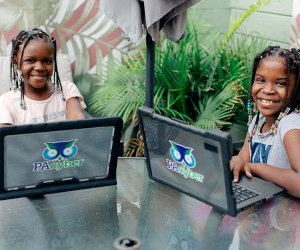 Online learning has risen in popularity with families looking for high-quality educational alternatives that provide flexibility and individualized instruction to fit their unique learners. The Pennsylvania Cyber Charter School (PA Cyber) serves up an online tuition-free public school education to kids in grades K-12 that spans from their computer screens out into their communities with a combination of online and in-person learning opportunities.
One of the largest, most experienced remote public schools in the nation, PA Cyber is well-loved for its personalized instructional methods; state-certified, highly-qualified teachers; and rich academic content that's aligned to state standards. Flexible and engaging, the program offers both virtual live and self-paced instruction, plus a number of meaningful ways for kids to connect with their teachers and peers on and, sometimes, off-line.
If you're out there wondering whether this popular online program could be the right choice for your family, read on. We've rounded up answers to some of the most-asked questions about PA Cyber to help you make the best call.
Is PA Cyber an accredited school?
PA Cyber is a public school chartered by the Pennsylvania Department of Education, and one of only two cyber charter schools accredited by the prestigious Middle States Association. The National Collegiate Athletic Association and AdvancED also accredit the curriculum. All of the school's teachers are Pennsylvania-certified, highly qualified educators.
You'll find PA Cyber graduates at highly regarded universities, colleges, professional academies, and vocational schools.
How much does PA Cyber school cost?
Not only does PA Cyber provide kids with a tuition-free, accredited education, but also with the technology and guidance they need to truly succeed. The school ensures that every student has internet access, and provides laptops, printers, and textbooks along with the support of a responsive expert technical support team. The program's cutting-edge technology platforms are user-friendly and thoughtfully designed to help students get the most out of their lessons and experiences.
What learning model does the school utilize?
PA Cyber works with a handful of digital curriculum providers to create a flexible-but-focused learning model, giving teachers space to create deeply personal programs for students.
Using state-of-the-art technology and the guidance of highly-qualified instructors, PA Cyber's interactive and engaging programming is thoughtfully designed to meet all state and national standards. There are over 300 different courses available and students are inspired to truly participate in the learning process through interactive labs, journaling, group discussions, written exams, videos, songs, games, and more.
What kinds of classes do students take at PA Cyber?
The school offers a long list of classes and programs at every grade level, including English Language Development and gifted and talented programming. Starting in kindergarten, you can expect a pretty standard course load of math, science, reading, writing, social studies, and language arts. Students also participate in a number of specialty classes over the years including physical education, health and nutrition, art, music, coding, foreign language, and more. Older students can opt for AP courses or take fascinating electives that suit their interests, like African American Literature, Renewable Energy, and Fashion Design.
PA Cyber also hosts a unique career and college readiness program beginning in 2nd grade. Through online career exploration software and assignments that take kids out into the local community, students learn about different careers, entrepreneurship, and goal setting.
Can PA Cyber students participate in in-person classes or activities?
Yes! While PA Cyber is all about harnessing the power of the Internet to free families from the boundaries of time and location, the school also has regional offices located throughout Pennsylvania which serve as hubs for student-centered activities and programs. Families can opt into on-site orientation sessions, guidance workshops, career exploration opportunities, STEM programs, book fairs, and even weekly physical education classes.
With the help of the Lincoln Park Performing Arts Center, the regional centers also host PA Cyber's ArtReach program, bringing arts classes and performance opportunities to students. Beyond the regional centers, PA Cyber also supports a program called Family Link, which helps school families connect through local field trips and parent-planned activities, like movie days and holiday parties. These get-togethers really enrich the cyber school experience and build a strong school community.
Are there any upcoming PA Cyber information sessions?
You can learn about PA Cyber from the comfort of your own home by joining an upcoming online information session. Get signed up here!
Is there a waiting list at PA Cyber? How do I enroll?
Enrollment is currently open and will continue until all spots are filled. From there, students will be placed on a waitlist. When new seats become available, the school uses a lottery system to determine who will be offered a seat.
If you're ready to register, you can start the PA Cyber enrollment process today! To learn more about this one-of-a-kind online school, visit the PA Cyber website.