Finding Pho in Philly: 10 Kid-Friendly Pho Finds
2/26/18
- By
Jennifer Colletta
Whether you spend your time searching for ways to feed your picky little eater, or struggle to catch up with your kids' more-adventurous appetites, Philadelphia offers plenty of family-friendly dining options. If you're looking for a meal to satisfy your family's varied taste buds, pho may be the way to go!
The Vietnamese soup is simple enough—noodles, broth, meat and spices—for kids who don't like to veer too far down the creative culinary path, but flavorful enough for those who do. You can find pho in Philly (say that a few times fast!) pretty easily, but, in a city known for its restaurant reputation, you don't want to settle for anything less than the best, so we've rounded up a few standouts.
1. Pho Xe Luna
907 Race St.
Philadelphia, PA 19107
215-627-8883
Located right in the middle of Chinatown, Pho Xe Luna features 17 different types of the dish, with everything from beef to brisket to pork chops. Its central spot makes it a great lunch find when the family is on a day trip to Center City.
2. Pho 20
234 N. 10th St.
Philadelphia, PA 19107
215-829-1500
Another Chinatown favorite, Pho 20 is known for its extensive soup menu, as well as its affordable prices and speedy service. While many Chinatown eateries can often get packed during meal times, Pho 20 knows how to keep the lines flowing, so the restaurant is never chaotic, making it a perfect find for families with little ones.
3. Pho Cali
1000 Arch St.
Philadelphia, PA 19107
215-629-1888
If the kids are hungry, Pho Cali is the place to go. The Chinatown restaurant serves the dish in huge portions at prices parents will love.
4. Pho Ha
610 Washington Ave.
Philadelphia, PA 19147
215-599-0264
This Vietnamese eatery is a staple of South Philly's diverse culinary scene. The spot is located right near the Italian Market, so after your meal take the little ones out to walk the bustling market to enjoy the sights and sounds.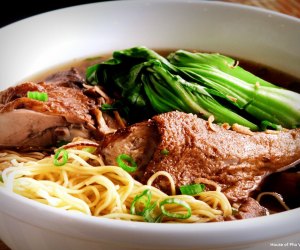 Photo courtesy of House of Pho
5. House of Pho
470 S. Second Street Pike
Southampton, PA 18966
215-355-4854
Just outside of Philadelphia in Montgomery County, House of Pho is a laidback and family-friendly find. Pho comes in regular and kids' sizes, and diners can customize their dishes with add-ins that include meatballs, beef tendon, chicken and more.
6. Vietnam Restaurant
221 N. 11th St.
Philadelphia, PA 19107
215-592-1163
This Chinatown locale is one of the city's longest-running Vietnamese restaurants. The cozy, casual setting makes it popular with families, who can indulge in its creative pho menu, featuring dishes made with brisket, flank steak, or seafood.
7. Pho Saigon
1100 Columbus Blvd.
Philadelphia, PA 19147
215-773-7305
This South Philadelphia restaurant and its sister location in Northeast Philadelphia are known for the generous helpings of noodles served in their pho. Some restaurants may try to serve up a broth-heavy dish, but Pho Saigon piles on the noodles, which kids will love twirling around their chopsticks.
8. Nam Phuong
1100 Washington Ave.
Philadelphia, PA 19147
215-468-0410
No-frills, authentic Vietnamese is the name of the game at South Philly's Nam Phuong. Diners can select pho with ingredients like chicken, beef balls, or eye-round steak, or opt for the Deluxe Pho, which is chock full of an impressive six different kinds of meats.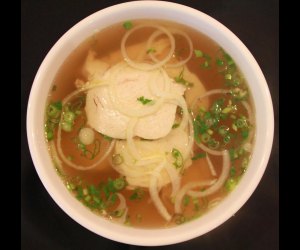 Chicken pho, photo courtesy of Pho Street
9. Pho Street
1001 W. Lancaster Ave.
Bryn Mawr, PA 19010
610-527-1413
The award-winning Vietnamese chain brings authentic pho to the Main Line. The restaurant offers a range of pho options, from vegetarian to meatballs, with a thick and hearty broth that will fill up hungry little bellies.
10. Pho Ta
1111 S. 11th St,
Philadelphia, PA 19147
215-755-4000
Pho is just the beginning at this popular Italian Market restaurant. Apart from its hefty pho selections, this spot also offers snacks, noodle bowls and a wide range of fresh fruit smoothies that kids will love.
Sign up for the Mommy Poppins Newsletter today!