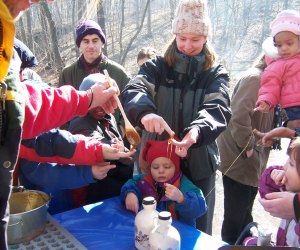 Pennsylvania Maple Sugaring Season Events
Mark your calendars because maple sugaring season is upon us! If you've ever wondered what all the fuss was about when it comes to the run-of-the-mill syrup versus the true-blue maple, now is your chance to find out. Tree-tapping season officially kicks off in February, but sugarings and tastings run through March across the state of Pennsylvania. Festivals and breakfasts will have families breaking any lingering New Year's resolutions, but it's SO worth it. From day trips to local events, check out what the syrup season has to offer.
It is important to note that some of these events are definitely destination activities (averaging a 3-4 hour drive) that likely require an overnight trip, especially when bringing little ones. Please check the drive times before planning your trip.
February 24, 2018
This event at the Tyler Arboretum takes the kids out into the woods to see where and how maple syrup is made. Then they get to try it out on pancakes! No pre-registration is required for this rain or shine event. The snow date is March 3rd.
February 24, 2018
Experience the maple-making process at Peace Valley Nature Center, including tastings of the maple sugar and maple sap, and enjoy a waffle with your fresh syrup. Both waffles and ice cream with maple syrup are available for purchase.
February 24, 2018
Take part in this annual celebration at Wissahickon Environmental Center featuring demonstrations and tastings that include mini pancakes!
February 24, 2018
The Maple King officially kicks off the season with the ceremonial tree tapping. Attend and enjoy free candies and baked goods.The location is TBD.
February 24 and March 3, 2018
Held at nearby Camp Eder, this annual festival takes place on two consecutive Saturdays, and it features a pancake breakfast, maple sugaring tours, and local arts & crafts vendors. An all you can eat pancake breakfast runs from 7:30-11:30 AM.
Sugar Maple Trees- East Norriton
February 25, 2018
Visit Norristown Farm Park to learn how Native Americans and early settlers made maple syrup.
Saturday, March 3, 2018
Visit Fox Chase Farms to taste maple syrup, learn about the process of making maple candy, and enjoy crafts and storytelling.
Maple Sugar Magic- Green Lane
March 3, 2018
Marvel at the magic of maple during this tapping at Green Lane Park and test your taste buds with a blind tasting.
March 10–11, 2018
Somerset County boasts 15 maple farms. This is your chance to try them all! Make it a weekend and drive from farm to farm to enjoy truly unique maple treats. Tours and samples are free.
Maple Sugaring- Pottstown
March 11, 2018
This free event at Warwick County Park offers families the chance to see how a maple tree is tapped and how the sap is boiled to make maple syrup.
March 17–18 and March 21–25, 2018
This full festival experience is an annual tradition, with live demonstrations, Maple Queen entertainment and pageant, arts and crafts, as well as a quilters show.
March 24, 2018
Wolf's Hollow County Park hosts this educational event including samples and a history lesson into the art of making maple syrup.