SPONSORED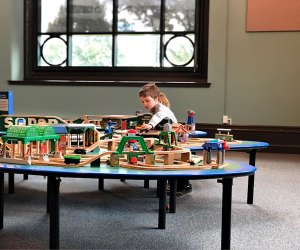 All Aboard With Thomas & Friends at Please Touch Museum's New Exhibit
If you have a little train lover in your family, chances are you practically live on the Island of Sodor: humming along to the theme of Thomas & Friends™, and amassing more trains, tracks, and stations than you thought humanly possible. Now Thomas the Train fans are in for a special treat. At Please Touch Museum's latest exhibit, Thomas and Friends: Explore the Rails!, the entire family can enter their favorite world of make believe, practice STEM skills, and spark their imaginations with Thomas. Read on to find out what makes this exhibit a must-do for Philly area families with tykes in tow.
Once your little ones enter through the welcome arch of Explore the Rails!, they'll find a variety of activities and stations to delight and inspire. Climb aboard a steam engine that hisses and flickers with the light of "burning" coals or watch video clips from Thomas & Friends and learn more about the show and its creators with interviews from the behind-the-scenes crew. Shape, sort, and rearrange train tracks or help load boxcars with produce.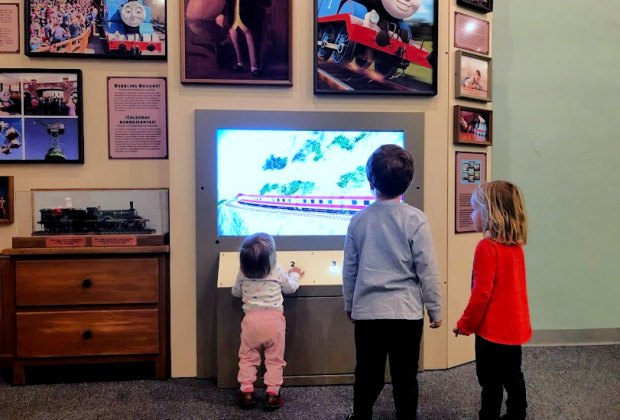 STEM activities abound in this special exhibit at Please Touch Museum, encouraging visitors to fix wobbly wheels, use simple math to update the train station clocks, and load coal and steaming water from the boiler to get Percy moving again. My oldest is an engineer at heart so he loved the STEM activities that required him to figure out how to make things work.
My kids let out a very audible "Whoa!" as we walked into this room containing an expansive Thomas setup (with plenty of engines to share). If your little ones love the train table at the local bookstore, they will be amazed at the size of this one. Expect to spend a lot of time here, rolling train after train along the tracks. There's also a reading corner with, you guessed it, Thomas the Train books. Babies and toddlers have their own small space here as well, making it easier to keep an eye on an older brother or sister while the younger one safely plays close by. This room alone may draw us back to the exhibit again and again.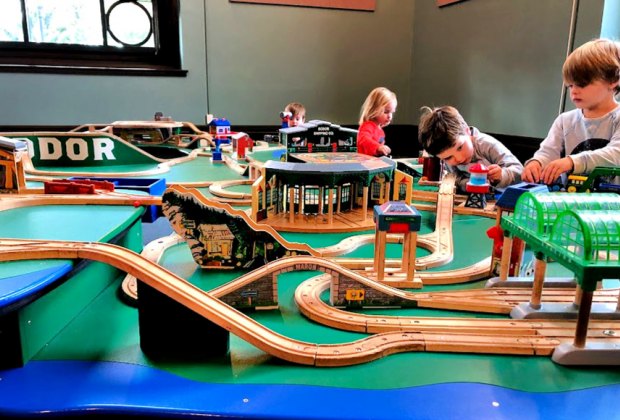 Finally, don't miss the chance to get pictures with Thomas and the Mayor of Sodor before you leave and even email the photo to family or friends right within the exhibit itself.
A bonus of the exhibit for bilingual and ESL visitors: The descriptions and activities are presented in both English and Spanish. And to better include families visiting with children with autism or sensory sensitivities, Please Touch Museum has adapted this exhibit to include a nearby quiet room, as well as offering noise-cancelling headphones and weighted vests.
There's plenty more to do before you leave. Please Touch Museum will keep kids busy, both playing and learning, for hours with two full floors of exhibits. Fall down the rabbit hole into an Alice and Wonderland exhibit, then stock up at the grocery store, before heading to the water tables,and the beautifully preserved indoor carousel.
Tickets cost $19 for parents and children aged one and over, and Thomas & Friends: Explore the Rails! is included in admission. The temporary exhibit runs through January 6, 2019, so if you're looking for something to do on a chilly autumn day or want the kids to have fun and learn at the same time, Please Touch Museum is sure to please!