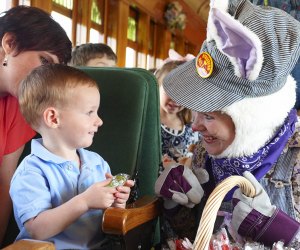 Hop Aboard the Easter Bunny Express: Train Rides for Kids Near Philly
Spring is in the air, and Easter is on the way! Many of the area's scenic railroads celebrate the season with excursions that include springtime fun. We have rounded up several Easter-themed trains that are running special events for kids in the Delaware Valley and beyond. Some of these trains include an Easter Egg hunt at the halfway stop so be sure to bring along a basket. It is helpful to check whether the railroad provides a photographer and charges for a picture with the Bunny or if you can bring your own camera.
Plan out your Easter train ride with this helpful list. For additional options, don't forget to check out nearby New Jersey train rides as well. So, Philly families, get ready to climb aboard. The Easter Bunny awaits!