From Page to Screen Explore Marvel: Universe of Super Heroes at the Franklin Institute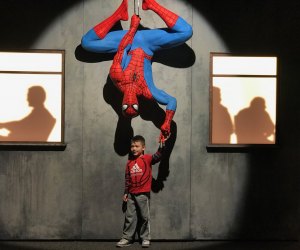 The exhibit to see in the Philadelphia-area this year is the new Marvel: Universe of Super Heroes at the Franklin Institute. A vast, immersive experience featuring more than 300 original artifacts—including costumes and movie props--the exhibit takes you on a journey that feels more like an experience than a trip to the museum. While the big budget movies of the Marvel Cinematic Universe are a prime feature, you don't have to be Team Captain America to enjoy this exhibit. I was delighted to get the opportunity to explore this 15,000 square-foot exhibit with my superhero-loving five-year-old and I can't stress enough that this is an exhibit you won't want to miss. Read on for the full review.
Marvel: Universe of Super Heroes makes its East Coast debut in Philadelphia, marking Marvel's 80th anniversary year. Entering the special exhibition space at the Franklin Institute, you begin the experience with the origins of the Marvel Universe. With this 80-year publishing history, elaborate story arcs, and a long and lasting impact on pop culture, there is a lot of ground to cover. The curators were painstakingly intentional in every feature of the exhibit to ensure that they tell this story in an immersive experience that is also fun for all ages and all fan levels.
In many ways, the exhibit itself is a story. It sets the scene by establishing why Marvel and the superheroes exist in the first place. To that end, part of the story of the exhibit is showing how a small publishing company became the powerhouse it is today. With details about the creators, artists, and authors along the way, as well as their influence on the characters. Details to help create this effect include hand-drawn boards interspersed throughout the exhibit.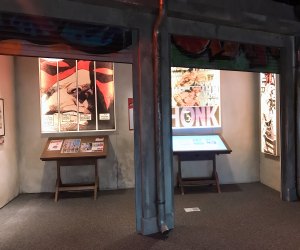 The use of drafting boards throughout the process reminds you that everything you experienced as part of the Marvel Universe began with an artist at a table
My son has watched most of the current Marvel Avengers saga by this point (which I recently realized is about 56 hours - guess we don't say no to screen time enough!). He was delighted to see some of his favorite characters and costumes, posing proudly in front of every single one. In his excitement our first go through the exhibit was rather fast-paced, he could barely stop to take it all in.

Posing with some of our favorite characters. The costumes from Captain America are from the original motion pictures. Plus we couldn't pass up a chance with a life-sized Hulk!
This is definitely an exhibit you want to give yourself time to explore. Not only is it physically large, but they pack so much information that it really is worth taking your time with this one. After we did our breakneck tour through the space, we went back and took more time with each section.

Listening to the sounds from the original Incredible Hulk.
While we encountered many of his favorites, there were also many characters he did not know and for those, he stopped to learn more. We listened to the original songs from the Marvel Comic TV shows I watched as a child, and we read about other members of the Avengers we haven't met yet on the big screen.
I loved the interactive touch screens that worked to provide you both with the basic information as well as the opportunity to really dig deep on a topic if it was a one that interested you. We learned about how comics are made, we talked about story and sequence. Doing so with a young reader was a really special part of the experience.
One of the coolest visual displays of the exhibit was Dr. Strange's mystical hall of mirrors. With original costumes from the Dr. Strange movie and some pretty cool effects, you could gain a real feel for this enigmatic character.

The picture doesn't do the experience justice: experiencing Dr. Strange
Some exhibit highlights you won't want to miss include:
Iconic props and costumes including those worn in Black Panther (2018) Thor: The Dark World (2013), Captain America (2015), and Captain Marvel (2018)
Rare, hand-drawn images of iconic heroes by the artists who designed them
Memorial Wall for Stan Lee, showing his many cameos through the Marvel Studio films
Detailed life-size sculptures of some of the most popular characters including Incredible Hulk, Spider-Man, and The Thing
Pages and cover art from original comics such as Iron Man #128 and X-Men #1
This is a great exhibit for kids aged 5 and up (my 2-year-old daughter was with us as well and she was afraid of everything). Like many of the exhibits at the Franklin Institute, I learned much more than I expected.
There is also a gift shop at the end that features a range of toys and collectibles for Marvel fans. We escaped unscathed, but be prepared that this is immediately ready for you before you exit!
Tickets for the exhibit are selling out fast so this is definitely one you will want to plan to see in advance.
Marvel: Universe of Super Heroes is on view now through September 2, 2019.