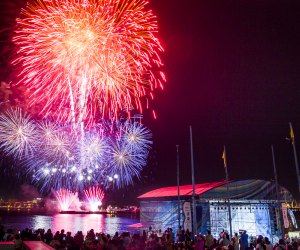 24 Firework Displays to Celebrate the 4th of July in Philly and at the Jersey Shore
Nothing says Independence Day like a great fireworks display. Philadelphia knows how to celebrate the birth of America. Start with what's being billed as the largest free concert in the United States with Party on the Parkway, where part of the Benjamin Franklin Parkway will be shut down and a lineup of great bands will play before a spectacular fireworks display above the Philadelphia Museum of Art. If being one of the thousands celebrating in the streets isn't your idea of a perfect 4th of July, there's a spectrum of events in many of the suburban towns around Philly like the Narberth Fourth of July Celebration and Fireworks. Whether enjoying a local band and fireworks in your nearby park or joining the throngs on the Museum Mile, don't forget to bring your chairs, blankets, coolers with snacks, and a few activities to keep the kids entertained until the sky turns dark.
Glenolden's Summer Kickoff Fireworks- Glenolden, PA
June 24, 2017
Welcome summer with games and music. Once dusk arrives, enjoy a fireworks display synchronized to music.
Freedom Festival- Hamilton Township, NJ
June 24, 2017
Enjoy live music, a car show, amusements, and games at Mercer County Park. At approximately 9:50 PM, the fireworks burst into the air.
Philadelphia Orchestra Concert & Fireworks- Philadelphia, PA
June 30, 2017
Head to the Great Plaza at Penn's Landing for a spectacular concert performed by the Philadelphia Orchestra followed by a fireworks display.

Freedom Fest- Nottingham, PA
July 1, 2017
Enjoy entertainment, fireworks, and food at Nottingham County Park. The rain date for this event is July 2nd.
Pershing's Own Concert and Fireworks- Philadelphia, PA
July 1, 2017
Listen to the The United States Army Band strike up some patriotic tunes at the Great Plaza at Penn Landing. Then, sit back and watch as the night sky is set aglow with fireworks.
Ridley Park Fireworks- Ridley, PA
July 1, 2017
Spread out the blanket on the perfect spot at Ridley Lake Park to watch the night sky light up!
Fireworks & Fountain Show- Kennett Square, PA
July 2, 2017
See Longwood Gardens' main fountain as it appears for its first season since being renovated along with a fantastic firework display entitled Star Spangled Spectacular. It is important to note that reserved seating is already sold out for this event but lawn seating is still available.
Bethel Township Fireworks Display- Garnet Valley, PA
July 2, 2017
Held at the field at Bethel Springs Elementary school, this firework display is sure to delight. Due to limited parking, carpooling is suggested.
Upper Darby Fireworks Show- Drexel Hill, PA
July 3, 2017
Listen to tunes by Chico's Vibe and Upper Darby Shooting Stars. Then, sit back to watch the fireworks display. It is important to note that tickets are only available at the gate and the rain date is July 5th.
Fourth of July Fireworks at Sesame Place- Langhorne, PA
July 3-4, 2017
Visit Elmo, Big Bird, Bert, Ernie, and the rest of the Sesame Street gang at Sesame Place. The evening performance starts with a parade and ends with fireworks.
Good Neighbor Day- Downingtown, PA
July 4, 2017
Run a 5K, 10K, 15K, or Fun Run at Kerr Park. Then, enjoy some food, music, and carnival rides. End the day with a fireworks show with the family.
Wildwood 4th of July Fireworks- Wildwood, NJ
July 4, 2017
Nothing beats being at the shore for the 4th, so sit back and enjoy the entertainment in the sky.
Cape May Independence Day Celebration- Cape May, NJ
July 4, 2017
If you are at the shore, celebrate our nation's birthday with a free concert at the Rotary Park Bandstand. Afterwards, enjoy the free fireworks.
Heuser Park Fourth of July Celebration- King of Prussia, PA
July 4, 2017
Enjoy carnival rides, games, and food as well as a new beer garden at Heuser Park. Listen to live music from The Mango Men, and, once the sun sets, get ready for the fireworks display.
Narberth Fourth of July Celebration and Fireworks- Narberth, PA
July 4, 2017
Carnival fun awaits visitors to Narberth Park from 10 AM- 2 PM. In the evening, guests can return for a magical fireworks show.
Phoenixville Annual Fireworks- Phoenixville, PA
July 4, 2017
Friendship Field is lit up with red, white, and blue sparks in the sky at this annual firework display.
Quakertown Community Day- Quakertown, PA
July 4, 2017
Spend all day at Memorial Park on Mill Street in Quakertown. Guests can expect a car show, kids' programs, a fireman water battle, and music. Conclude the day with fireworks.
Treddyffrin Township Fireworks- Wayne, PA
July 4, 2017
Listen to patriotic tunes while eating treats from the vendors (or your own picnic dinner) at Wilson Farm Park. Once the music is over, guests can sit back to watch the fireworks.
Atlantic City 4th of July Fireworks- Atlantic City, NJ
July 4, 2017
The fun begins at the Marina for the first firework display at 9:30 PM followed by a firework encore at the Tropicana at 10 PM.
Camden Waterfront Freedom Festival- Camden, NJ
July 4, 2017
The night sky at the Camden Waterfront is filled with fireworks presented by the Camden County Board of Freeholders and the City of Camden.
Southampton Day- Southampton, PA
July 4, 2017
Spend the morning watching the parade. After an afternoon break, the fun resumes with carnival rides, games, activities, concerts, and food. Then, marvel at the firework display above.
Freedom Festival Fireworks- Philadelphia, PA
July 4, 2017
Wawa Welcome America puts on two fireworks shows. One on the Delaware Waterfront and the other along the Ben Franklin Parkway.
Wawa Welcome America 4th of July Fireworks- Philadelphia, PA
July 4, 2017
After Mary J. Blige and The Philly POPS have performed, guests can sit back and enjoy the firework display from the Parkway. If you can't make the show live, view from home on television or electronic device.
Pennridge Community Day- Perkasie, PA
July 9, 2017
Visit Lenape Park for an afternoon of watermelon-eating and magic shows. Then turn your eyes to the skies as the fireworks shoot off at dusk.
Photo courtesy of Matt Stanley, Delaware River Waterfront.