Haunted Houses and Hayrides near Philly for Kids: From Simply Spooky to Super Scary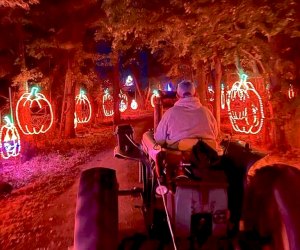 10/9/22
- By
Corrie Stango
Easily spooked or barely fazed, we all have our own personal threshold when it comes to Halloween fright. Everything from friendly ghosts to outright gore await visitors at these local haunted house stops, from scary staples like Eastern State Penitentiary to new haunts on the block like Lincoln Mill Haunted House. Be sure to read descriptions on facility websites to see if a stop is right for your family.
Kids need more treats than super scary tricks? Visit our Guide to Halloween in Philly to find something for everyone or browse our top 50 Halloween events in Philly for more ways to get some mileage out of those costumes.
Best Haunted Houses and Hayrides around Philly
With rooms like "Trick or Treat" and "Glow in the Dark," visitors can rest assured that this location is 100% kid-friendly. No actors here, just fun, especially with a bonus "Stranger Things" room as well as the indoor pumpkin patch.
Eerie Illuminations, which opens at dusk, is Shady Brook Farm's wagon ride through the woods to lit-up Halloween characters and music. This not-too-spooky ride is appropriate for any age and is only $5 with a FallFest admission ticket. Of course, FallFest brings the fall fun all on its own as well.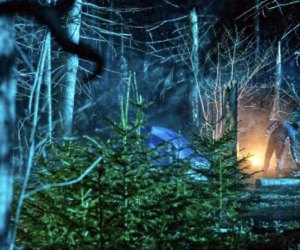 Walk your way through spooky woods filled with nightwalkers at Scream Mountain. Photo courtesy of Spring Mountain Adventures
On Friday and Saturday nights throughout October, Spring Mountain brings a lift and walk to those who dare. Ride the chair lift up, and walk your way down on a dimly lit trail. A haunted hayride awaits walkers at the end (hayride is also available on its own). For the younger crowd, the starter haunted hayride is less scary without actors in the woods.
The haunted house at Sleepy Hallow comes in at a "medium" on the scare-o-meter. While the actors don't reach out to touch visitors and there is no gore or violence, the house may not be appropriate for kids who scare easily. Add the haunted hayride and field of fright for the trifecta of spook.

Enter the Bates Motel or hop on the haunted trail, if you dare. Photo courtesy of the venue
The facility recommends 8 years and older to visit the motel, but some scenes are probably best suited for teens and adults. The "Revenge of the Scarecrows Haunted Trail" and the haunted hayride are additional experiences, with the hayride bringing the least amount of scare, advertised as okay for kids.

Philly boasts one the scariest haunted houses in the country at Eastern State. Photo by J.R. Blackwell for Eastern State Penitentiary
We think it's safe to say: leave the littles at home. For teenagers and adults, Eastern State Penitentiary has five haunted houses on the grounds, two of which are new this year. For the truly daring, house-goers can opt to be grabbed and sent to hidden areas. There are also opportunities to take a break from the fright with entertainment, themed lounges, and of course, historic prison tours.
Philly's newest haunted attraction features live actors, animatronics, special effects, and more for a highly scary experience. For those looking for less of a scare, Lincoln Mill Haunted House offers Saturday daytime scavenger hunts without actors.
Formerly a functioning hospital and state school, this site closed its doors in the 80s. In 2010, it reopened and currently offers visitors a haunting experience in the asylum, the morgue, and the tunnels.
Attractions at this South Philly Halloween hot spot will have you venturing through an asylum with blood-stained walls and inmates dying to get out. Avoid maniacal characters and creatures along the way. This one is only appropriate for older teens.
Valley of Fear, near Northeast Philly, offers three attractions perfect for older kids. The original haunted hayride is back once again, and "Escape from Willie's Shipwreck Cove" is all new this year. The "Miles Manor Haunted House" will bring all the startle to the monster-loving souls who dare to visit.
Lover of the supernatural? Head out on a ghost tour: meet in Signers' Park and take a guided night walk to spooky spots throughout Center City. You'll visit a burial ground and go inside a haunted mansion. As part of the tour, you'll also be able to use an electromagnetic field meter. These tours are family-appropriate with some history and good old-fashioned ghost stories.
Here you'll find rooms themed around clowns and nightmares as well as a haunted harvest. This location boasts many haunting themes, and if you ever wondered how haunted hayrides could get better, consider grabbing a paintball gun and shooting zombies as you ride through shadowy fields.
Additional reporting by Erin Ryan.