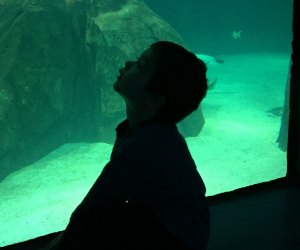 30 Rainy Day Activities for Families in Philadelphia
If rainy days and Mondays bring you down, it's probably because you feel stuck indoors. While a rainy day here and there is a great excuse for cuddling on the couch and watching movies, baking cookies, or crafting, a few rainy days in a row can be a real drag. But don't fret, there are many ways to get out of the house to have an indoor adventure in Philadelphia, from indoor playgrounds to more educational experiences than we can possibly name in one list, it could rain for 40 days and 40 nights and there would still be plenty to explore.
Cross the bridge to Adventure Aquarium and see sharks up close in the amazing shark tunnel, take in the adorable blue penguins, and enjoy "petting" some pretty crazy creatures.
Believe it or not, the Philadelphia Zoo is also a great place on rainy days. Crowds are low and there are a number of indoor animal houses to explore.
See the latest nature exhibits at the Academy of Natural Sciences and learn about dinosaurs, and other live and extinct creatures.
Catch an IMAX or explore scientific discoveries at the Franklin Institute, including the awesome brain exhibit which little climbers are sure to love.
Get your sea legs at the Independence Seaport Museum and brush up on some maritime history.
Get an inside look at some national history at the Constitution Center.
Let your hair down at Mainstay, a restaurant and brewery with an amazing indoor playground and arcade.
Kids play while adults enjoy good eats and delicious brews at Mainstay

Take a deep dive into our nation's birth with the Museum of the American Revolution, which has an incredible immersive space for young historians.
Check out the Liberty Bell, rain will keep the usually packed crowds to a more manageable size.
Another spot not to miss is the African American Museum, a great historic attraction and kids 4 and under are free!
Learn how stuff gets made by taking a factory tour—from pottery to pretzels there is so much to explore.
Get competitive with a round or two of bowling, invite local families and form up teams!
Try an indoor round of mini-golf—Keystone mini golf also features a great arcade, so you can literally spend hours there.
Instead of bouncing off the walls, your kids can literally climb on them at the Philadelphia Rock Gym.
Get creative, build, and play at the Legoland Discovery Center.

Exploring one of the impressive LEGO builds at Legoland

Check out Nest, an adorable indoor play space. If you hit it on the right day you might also catch a drop-in class.
Make it an arts and crafts day at the Expressive Hand where you can paint your own clay projects.
Oddly enough, Ikea can be a great go-to—with an indoor play area, and a pretty fun kids section with books and toys, you can entertain the kids and grab a yummy snack in the cafe.
Burn off some energy at Jungle Wonder, a, 25,000 square foot entertainment center with an arcade, pool tables, laser tag, bowling, mini golf, and a special toddler bounce area.
Head to one of the many trampoline parks or bounce houses to see who can jump the highest. Our favorite is Skyzone with multiple locations throughout the area.
Indoor play spaces are an easy fix for days stuck indoors. A few new arrivals have really shone for us, such as PlayArts in Fishtown, and Kids at Play in Germantown.
Popping up in the train table at PlayArts

Spend the day at the Please Touch Museum.
Make your way to the biggest indoor playhouse, Smith Playhouse.
Take a page from your childhood when we weren't surrounded by awesome play spaces, and catch a movie and maybe do a little shopping at the mall.
Make it a spa day for yourself while your kids work on art projects at Primp & Play.
Go out for a snack at the Bourse Food Hall, where you can literally get anything you want to eat.
Cuddle up with a good book by visiting a Free Library location near you, and if you luck out you might catch a really great story time as well!
The Chemical Heritage Foundation is a learning experience like none other, and bonus, it's free!
If all else fails, here's a no fail list of activities for when you're stuck indoors.
Originally published 2016